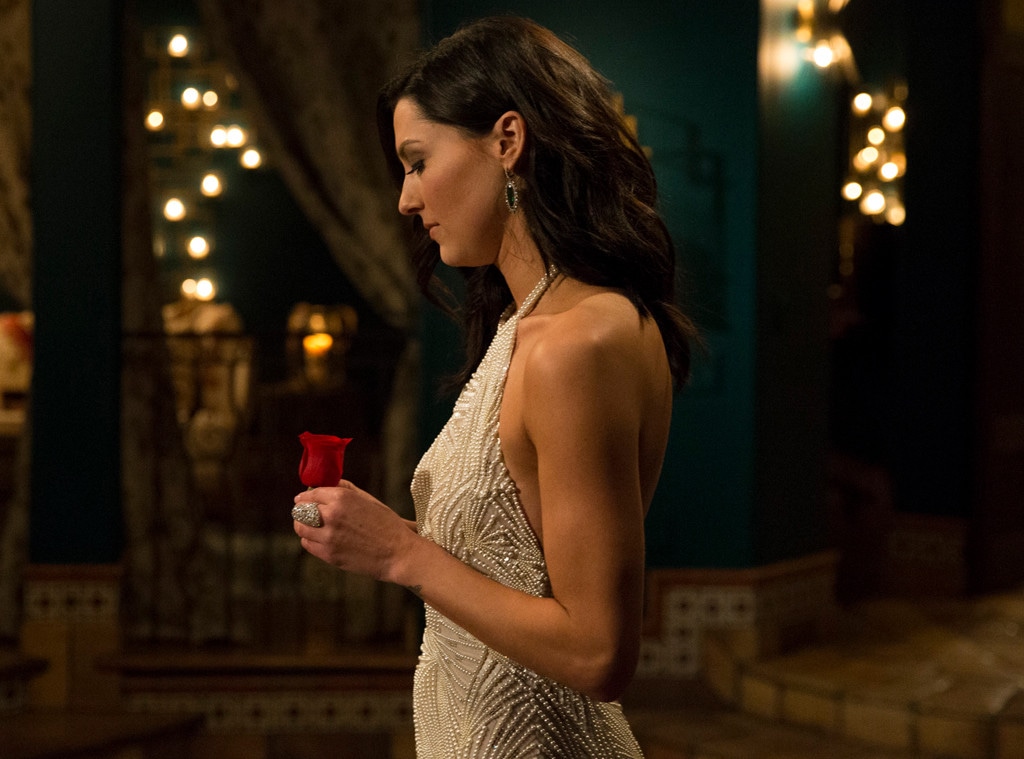 ABC/Paul Hebert
As her favorite expression goes, Becca Kufrin is ready to do the damn thing. Marriage, that is. 
Some four months after Arie Luyendyk Jr. broke off their engagement as ABC cameras rolled, the Minnesota-based publicist, 28, reveals she received a happier ending as the Bachelorette, accepting a proposal from one lucky suitor. "It was the happiest moment of my life," she told People. "And it feels so good to say it. I still pinch myself, like, did that all just happen? It's been a whirlwind."
Her amazing journey begins tonight, but as the popular love hunt has proved time and time again, it's what comes after the breathtaking finale destination that matters. 
The track record is well-known. Just one of the 14 Bachelors who got down on bended knee (hi, Sean Lowe!) has actually married the recipient of his Neil Lane diamond. (Though Luyendyk and fiancée Lauren Burnham, the contestant he left Kufrin for, vow to wed in Hawaii this January.) 
Bachelorettes have historically fared better. But of the six lasting relationships the spin-off has produced (versus seven breakups), only three have reached the altar. (Come 2019 it may be four, with Rachel Lindsay saying this is her year.)
"As the show's record indicates, relationships post-Bachelor are tough," Lowe, wed to Catherine Giudici since 2014, wrote on his blog, "but if you are committed to loving one another, you can join the ranks of the five married couples the show has produced thus far." (We'd give partial credit to Jason Mesnick, who, like Luyendyk, left his fiancée to propose to runner-up Molly Mesnick, but okay, let's call it five.) 
Far and away simply committing is Lowe's top piece of advice. And by that he means more than sliding a diamond ring onto the fourth finger of your left hand. "If you truly want to spend the rest of your lives together, you must commit to loving your partner no matter the circumstances," stresses Lowe, now the father to sons Samuel, 2, and newborn Isaiah with Giudici. "Commit to living in the same city, commit to building a healthy relationship, commit to sticking together through hard times and commit to showing your partner how much you love them each and every day."
And, perhaps, commit to staying off Twitter. In the social media age, every TV viewer has an opinion and an easy way to share it, so if you don't want naysayers raining on your engagement parade you may just want to avoid the Internet. That was the suggestion Mesnick gave Luyendyk, knowing the hailstorm of criticism he would face for his flip-flop—"Just even get out of the country and try to work on your relationship and not worry about all this media stuff," he said—but it's a solid tip for any burgeoning Bachelor pair. 
Kelly Bowie/KCB Photography
It's simply easier to foster a still very new romance away from viewers' judgmental stares. Though Lowe successfully shimmied his way through a stint on Dancing With the Stars after the finale before settling down in Dallas with his bride, OG Bachelorette Trista Sutter says she winces whenever she hears one of the recently engaged leads intends to hit the ballroom. Because filming is brief—her 2003 was just six weeks—she thinks couples need extra time post-production to really "focus your time and energy on each other."
Since the process is so intense, she notes, it's easy to fall hard for someone who may simply not be a good fit. "It is a really short period of time, and you are in a bubble," she explained to Today.com. "That's all you're focused on. You can't watch television, you're not allowed to be on email, you can't talk to friends and family, you're not at your job every day, you're not playing in your sports leagues or whatever you do as a hobby. You're just solely focused on developing these relationships. And for some people, they get caught up in the glamour of it all, and the excitement. And maybe they just realize, after they get back to the real world, that they're not compatible."
While the talk show circuit, the free exotic trips and the opportunity to cash in on Instagram endorsements for face masks and hair gummies can be exciting, focusing on your 15-plus minutes can prevent you from nurturing a still-growing union. "Don't let the 'fame' stuff go to your head," recommends Lowe, revealing that other show alum have said the media glare caused their romance to burn out. "I've heard first hand from a couple of different Bachelors how being in the spotlight was detrimental to their relationship. Don't let the bright lights and sparkly things distract you from the person you love." 
He and Giudici haven't walked away from cameras completely, but he credits some of their longevity to their decision not to be what he calls "the typical Bachelor couple." Though a stint on the show can feel like rushing one of the more exclusive (and oft-Instagrammed) fraternities, the married pair aren't regulars at group hangs and red carpet events. "We live our own life an do our own thing," the real estate developer explained to Entertainment Tonight, "so we don't really feel that pressure and that's the way we like it." 
Coming off a rush of flowing champagne, helicopter flights and endless cities that are just the perfect place to fall in love, returning to a regular 9-to-5 can feel like a bit of a letdown. But Desiree Hartsock and mortgage banker husband Chris Siegfried, now parents to 19-month-old son Asher, say it was a key component of their success. The bridal designer told The Dallas Observer that she and Siegfried, "always stress the importance of getting back into your daily routine because that's really going to help you grow as a couple." 
It's a notion Ashley Hebert heartily seconds. Part of the reason the pediatric dentist and construction manager husband J.P. Rosenbaum recently celebrated five years of marriage is because they went on the show with this type of union in mind. "We had our own careers already and we weren't looking for anything else," the mom to son Fordham, 3, and daughter Essex, 18 months, told E! News. "We were actually considering the possibility of a relationship. We weren't looking to become famous." 
Post-show, she added, "I think our priorities were similar. I think we both thought maybe we could meet someone and then we wanted to go back to our real lives." 
Kufrin is already on board. Though she hinted to Us Weekly that she may take advantage of some show-related opportunities, she fully intends to resume her publicist duties. "I love my career and I love having the drive to wake up and go to work every day. So I still always want that," she explained. "I still want to try to get back to my life as normal as possible and eventually start a family, have children and have a career, have my partner have his own career, everything. I don't want this to change me too much. I still want to be the same old Becca that I was at the beginning."
As she settles back into her routine, Lowe advises carving out some extra time to devote to her brand new fiancé. Since the show is focused on the lead, her suitor likely spent several weeks pursuing her and it's important for her to show she would have laid down the hard sell if their positions were reversed. When one person's "in the driver's seat," says Lowe, "that can easily make the relationship feel one-sided." 
Dia Dipasupil/Getty Images
Of course, that's not the only potential source for fights. When Giudici first left Seattle for life in Texas with Lowe, everything wasn't, you know, coming up roses. "She made this tremendous sacrifice and she comes from a different family, a different way of doing things, a different way of handling conflict and a different way of living life," he told ET. "When you meld two worlds together, naturally there's going to be conflict, hard times and we definitely had some bumps along the way, where we thought, 'This is much tougher than we thought it would be.'"
The conflict taught Giudici that they're love is worth fighting for, not fighting about. "I think I have learned better patience when it comes to our marriage and that rage is kind of a waste of time," she tells E! News. "I've been slower to anger when I remember how much Sean loves me and better at explaining how I feel." 
Still, arguments happen. Even to couples who didn't get their start in the glistening driveway of the Bachelor mansion. "Anybody who's married knows that there's no key," Mesnick recently told Today. "It's just understanding that everybody's a different person, whether you meet on TV or not, and working on yourself individually and the two of you as a couple." 
Just one caveat, he says. Do it, "without cameras." 
Until then, though, we'll be watching.