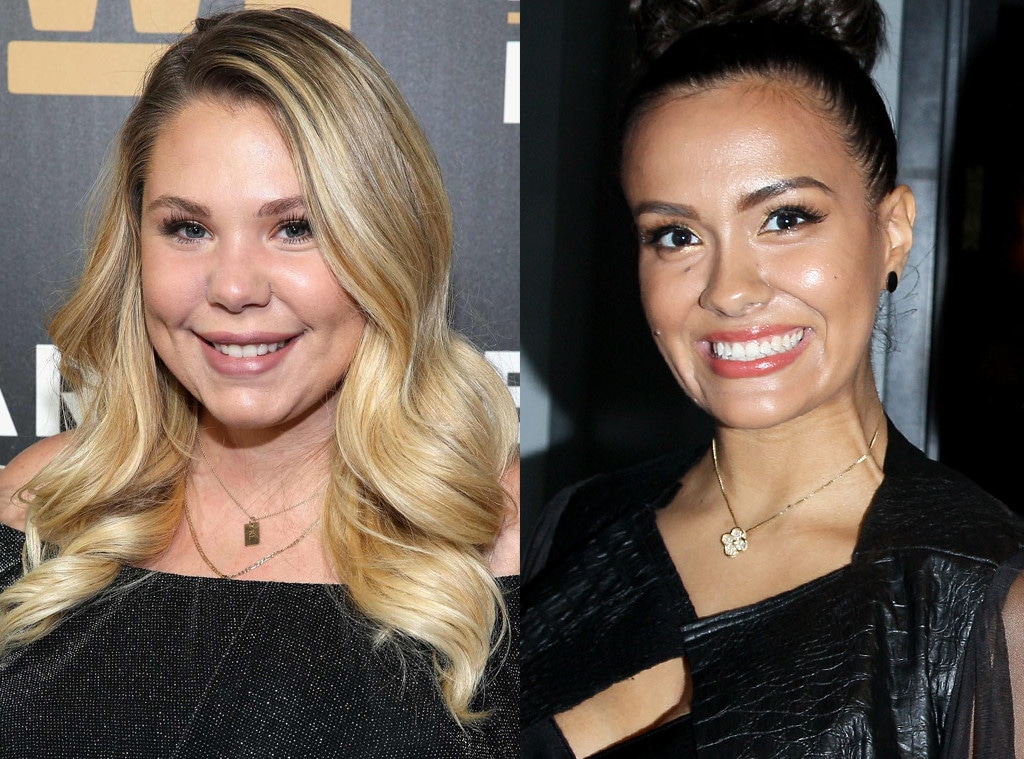 Bennett Raglin/Getty Images for WE tv; Steve Mack/Getty Images
Teen Mom 2's Kailyn Lowry is setting the record straight after reports surfaced that she and her reality show co-star Briana DeJesus got into a "heated disagreement" on Saturday while taping the MTV show's season 8 reunion special.
On Saturday evening, Us Weekly reported there was a physical fight on set after a source told the outlet, "There was a physical altercation between them, but both returned to resume finish filming."
However, on Sunday afternoon Kailyn told E! News that the physical altercation was actually between Briana's sister Brittany DeJesus.
There was no fight, said Kailyn. "Brittany ran up behind me and pulled my hair. That was it."
The 26-year-old mom of two added, "Brittany ran up behind me and pulled my hair. That was it. Briana didn't do anything."
Kailyn clarified to E! News that she attempted to have words with the cast mate, but she wouldn't bite.
"I confronted [Briana] alone and she wouldn't get up. I just wanted to hash it out. But she didn't want to. We went into a private room without cameras and I told her to get up. She wouldn't get up. That was that," said Kailyn.
Similarly, following the headlines, Kailyn took to Twitter on Sunday morning to tell her fans she didn't get in a fight: "I didn't get beat up. I didn't get hit. Reeeeeeeelax."
The fight is believed to be about Lowry's ex-husband, Javi Marroquin, whom Briana had a short-lived romance with that ended in January 2018.
On Saturday, The Ashley reported that all of the Teen Mom 2 cast were at the reunion, except Jenelle Evans, who boycotted the reunion, and had come out to the stage to talk to Dr. Drew Pinsky—and that's when things got crazy.
"Briana was the last girl called to the stage, and she came out and went right at Kail," one source told the site. "Briana's sister Brittany DeJesus was on set too and she jumped in and got in Kail's face. They started swinging at each other and Kail was motioning to Bri to 'Bring it on!"
Another source told the publication, "There had been a lot of back-and-forth instigation on both ends before the girls got on the stage. That's why Bri came out ready to fight."
The outlet says no punches were pulled but there was hair pulling. 
One fan tweeted at Briana on Sunday asking if she was okay. Brian responded, "Yes baby I am. I fell on stage but that's ok."
Us Weekly reports that filming of the reunion was delayed for about 35 minutes but that both women eventually continued the reunion special. "The crew was able to get everyone to calm down, and all of the moms filmed," a source told the publication.
E! News has reached out to MTV for comment.
—Reporting by Beth Sobol