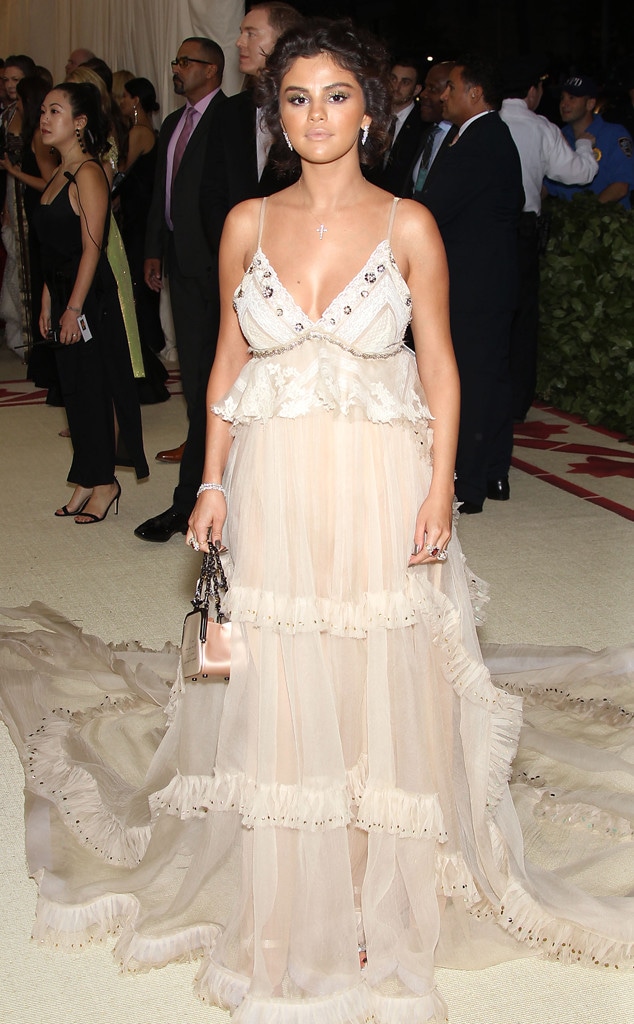 Marion Curtis/StarPix/REX/Shutterstock
Selena Gomez still hasn't forgotten about that fake Met Gala tan.
After a fan told her she looked beautiful at PUMA's Defy City event in Los Angeles, the 25-year-old singer referenced her controversial look by saying she "fixed it from Met Gala." She also gave a grimace that further summed up her sentiments.
Two weeks ago, the "Bad Liar" singer raised a few eyebrows by showing up to the 2018 Met Gala looking tanner than usual. Her look generated a slew of negative comments on social media.
 "Terrible spray tan," one Twitter user wrote. 
"whoever did Selena Gomez's tan needs to be fired immediately. Wwwwoooooowwwww," added another.
Makeup artist Hung Vanngo addressed the look in a statement.
"After seeing Selena's dress for the Met Gala, we decided to go for a warm, glowy makeup look with dramatic, golden eyes and a nude lip," he told E! News.
However, even Gomez seemed to regret the tan. Two days after the soirée, she posted a picture of her running away in her gown and wrote, "Me when I saw my pictures from the MET."
Gomez's comment wasn't her only candid moment at the PUMA event. The artist also shared a video of her asking to hold a toddler—resulting in the little one grabbing onto the parent.
"I don't know what to do!" she replied.
Just keep being you, Selena.