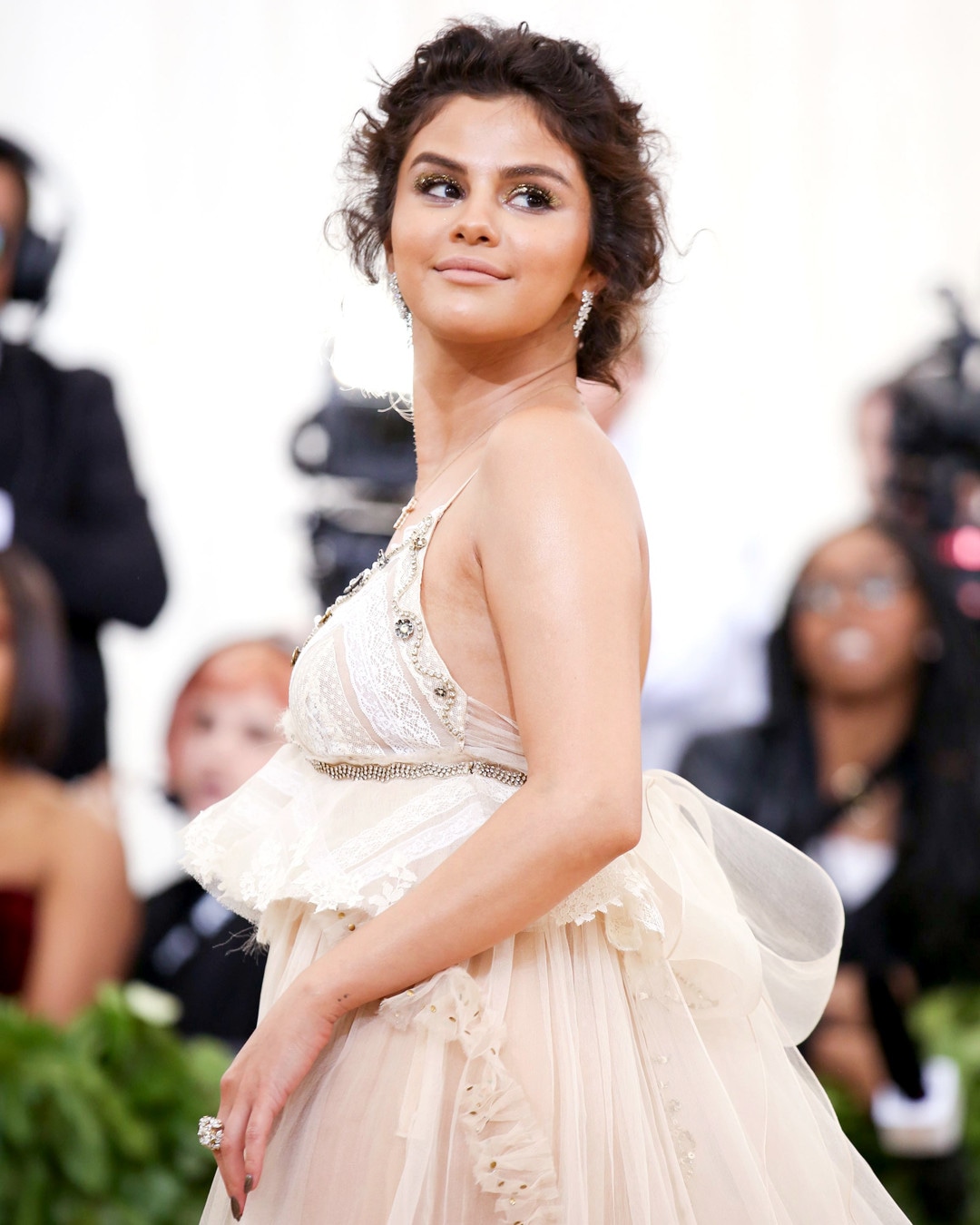 Carl Timpone/BFA/REX/Shutterstock
Fake tans have not been more talked about since the glory days of Jersey Shore.
We can thank Selena Gomez for bringing it back to the proverbial water cooler. On Monday night, the "Back to You" singer appeared at the 2018 Met Gala with a bronzy glow Snooki would approve. Needless to say Twitter took notice.
"Im so stressed for selena gomez her dress looks gorgeous but her tan looks disastrous i'm praying to our lord rihanna that it was just the lighting," wrote user @itsalivstory; while another tweet compared her faux complexion to Donald Trump's.
A divisive debate ensued, collating opinions from both die-hard fans devoting their full support of Selena's style and those with more critical voices—some of which even likened the sheer Coach creation to the singer's 2017 Met Gala dress: Also by Coach. Also a light neutral. Also thin strapped and embellished.
There's no doubt that Selena looked beautiful, but there may have been a few questionable elements that deserve our defense—here's why.
This Is Fashion with Purpose: A great Met Gala look checks all the boxes: It reflects the year's theme, the designer's aesthetic and the celebrity's style. The singer's look did all three. "Selena has been working with Coach for a while. As a result, her and [Coach creative director] Stuart [Vevers] have a close relationship," stylist Kate Young told E! News. "We talk about everything, what the inspiration is, the structure, how she's feeling, the theme…Selena is very religious."
While Vevers drew inspiration from the brand's fall 2018 collection, featuring vintage silk gauze and pleated frills with metal studs to create "toughness mixed with a dark, romantic femininity," the team also drew inspiration from biblical figure Queen Ester, who was known for her courage and integrity amid bigotry and prejudice.
Benjamin Lozovsky/BFA/REX/Shutterstock
Her Look Was Personal: While some may say the dress looked similar to ones from years past, her 2018 dress is one of a kind. Selena personalized the dress with her favorite biblical quote from Proverbs 31:30. "A woman who fears the lord is a woman who shall be praised" was hand-sewn onto a ribbon and placed down the back of the dress. Selena's Kisslong Frame bag, an archival design with gunmetal detailing, crystal embellishments and a Tea Rose turnlock, also featured the same quote embossed on the side.
"I also love the quote. It has a lot of meaning to her. It's nice when a dress can feel personal," added the stylist, who also dressed Michelle Williams and Sienna Miller for the night.
Jewelry Played a Huge Part: "We wanted it to have a quirky feel. We decided not to go with a white-white dress. We wanted an heirloom feel—elements to feel not super-super new," explained Kate, aligning the vibe with Coach's aesthetic. "Diamonds brought the heavenly and ethereal element." In fact, Selena is a true fan of her Tiffany and Co. diamond cross. She's worn the necklace "again and again," according to Kate, including during her 2017 AMAs performance. With a throwback vibe and statement jewels, they were going for "an old-school, fabulous Italian actress," the stylist added.
Stephen Lovekin/Variety/REX/Shutterstock
Which Brings Us Back to the Faux Tan:  "After seeing Selena's dress for the Met Gala, we decided to go for a warm, glowy makeup look with dramatic, golden eyes and a nude lip," makeup artist and Marc Jacobs Beauty Global Artistry Ambassador Hung Vanngo said in a statement. Emphasis on "warm" and "glowy." Her skin tone—natural or not—complemented the wet, glittering effect of the eyes. Had her skin been pale, the golden, almost greenish hue may have appeared in too much contrast.
Then There's This Theory: Perhaps Selena took the "Heavenly Bodies: Fashion and the Catholic Imagination" theme to heart. While her dress was undoubtedly celestial, her beauty look may have been inspired by Christian iconography, some of which is now displayed in the Metropolitan Museum of Art's exhibit and features Mediterranean complexions and figures with warm, olive skin.
Some fashion food for thought.