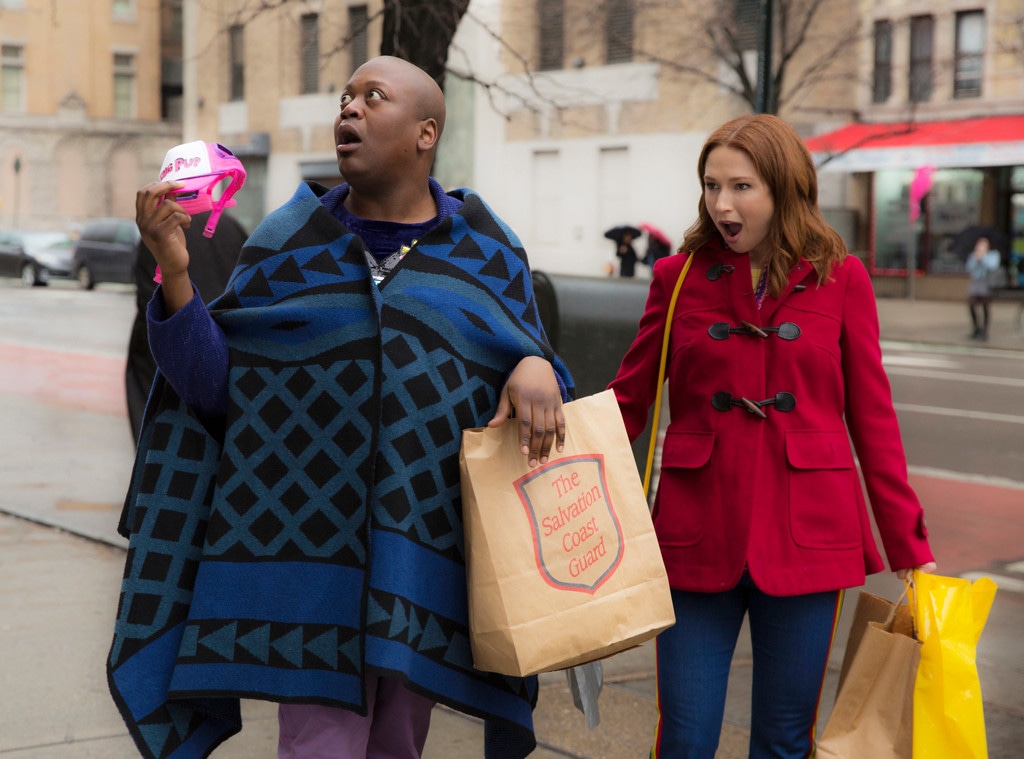 Netflix
Kimmy Schmidt is more of a Pooh than an Eeyore. She's a big ole Pooh in the and tackling Rebecca Black's now-classic song "Friday" in the Unbreakable Kimmy Schmidt season four trailer.
The new trailer, below, features everybody's favorite mole woman in her new role: Kimmy's now a working woman! Kimmy (Ellie Kemper) has a new job as HR manager at Giztoob and with that comes all new responsibilities and situations, like partying with a robot, white privilege and sexual harassment. All your favorites are back in action too. Jacqueline (Jane Krakowski) is now a talent manager…and her only client is Titus (Tituss Burgess). As for Titus' career, he's creating and starring in a new TV show (it's fake) and directing a play…a middle school play. Meanwhile, Lillian (Carol Kane) is still on quest to disrupt the status quo.
Please pray Netflix releases a whole reel of Titus Andromedon stock footage.
Guest stars in season four include Jon Hamm, Busy Phillips, Greg Kinnear, Bobby Moynihan, Amy Sedaris, Mike Carlsen, Zosia Mamet, Derek Klena and Aidy Bryant.
The first six episodes of Unbreakable Kimmy Schmidt season four debut on May 30. The remaining seven, which are looking like the final episodes of the series, will debut at a later date. Yep, this looks like the end of Unbreakable Kimmy Schmidt. However, talks are reportedly underway to wrap everything up with a movie. Prior to the premiere of season three, Kemper told us her ideal ending for her beloved title character.
"That's a tough one…When we stop visiting Kimmy, I would want to see her with a lot of friends and doing stuff that makes her happy because she deserves that after having such a tumultuous time," Kemper said. "Whether that does include a significant other or not is up to her, I think, because ending up with the love of her life does not necessarily have to be the happy ending, but I think it would be nice if she could find somebody to share…"