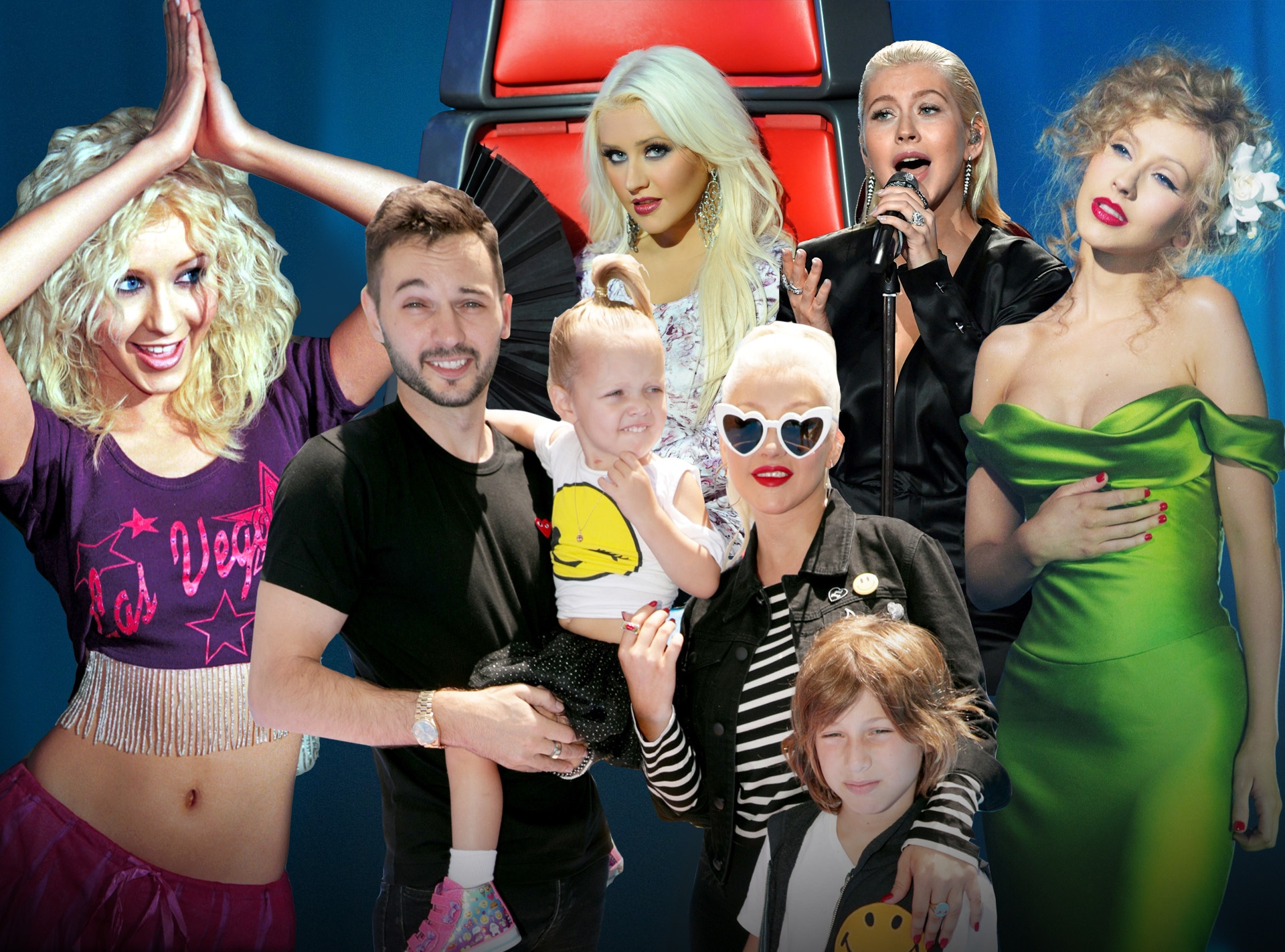 Melissa Herwitt / E! Illustration
Christina Aguilera has set herself free.
Free from expectations, free from worry about appearances and free from caring what anyone thinks. And, from time to time, free of clothes and makeup.
So bring on Liberation.
That's  the name of the platinum-selling artist's upcoming eighth studio album, her first LP in six years and a decisive re-set for her own musical ambitions after spending the majority of this decade tending to other singers' dreams as a coach on The Voice—which in itself was a re-set after a tumultuous period for the Grammy winner punctuated by mixed professional results and some personal peaks and valleys.
But now, she's done with The Voice.
"I would just take everything off—the makeup, all of it—and would blast hip-hop, or Nirvana, "Creep," Slayer," Aguilera recalled the experience of being on the show, which in the past she'd called a "boys club" and now refers to as a "churning hamster wheel" in a new interview with Billboard. "Anything like that to get me out of that zone, that TV mode."
The Voice, meanwhile, helped facilitate an embattled Aguilera's evolution from onetime wild, unpredictable pop star to sage industry veteran who can still sing anyone under the table at the drop of a hat (or turn of the chair). One of the four original coaches along with Adam Levine, CeeLo Green and Blake Shelton, she finally notched a win in season 10 with child actress turned songstress Alisan Porter.
Porter told Parade after her victory made Aguilera the show's first winning female coach that the "Beautiful" singer was her greatest champion.
"She basically was like, 'Get ready girl. Put your big-girl panties on, and get ready to go,'" Porter said. "She basically told me, 'I'll be there with you, for you, every step of the way. Whatever you need. Anything you need—if you need advice, if you just need to talk, whatever you need, I'll be there for you.' She's been, from the beginning, just such a huge, huge support."
But much as she did during the first 10 years of her career, Aguilera—by committing her usual 110 percent—ended up running herself a little ragged.
It wasn't all that long ago that the former New Mickey Mouse Club star came bursting out of the gate with three straight No. 1 singles in "Genie in a Bottle," "What a Girl Wants" and "Come on Over (All I Want Is You)" off of her self-title debut album, as well as the Grammy for Best New Artist in 2000.
But to come of age as a female pop star in the early '00s was to sign up for a game with certain tacit rules: The more skin you show the merrier. Be simultaneously accessible and untouchable. And we're going to compare you to Britney Spears. For as long as possible. Oh, and make sure you look perfect and don't make trouble. Well, maybe a little trouble, we don't want you to bore people. OK, thanks for playing, come on over.
"Sometimes you read these stories about yourself and sometimes you want to cry," a then-19-year-old Aguilera, who poured her feelings into her journals and slept with the lights on, told MTV News in early 2000. "It's really difficult sometimes not to take it personally, because those people don't know you. They just write some negative things sometimes."
She continued, "I guess with my upbringing, trying to stay grounded, spiritual, trying to stay the same person I always was. The business is so superficial that it's like, I try to stay the same person I always was, keep the same friends, strong friends and family support, just keeping it like that."
Just a few months later, it sounded as though she was mainly tired of people's expectations.
"Just because I have a certain image, everyone wants me to be this role model," Aguilera told Rolling Stone for a July 2000 issue. "But nobody is perfect, and nobody can live up to that. I'm living my life."
Seeking to clarify, she added, "I think my personality is fighting to come out, and that personality is fighting with the image that everyone else has of me." Asked about the faith she'd spoken of at other times, she said, "I'm Christian. And I believe in God. All of this [success] is there for a purpose. He wants me to do what I'm doing for good. But I think my personality fights with that sometimes."
Talking to the magazine barely a year after "Genie in a Bottle" came out, it's mind-boggling to think that she'd been so pigeonholed already, but it was already apparent that the Mouseketeer dubbed "Little Diva" wasn't interested in being a cookie-cutter pop star.
LUCY NICHOLSON/AFP/Getty Images)
"I'm so over that record at this point," she lamented. "I feel like I'm a completely different person, as far as my outlooks are concerned." Later she said, "I'm always biting my tongue, because I can get kind of provocative."
Nowadays it feels as if young stars are busy trying to convince their fans that they're boring, or at least far more normal than the headlines make them look. But what both generations have in common is that no one likes being labeled. And in an era when female pop singers were noticeably spicing up their looks as a part of asserting their independence, as they made the leap from teen star to grown-up entertainer, Aguilera followed suit to distance herself from her Disney Channel origins.
Aguilera was already particularly revered for the same reason she is today—her incredible voice—and she really wasn't doing anything too shocking. She liked to go out and have a good time, and ultimately anyone's misinterpretation of what that meant was their problem. But it was obviously much tougher to deal with in the moment, when she wasn't even out of her teens yet.
In particular, a crude shout-out from Eminem in "The Real Slim Shady" involving himself, Carson Daly and Fred Durst constituted the big controversy from her single days.
Eminem claimed that he took a shot at Aguilera because she, while singing the praises of his video for "My Name Is," mentioned that she thought he was cute but had heard he was married to the "girl he talks about killing on his record."
"I was like, 'no, you didn't just say that, you little bitch,'" Eminem replayed the moment in his head. "...Why did she pick my video if she's picking it apart? I would rather have had her just say nothing about me." So in his mind, that was putting him "on blast." "So I'm gonna voice some rumors that I heard about you," he explained.
About the lyric, she told MTV News in April 2010, "It's disgusting and offensive and above all it's not true."
To Rolling Stone, meanwhile, when asked about all of the above (as well as Enrique Iglesias, whom she was spotted making out with on the dance floor once), Aguilera more casually replied, "We end up seeing each other at parties and whatnot. I've actually hooked up a couple of times. Just for fun. But I haven't seriously dated a celebrity yet."
She was bummed out that Durst, who "bought me a milkshake" one night after the club, was in Eminem's video. And for the record she hadn't spent so-called "quality time" with either the Limp Bizkit frontman or Eminem.
Aguilera also recognized early on that it was a man's world, calling the flak she caught for hanging out at a strip club with Daly and some boy-banders "such a double standard when it comes to the boys and the girls. They totally overlook the fact that the Backstreet Boys cuss during their interviews, go to strip clubs all the time and do normal things for their age. It's not a dis to them, but it's so unfair."
As for Eminem, she insisted that what she said originally "wasn't a dis at all. And if you're going to be that retarded to think that it's a dis, then, you know, I'm not apologizing for anything."
She still had no love lost for his song "Stan": "Slicing up your baby's mama and stuffing her in a trunk and shoving her in the ocean with your daughter watching. That's disgusting. I'm sorry, but I think the majority of the world thinks that's disgusting. And I think it was really wrong of him to dis me like that, because all this past year I've been so positive in recognizing his talent."
"I can see where he would get a little mad and want to rebel against the Britney Spears, 'N Sync, Backstreet Boys world of teen music," Aguilera mused. "And if he has to do it that way and be that immature about it, then, fine, be that way. I'll just answer it on my next record."
Having pronounced herself ready for something edgier, she answered (after a Spanish-language album, a Christmas album and the massive success of "Lady Marmalade" from Moulin Rouge) with 2002's Stripped.
It boasted huge hits in "Dirrty" (with its "stank video" that inspired Kylie Jenner's 2016 Halloween costume); the anthemic, Grammy-winning "Beautiful"; the robust "Fighter" and an Eminem-inspired track in "Can't Hold Us Down." Aguilera threw herself into representing the album's theme—"it's me stripped of all the hype, the gloss, the controversy, the rumors"—and its overarching empowering message, sometimes quite literally.
She sat down with Rolling Stone again in 2002 after this time posing buck naked for the cover, and the article recalls her scrutinizing her photos ("it's just so curvy") and eschewing anything too generically good-looking.
"I don't like pretty. F--k the pretty," she said. Also, perhaps, f--k her critics, who'd really been up in arms lately over her clothes.
"Who cares what we wore to a damn awards show? It's the VMAs," Aguilera said in response to veteran gossip columnist Liz Smith comparing her and Britney Spears' 2002 MTV Video Music Awards outfits to "hooker get-ups." "I was happy with my outfit, and I'd wear it again." Shrugging it off she said, "I like being different. I have never followed the pack, and I'm not going to change now because in some magazine I made the list as—what was it?—one of the skunk-haired celebrities. Oh, but I was one of the 'funkiest skunks of all.'"
The release of Stripped also came in the wake of her breakup with dancer Jorge Santos, whom she had called her "first love," after almost two years of dating.
"He was my first real experience, sexually," Aguilera confided to Rolling Stone "I mean, you can fool around. There's bases and all that. But that was the first time. He was my first... everything." That was followed by an eight-month relationship with another guy that was "a bomb from the get-go." At the time, she said, she desired "the boys with the flava."
While Stripped ushered in a whole new epoch of fashion choices for the already pro-belly-button star, Aguilera was already known for having fun with her hair and clothes, from the ubiquitous caps of her "Genie in a Bottle" days and her famous Grammy-night braids in 2001 to Marilyn Monroe-inspired pinup-girl glamour and the raven hair she started sporting in 2003.
"I wanted my color to be darker, more mysterious," Aguilera recalled to InStyle years later. "It made me feel vixenish."
The message that she and some of her fellow artists were sending about being vibrant sexual beings couldn't be declared loudly enough in that era. Starlets were running around Hollywood with no underwear. Britney performed with a giant python at the MTV Video Music Awards in 2001, somehow outdoing the flesh-colored mesh outfit she wore to perform in 2000. Aguilera, Pink, Lil' Kim and Mýa brought lingerie back in a big way with "Lady Marmalade." And for awhile, Aguilera seemingly never left the house without a light coating of oil from head to toe. (Dirrty, you know?)
Pink recently claimed on Watch What Happened Live that Aguilera tried to punch her in a club one night during that wild time, the escalation of an alpha vs. alpha scenario that started while recording "Lady Marmalade." Then Britney and Xtina jumped the shark together in 2003 by trading kisses with Madonna onstage. Goodnight, nurse.
When she was 21, however, Aguilera did meet someone with the "flava": Jordan Bratman, a marketing executive she'd go on to marry in a lovely ceremony in Napa Valley in November 2005. 
And even though clothes don't necessarily make the woman, the woman eventually opted to change the clothes.
Kevin Mazur/WireImage for The Recording Academy
"Just because I have this newfound love in my life, that doesn't mean I'm going to play it any softer, or that I'm going to change my point of view on sexuality," Aguilera told the New York Times in July 2006 ahead of the release of her double-disc, also meaningfully titled album Back to Basics. "I still got the nasty in me."
When she was first starting out, "I was very pushed to look a certain way and act a certain way, and it wasn't me," she said, "but I played by their rules to get my foot in the door."
About her "Dirrty" days, Aguilera quipped, "Just like I knew I was going to be far more than that genie in a bottle, I knew I wasn't going to be that girl in the chaps forever. I'm in it for the long run."
(Sadly, there was a point, when Spears' troubles started to become more prominent, when the flippant go-to crack was: Wow, who would've thought it was gonna be Britney and not Christina? A thought apparently caused by some black hair dye, bare midriffs and a few piercings.)
Regarding her new collection of tunes, including "Ain't No Other Man" and "The Right Man," Aguilera told the Times, "Before I met Jordan I used to think that love songs were so corny and I never really wanted to go there. but now I'm in a happier space." Bratman "broke down so many walls" that had started to form when she was a child witnessing her father be abusive toward her mother and grew higher as she was finding out at a very young age that there were a lot of people she couldn't trust after all.
"It takes a strong man to be by my side and deal with this lifestyle," Aguilera concluded, "and it takes a very strong man to give me the freedom to do what I need to do artistically, and he's that."
In January 2007 Forbes estimated Aguilera's net worth at $60 million and she went on to have the highest-grossing tour of the year for a female artist, her Back to Basics Tour raking in more than $48 million.
And proving that she was still the same old fierce Christina, she stripped down to nothing but an open jacket to show off her baby bump on the cover of Marie Claire.
Aguilera then treated herself to a nice long break when she and Bratman welcomed their son Max on Jan. 12, 2008.
"I was just amazed with the whole process, it's unbelievable to see yourself grow like that," the new mom said when she resurfaced on Ellen, five weeks after giving birth. "Then to actually see the product of your love together...We just can't stop staring at him."
She and Bratman had just moved into the Beverly Hills home Ozzy and Sharon Osbourne had lived in while shooting their MTV reality show, making it one of the most recognizable homes in Los Angeles—but Christina insisted it was actually quite secluded once you were on the grounds.
So the couple enjoyed their domestic idyll for awhile. Then Aguilera finished her tour, got back in the studio and landed her first film role, starring opposite Cher in the musical Burlesque. 
While doing press for her 2010 album Bionic, which was met with lackluster reviews, she talked about owning her sexuality. "If I want to be sexual, it's for my own appreciation and enjoyment," she told the U.K.'s Company magazine that summer. "That's why I like to talk about the fact that sometimes I am attracted to women. I appreciate their femininity and beauty."
She called her husband of almost five years "my teammate in everything we do. He definitely makes life easier."
Something changed not all that much later, however, because in October 2010 Aguilera filed for divorce.
"Things were so unhealthy and unhappy for both Jordan and me, I knew I had to end it," she divulged to People that December. "It wasn't good for us, and it wasn't good for Max to witness our arguments. Children can feel when things aren't right in the home. I had bouts of extreme anxiety. I really didn't want to hurt Jordan, and I felt torn about splitting our family up."
"We were great the first year after Max was born," Aguilera recalled. "Jordan was amazing. He was the first to change Max's diaper. Then things turned."
By the time she gave that interview, Burlesque had hit theaters. 
"When I finished filming, I didn't feel right in my own shoes [at home]," Aguilera continued. "I had a lot of things stirring inside of me that I felt were being suppressed. We tried to work on the marriage and figure out a common ground. But the problems were obvious." As it turned out, Bratman wasn't on-board with the lifestyle after all.
"Jordan was always a supportive person, but 'supportive' can take on different meanings. He represented safety for me years ago. But our relationship changed," Aguilera explained. "I've grown as a woman and he's grown as a person. We were both looking for different things. We just weren't right for each other. I couldn't face living another five years and feeling that I wasted [that time] being unhappy."
Tommaso Boddi/Getty Images for Baby2Baby
In the spirit of not wasting time, she was already dating Matthew Rutler, who had been a production assistant on Burlesque.
"Matthew is a special person," Aguilera told People. "We had a really strong friendship on the movie. He's the kind of person you could spend hours on the phone talking to and all of a sudden it's daylight. Once I filed for divorce, we started dating. I'm not trying to jump into anything. I just left a five-year marriage. I'm taking it slow and trying to be happy."
They also went overboard with the fun at first: Rutler was arrested on suspicion of DUI in March 2011 and Aguilera, who police said couldn't stand on her own or give officers her address, was cited for public intoxication. (She never faced criminal charges.)
"Out of Myself, Britney, and Christina- didn't everyone think I was gonna be the troublemaker? LOOK MA!!! No CUFFS!!!" Pink helpfully tweeted when she saw the news.
Though that episode prompted concerns for Aguilera's well-being, she and Rutler only grew closer and have remained a relatively low-key couple ever since. They got engaged in February 2014 and welcomed daughter Summer Rain that August.
Meanwhile, Aguilera was busy taking a big leap of faith for her next career move.
After an inauspicious start to 2011, aside from the arrest, when she bungled a few lines of the national anthem at the Super Bowl, she made her debut on NBC's The Voice—and, spoiler alert, the show was a massive success.
Aguilera, whose "Beautiful" became an enduring anthem about self-acceptance, also started to open up about her own body-positivity journey. She told Marie Claire in 2012, "I've been through my highs, I've been through my lows; I've been through the gamut of all things in this business. Being too thin. Being bigger. I've been criticized for being on both sides of the scale. It's noise I block out automatically. I love my body. My boyfriend loooves my body. My son is healthy and happy, so that's all that matters to me."
After appearing on the cover of Maxim in 2013, she told Jay Leno on The Tonight Show, "At this point of my life, I'm 32 and I feel sexier than ever because you know what you want."
Any brief languishing of her career was soon forgotten as one starry-eyed aspirant after another went gaga at the prospect of working with the Christina Aguilera. She was back on a prime-time stage, and in people's homes multiple nights a week, and Aguilera was once again inevitable. She embarked on a series of new collaborations, and her duet with with A Great Big World on "Say Something" ended up winning the Grammy for Best Pop Duo/Group Performance in 2015.
Deftly handling the dual performances of vocal coach and reality-competition personality, Aguilera caught the acting bug again and went on to do a guest arc on Nashville and provide a voice for The Emoji Movie. She even buried the hatchet with Pink when the singer appeared on The Voice as a mentor.
"Her and I have had history and it hasn't always been wonderful, but finally, I think it just took us 15 years, and I feel like there was true love," Pink explained to Entertainment Tonight. "It felt really good. I love when you're around to have a full-circle moment and that was a full-circle moment for me because—in all honesty—I'm a fan of hers."
Aguilera told Billboard about reuniting with Pink, "I was so excited—even she was like, 'Why is she so excited to see me?' I was like, 'Another female! There's another vagina in the room! I'm so excited!'"
She sat out a couple of seasons of The Voice after welcoming her daughter before returning in 2015; her apparently final season on the show ended in May 2016, when she went out on a high note with Porter's win.
Once again, she was angling to try something new, uncover yet another side of herself—and before we knew it, she had gone missing again.
But not only did Aguilera score another leading film role in the sci-fi romance Zoe, co-starring Ewan McGregor, Léa Seydoux and Theo James and now streaming on Netflix, but she got back in the studio. She's steadily become more visible this year, posting stunning photos on Instagram of herself wearing no makeup and, in some, nothing at all; doing "Carpool Karaoke" with James Corden; and, yesterday, releasing her first new lead single in six years, "Accelerate."
She certainly is picking up the pace as she begins this new chapter.
Talking to Billboard about Liberation, which includes two tracks produced by Kanye West and features collaborations with Ty Dolla $ign and 2 Chainz, Xtina said, "To me, there's nothing like an amazing hip-hop beat." She added, "At the end of the day, I am a soul singer. When you strip back the words 'pop star' and the many things that I've done, singing soulfully is where my core, my root and my heart really is. And as you can see, it's what I'm inspired by."
(About Kanye, she said, "Outside of, you know, his controversial aspects, I just think he's a great artist and musicmaker and beatmaker.")
Aguilera admitted that she had started feeling "suffocated and restricted" by doing one thing for too long, comparing her current renaissance to how she felt releasing Stripped more than 15 years ago.
"I felt super label-driven and confined [being] commercially successful" after her debut. "And as great as it looks on the outside, I'm such a truth girl that if I'm not happy with something, I just can't do it anymore."
And now, she told Billboard, "I didn't get into this business to be a television show host and to be given all these [rules]. Especially as a female: You can't wear this, can't say that. I would find myself on that show desperately trying to express myself through clothing or makeup or hair. It was my only kind of outlet."
She's nervous about touring again, her first time on the road as a mom, "but it needs to happen. I'm looking forward to getting back out and actually showing my kids what Mommy really does!"
(E! and NBC are both members of the NBCUniversal family.)