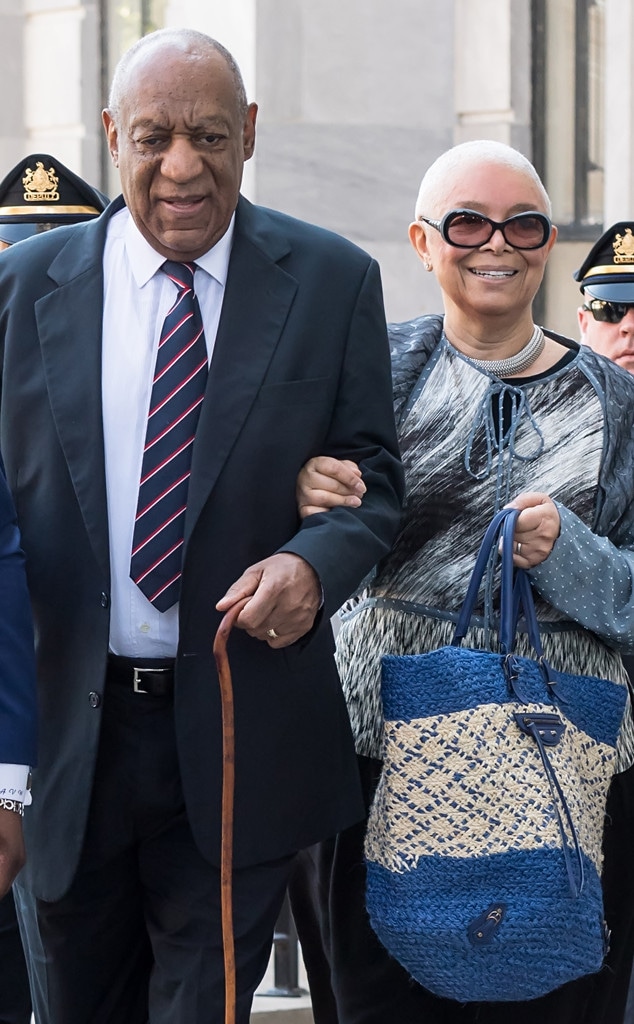 Gilbert Carrasquillo/WireImage
Camille Cosby has spoken. 
A week after her husband of more than five decades, Bill Cosby, was found guilty on three charges of aggravated indecent assault in a April retrial, Camille has penned a lengthy public retort in defense of the disgraced star. 
Cosby opened her statement with the first three words of the Constitution, "We the people," noting that not all American citizens were represented or considered by the language laid out in the document. It was only through dozens of amendments to the Constitution that fundamental rights were established, Cosby continued. 
She proceeded to argue that her husband's rights, specifically those to due process and equal protection, were overthrown by the "media, with their frenzied, relentless demonization of him and unquestioning acceptance of accusers' allegations without any attendant proof." As a result, Cosby claimed, there was no possibility for an unbiased jury and fair trial. 
"Bill Cosby was labelled as guilty because the media and accusers said so... period," she wrote. "And the media ensured the dissemination of that propaganda by establishing barricades preventing the dissemination of the truth in violation of the protections of the First Amendment. Are the media now the people's judges and juries?"
Citing the wrongful convictions of Emmett Till and Darryl Hunt, she argued that not all accusers are truthful. She further wrote that "unproven accusations evolved into lynch mobs" that triggered cancellations of Bill's performances and show reruns and had his honorary degrees revoked before there had been a trial.
She also called for a criminal investigation into District Attorney Kevin Steele and his team, claiming they are a "homogeneous group of exploitive and corrupt people, whose primary purpose is to advance themselves professionally and economically at the expense of Mr. Cosby's life." She further accused Steele of leading an "unethical campaign" for his position, which he won at the end of 2015 as the case was being reopened. 
DOMINICK REUTER/AFP/Getty Images
Without naming her, Camille also claimed Andrea Constand, the woman who Bill was found guilty of assaulting, gave a falsified account during the trial. "I firmly believe her recent testimony during trial was perjured; as was shown at trial, it was unsupported by any evidence and riddled with innumerable, dishonest contradictions. Moreover, Bill Cosby's defense team introduced the testimony of a witness who confirmed that the district attorney's witness admitted that she had not been sexually assaulted, but that she could say she was and get money...which is exactly what she did."
As the letter concluded, Cosby called for an end to alleged "abuses of power" in the government and media,  thanked the witnesses who testified on behalf of the defense and insisted the "truth will prevail, it always does."
"Once again, an innocent person has been found guilty based on an unthinking, unquestioning, unconstitutional frenzy propagated by the media and allowed to play out in a supposed court of law," Camille continued. "This is mob justice, not real justice. This tragedy must be undone not just for Bill Cosby, but for the country."