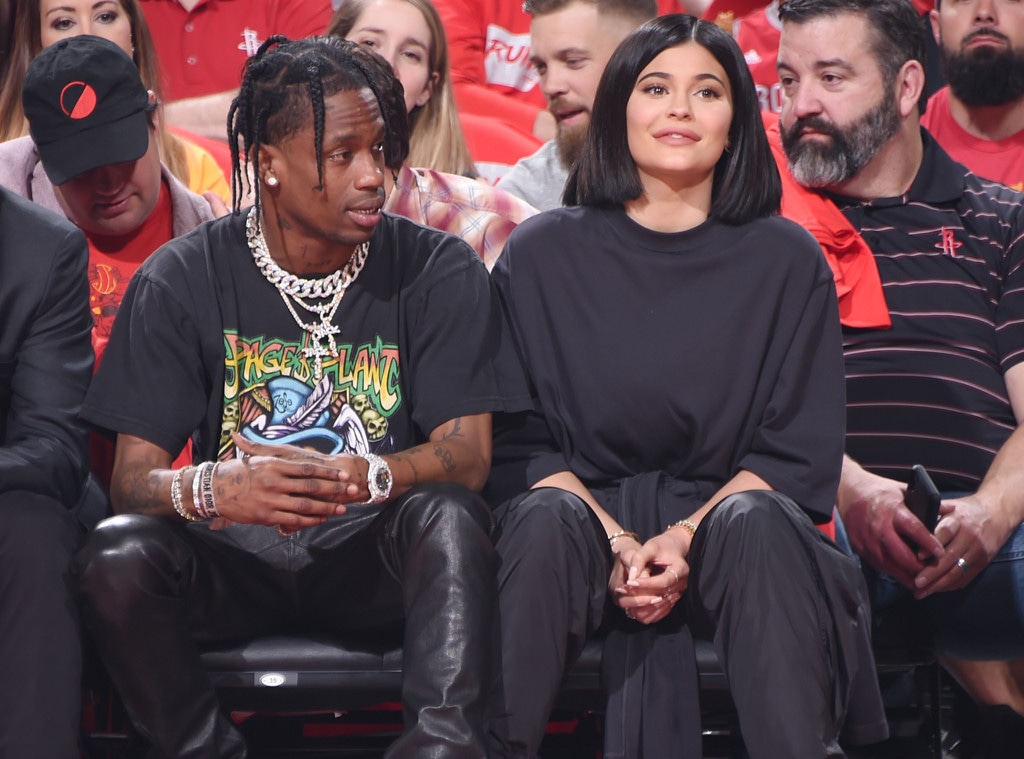 Bill Baptist/NBAE via Getty Images
To hear Kylie Jenner tell it, she's living her best life.
In the three months since welcoming daughter Stormi with boyfriend Travis Scott, the reality star has battled sleep deprivation, baby blues and the guilt that overcomes her each time she leaves the newborn in the care of one of her two nannies to tend to her other baby, the multimillion dollar Kylie Cosmetics brand. "I'm like, 'I'll be right back, I'm so sorry, I have to leave!'" she explained to sister Kim Kardashian, who recently interviewed her for ES Magazine, "and she doesn't even know what's going on. I think about her all the time, anywhere I am."
But when her older sibling asked how she was handling the challenges that accompany the early days of motherhood, Kylie admitted she hadn't really faced many. "It's actually been the opposite for me," she said. "I feel like it's just been so amazing, and so much fun. I'm learning so much more about myself and life."
And her 13-month relationship. Kylie and rapper boyfriend Scott were scarcely removed from the getting-to-know-you stage last summer when they discovered she was expecting their first chld. Yet the 20-year-old makeup mogul and the two-time Grammy nominee, 26, have emerged from the initial months of parenthood—a stage that gets the best of even the most established couples—as a committed, cohesive unit. "Kylie and Travis are currently in the best place they have ever been in their relationship," an insider tells E! News.
Since Stormi's arrival, the musician has proven to be a devoted dad ("He helps a lot at night," says the insider) and boyfriend, spoiling Kylie with gifts and baby-free nights on the town. "Things really came full circle once Stormi was born," says the insider, "and they now have an unbreakable bond."
Lighthearted fling may have been a more apt description when the couple first started hanging out last April. At the time, Kylie was fresh out of a relationship with rapper Tyga, 28, a rollercoaster romance she ended because "I decided that I'm really young." The Houston native had always been on the periphery of Kylie's circle, performing at sister Kendall Jenner's 2016 21st birthday bash and collaborating with brother-in-law Kanye West on his critically acclaimed Yeezus disc, and following Kylie's split, he made a move.
As the "Antidote" artist (born: Jacques Webster) and the lip kit maven circulated at a Coachella party, then held hands courtside at a Houston Rockets playoff game Apr. 25, some outlets speculated she was trying to make ex Tyga jealous. But a confidante told E! News Kylie was genuinely interested in the multiplatinum musician, who counts Rihanna as a former flame. "It's a fling right now," said the confidante. "It hasn't developed into anything yet, but they are feeling each other for sure."
Two months—and a series of cross-country PDAs in Boston, New York and Miami—later, they made their love permanent, getting matching butterfly tattoos inked on their ankles.
The symbol, a nod to Scott's track "Butterfly Effect," which President Barack Obama named one of his 2017 favorites, became a through-line in the couple's budding relationship. Though the star confessed to a fear of the insect on her Life of Kylie spinoff ("I'm terrified—terrified of butterflies. All butterflies," she said) a source told E! News she was "obsessed" with Scott's May 2017 release. Really, she told ES Magazine, she loves "everything" about his music, particularly "the way it makes you feel."
Snapchat; Instagram; Getty Images
This song, though with lyrics such as "Heatin' up, baby, I'm just heatin' up (it's lit) / Fiji lover, now they need it is a must / Feelin' stuck, you know how to keep me up / Icy love, icy like a hockey puck," became sort of an audio representation of their union. Scott even marked Kylie's August birthday by gifting her a bespoke diamond-studded gold chocker adorned with five gem-covered butterflies. (Estimated cost for the Avianne Jewelers design: $60,000.)
Says the source, "Butterflies became 'their thing' to describe their relationship that was blossoming into something beautiful."
Blossoming and bearing fruit. When the pair learned they'd be welcoming a daughter the following year, they knew they needed a nod toward their special emblem. Though Kylie told ES Magazine, "I really don't know how we thought of Storm," the source says it sprang from the butterfly effect concept and the idea that any tiny atmospheric change could ultimately alter the path or occurrence of a tornado. Explains the source, "Storm is somewhat related to the butterfly effect and that's why they decided on the name."
Kylie tweaked their initial approach a little, explaining, "I didn't really like just Storm—I didn't feel like that was her name. So then it became Stormi. And it just stuck." And like her cousins, the 3-month-old bears no middle name. But her surname was never in doubt: Stormi, like her dad, would be a Webster.
Scott has proven worthy of the honor. Though he owns homes in both Houston and Los Angeles and has a packed schedule that sees him juggling live performances, promotional appearances (in December he flew to Paris to unveil a limited-edition, leather-packaged vinyl album in collaboration with fashion brand Yves Saint Laurent) and his forthcoming third album Astroworld, he bunks at Kylie's eight-bedroom spread in L.A.'s Hidden Hills neighborhood whenever possible.
There, he can be on hand to help Kylie through middle-of-the-night wakeups or to simply gaze at his new offspring. "He can't get enough and wants to just hold her and stare at her," another source tells E! News of the "obsessed" father. "It's surreal for him that they created this. He's working a lot but spending time with Kylie and Stormi when he isn't. He misses them so much when he's gone and wants to make sure he doesn't miss anything."
Because each tiny milestone draws him and Kylie closer. "Stormi will do something new, like she just started smiling, and Kylie knows that only Travis can really understand what it feels like to see your baby smile for the first time," a source tells E! News. "It's a special feeling for Kylie that she has never had before. They are so happy with their little family and for all the new love it has brought out between them."
And while another source says Kylie wasn't surprised that her man is holding it down on the parenting front, her famously tight-knit clan is thoroughly impressed. Says the insider, "Travis has been fully accepted into the family and everyone is in love with their little family they created."
Credit the fact that Scott is doing more than just pulling his own weight in the parenting department. Along with making sure Kylie gets enough sleep, he ensures she's receiving enough attention.
Since Stormi's February arrival, the parents have enjoyed outings from the simple (grabbing afternoon smoothies from an L.A. Jamba Juice) to the more extravagant (a March getaway to Miami). "They are making time to get out just the two of them and Kylie appreciates and enjoys that," says the source. "She has the best of both worlds with her amazing baby at home and a little bit of time with Travis doing the things they love to do."
The insider adds that Scott lavishes his girlfriend with both time and toys. Soon after Kylie learned she was expecting, Scott presented her with an emerald-cut diamond-adorned ring that sparked a series of engagement rumors. And after Stormi's arrival, Kylie showcased a black Ferrari La Ferrari "push present" on social media. Says the insider, "Travis likes to spoil Kylie with gifts so she knows she is still important."
Of course the businesswoman—worth an estimated $41 million per Forbes—is great at returning the favor. She feted Scott's Apr. 30 birthday with two over-the-top celebrations. After renting out Six Flags Magic Mountain in Valencia, Calif. Apr. 28 so they could enjoy the rides undisturbed alongside sisters Kourtney Kardashian, Kim, Kendall and a group of pals and presenting him with an AstroWorld-themed cake, she whisked him, Stormi and another contingent of friends off to Turks and Caicos Amanyara resort.
On his actual birthday, Kylie commissioned a mega yacht to navigate through the Atlantic Ocean during the afternoon and planned a group dinner at the resort. Says an onlooker, "They also spent time on the beach and in the sun, swam together and watched the sunset. Kylie and Travis looked very in love and like they are in a great place."
By all accounts, they truly are. Having sailed past their first anniversary, "Kylie and Travis are doing very well," says a source. "Having Stormi has strengthened their relationship and elevated it to a new level."
That being said, they're not quite at the trading vows and pledging forever stage. "They are in no rush to get married or even engaged," says one pal. "Stormi is their only priority right now."
Although, caring for their progeny has made them both start envisioning their ultimate goals. "I think more about the future because of her," Kylie told ES Magazine, adding she's determined to expand her beauty line worldwide. "Every time I leave and I'm stressed about leaving her, I'm like, 'I'm doing it for you.' Everyone says you change completely when you become a mom, but I really feel the same, just better."
And perhaps a bit more cognizant of the role fate may have played in her life. When asked by big sis Kim if there's anything she would have done differently in her past, Kylie is resolute. "I don't feel like I ever look back and want to do things different, because I'm so proud of where I am right now, and where we all are," she explained. "So I feel like everything that has happened was how it was supposed to happen."
Spoken like a woman who knows it doesn't get much better than this.