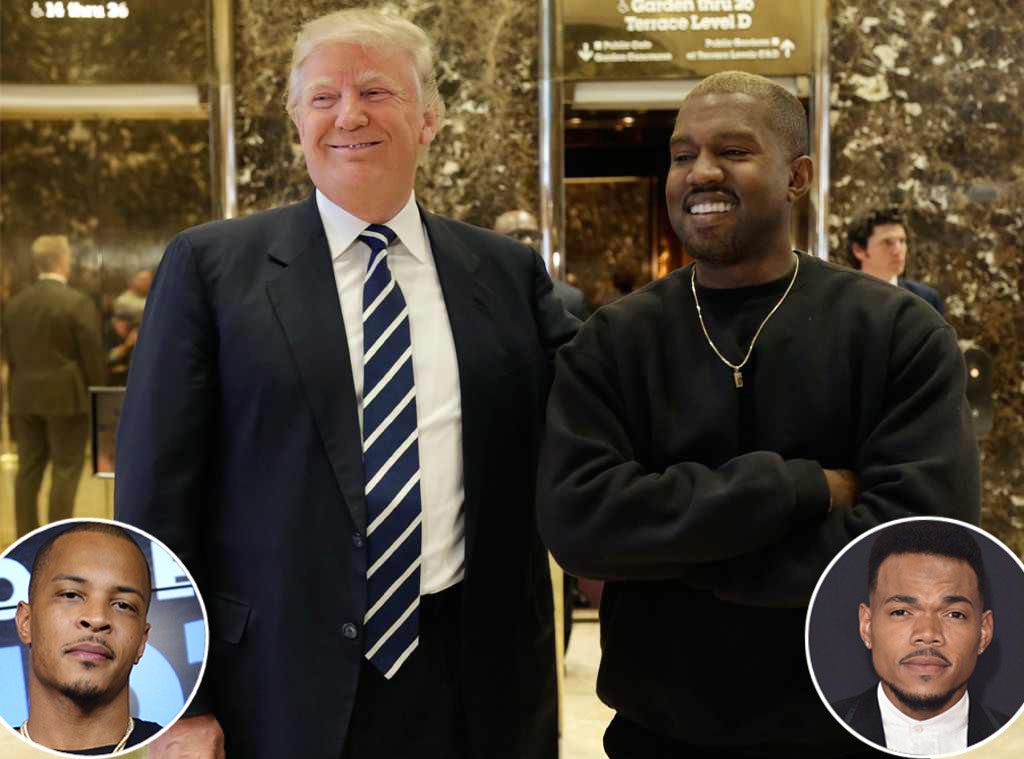 AP Photo/Seth Wenig
Chance the Rapper says Kanye West is "family," while T.I. says refuses to "give up on him," days after Yeezy shocked millions of fans with a series of pro-Donald Trump tweets.
Kanye had also in the past occasionally praised the now-U.S. president, who Democrats and other opponents often criticize over his policies and record on race relations. After the rapper called Trump his "brother" and shared a photo of himself wearing a "Make America Great Again" cap, Chance tweeted, "Black people don't have to be democrats," and also said he talked to the star two days ago and that he was "in a great space and not affected by folk tryna question his mental or physical health."
The latter star took to Twitter on Friday to clarify his remarks and express his support for Kanye.
"Kanye West is not just a mentor or big homie to me. He's my family," he wrote. "No matter how much I may disagree with him, it's hard for me to watch people talk about someone I love – even if they were justified in doing so. I didn't speak up because I agree with what Kanye had to say or cause I f--k with trump, I did it because I wanted to help my friend and cause I felt like I was being used to attack him. Unfortunately, my attempt to support Kanye is being used to discredit my brothers and sisters in the movement and I can't sit by and let that happen either."
"I'd never support anyone who has made a career out of my hatred, racism and discrimination," he continued. "I'd never support someone who'd talk about Chicago as if it's hell on earth and then take steps to make life harder here for the most disenfranchised among us...My statement about black folk not being democrats (though true) was a deflection from the real conversation and stemmed from a personal issue with the fact that Chicago has had generations of democratic officials with no investment or regard for black schools, neighborhood or black lives. But again, said that s--t at the wrongest time."
He added, "We have to talk honestly about what is happening and has been happening in this country and we have to challenge those who are responsible, as well as those who are giving them a pass. If that happens to include someone I love, someone who is my brother-in-Christ and someone who I believe does really want to do what is right, it's my job to defend or protect him. It's my job pick up the phone and talk to him about it."
Also on Friday, Trump tweeted, "Kanye West has performed a great service to the Black Community - Big things are happening and eyes are being opened for the first time in Decades - Legacy Stuff! Thank you also to Chance and Dr. Darrell Scott, they really get it (lowest Black & Hispanic unemployment in history)."
"Nah that aint it yo," Chance replied.
During his Twitter spree on Wednesday, Kanye posted a text conversation between him and John Legend, who does not support Trump and expressed concern over his positive tweets about him. The singer said that "so many people who love you feel so betrayed right now because they know the harm that Trump's policies cause, especially to people of color." While Kanye was unapologetic, the exchange ended on a positive note.
T.I., a longtime Trump opponent who has worked with Kanye in the past, posted on Instagram Stories on Friday, "Yesterday spent the day wit Kanye...Long term work in progress, no doubt. Still optimistic something from our discussion gon STICK...I refuse to just give up on him. The old Ye TOO IMPORTANT!!!"
Kanye has not responded to the fellow rapper's remarks.
Days before his Twitter spree, Yeezy angered more fans by tweeting, "I love the way Candace Owens thinks," referring to a popular conservative commentator.
T.I. then reposted on Instagram a message from Women's March co-chair and Black Lives Matter advocate Tamika D. Mallory, who wrote, "I would like to sit down with Candance Owens. Ya'll tell her for me please!"
"CHALLENGE!!!" T.I. wrote. "@tamikadmallory I'll pay for travel if need be. @realcandaceowens Whattup wit ya schedule or whatever?"
A month after the 2016 election, Kanye had a friendly meeting with Trump at Trump Tower. T.I. later posted a series on Instagram videos criticizing the fellow rapper and talk show host Steve Harvey, who also met with the president.
"There's a strategic plan that people are trying to make you a part of," he said.
T.I. signaled that by appealing to various significant black celebrities, Trump aimed to "divide and conquer" the African-American community.
"There's nothing wrong with sitting down across from anybody and no matter how different your views may be from theirs or how different your backgrounds may be, as long as they give you the basic human decency of respecting your values, respecting your ancestors' legacies and then not representing hate groups...with that being said, Kanye, what the f--k you doin', man? Steve, man, you know way better than that, man."