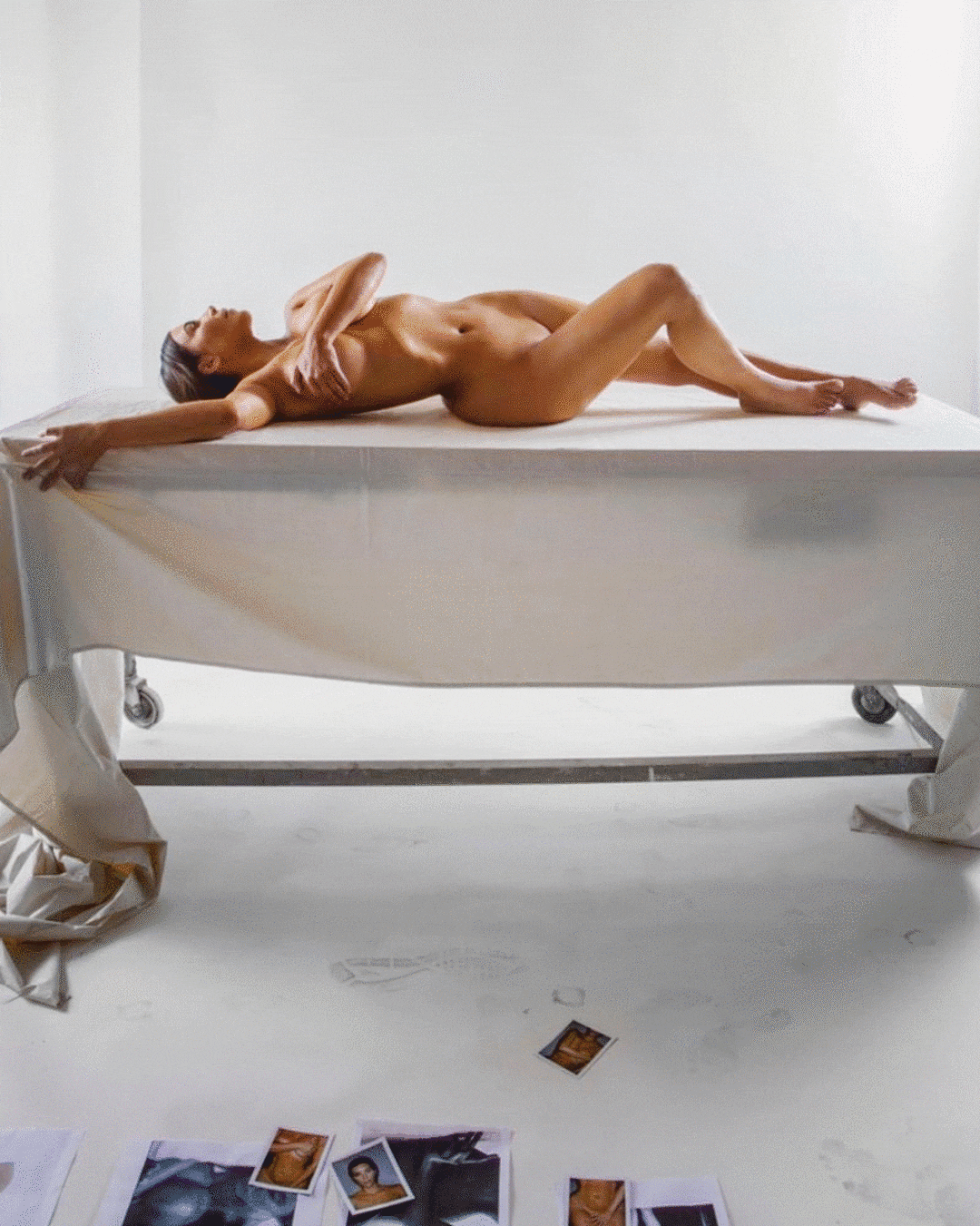 Instagram
Kim Kardashian West knows how to sell sexy.
If her latest KKW Body fragrance, a blend of bergamot, peach and musky notes, doesn't prove it, the nude campaign photos, Instagram posts and even the bottle—molded after the Keeping Up With the Kardashians star's own body—surely will.  
"Overall, it's a really sexy fragrance. It reminds me of summer. It just evokes a sexiness to me," Kim told E! News in a phone interview.
Leading up to the product's April 30 release, the beauty mogul has teased out images of the design and marketing process, which feature Kim naked in mold castings or nude, only partially covered by other body parts.
"Yes, it is definitely revealing, but I've been revealing. I don't think that's anything new. I don't get why people are so shocked when I do a revealing shoot. I do so many of them," Kim said in response to social media backlash. "I did do another shoot. It was in the same art gallery...I ended up liking the more nude images better. I thought, 'There's no better time. If there's ever a time to do this, this is the product. This is the fragrance.'"
Of course, there's also the old adage: "When you've got it, flaunt it." And there's no denying the mother-of-three definitely has the proverbial it. In recent weeks, she's shared how her diet and workout plan has made her stronger. 
"Honestly, I spent the last eight to 10 months fully working out with my trainer," she told E! News. "I swear I've never been in better shape than I am now. So, why not, you know?" 
Right timing, right product, amazing body—everything about the $60 product oozes confidence. The actual process to capture the sexy scent proved slightly more uncomfortable. Kim wanted to create a stone sculpture-like bottle, inspired by the life-size art pieces she has in her own home. Originally, the shape of the bottle wasn't modeled after Kim's body at all. 
"We were making it out of something else, and I was like, 'Why aren't we making it out of my body?'" the business mogul asked.
Enter: full-body digital scans and mold castings. 
"First, we did full-body scans. Digital scans are more accurate...but just more awkward because a team of tech people come in, and you're standing there fully naked. It's totally awkward because people are holding up computers and machines and walking around with these wands that are basically scanning your body," Kim described.
"Then we did moldings and castings of my body. You have to completely cover your body in Vaseline, which is just so sticky. Then, they put sheets of the plaster on top and you just have to wait. Honestly, it didn't take long—the whole thing maybe takes under an hour. It was really fun to create. Thank god, there was a shower there."
The result was exactly what the entrepreneur envisioned. The cover and face of the Business of Fashion's special beauty issue won't follow through with any project that doesn't align with her vision.
"My next fragrance—I have something sweeter and fun—coming out and then after that…I'm still in the brainstorming period. If I have an idea, but the bottle renderings don't look like I want them to be, then I just won't go with that," Kim added.
There's actually no scent she won't bottle if it smells and blends right, but if the reality-star-turned-businesswoman could bottle up any fragrance for her own personal collection, it would smell ever-so sweet.
"See, I would say churros but I don't know if that would make me hungry all the time and want that," revealed Kim. "If I could bottle any scent just to have with me, it'd probably be my baby's scent. Babies smell so good!" 
While Chicago West is only a few months old, it won't be long until she's ready to dabble in her mom's impressive beauty arsenal, kind of like 4-year-old sister, North West.
"[North] always sees the fragrances, and she's always like, 'I want perfume,' but I don't know, maybe when she's a teenager," said Kim about the age she'll let her daughter wear fragrance. "She's very fickle. My daughter changes her mind a lot. I was saying to her the other day, 'Hey, do you want to take this picture with me? We can put on some makeup...just to be funny.' And she was like, 'Mom, I don't wear makeup. I'm just a kid.'"
We see a big market for churro-scented products here, Kim.