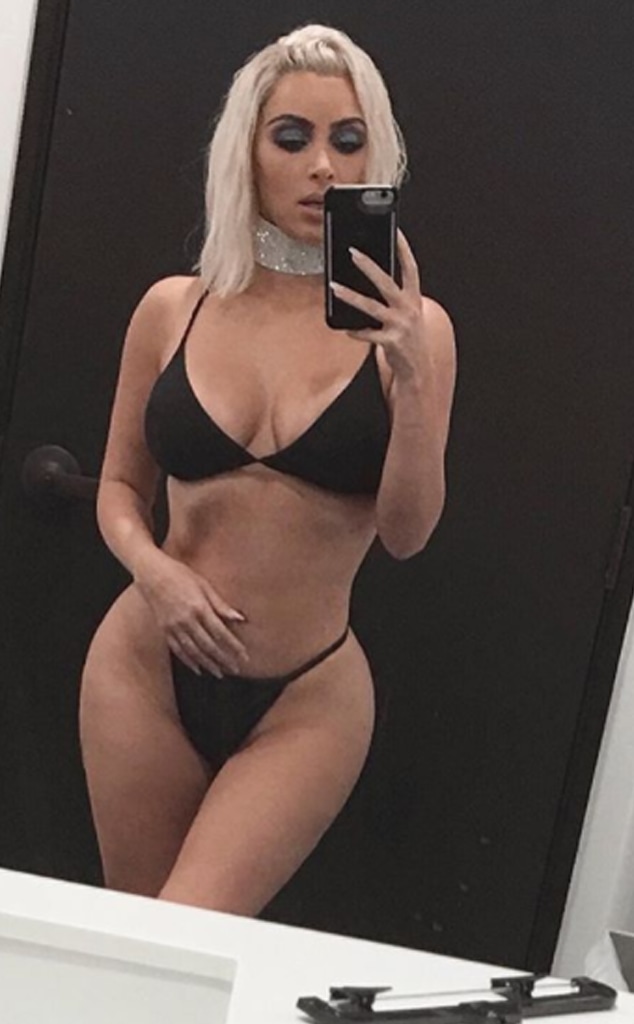 Instagram
When it comes to health and fitness, Kim Kardashian does not miss a beat!
In between documenting her workouts on social media and blogging about her favorite foods on her website and app, the Keeping Up With the Kardashians star can set a goal and accomplish it.
And during the past year, the proud mother of three has worked with trainer Melissa Alcantara to transform her fitness journey.
"I think she just needed a change. I think she just felt like looking one way is one thing, but taking care of your body is something else. You can do both at the same time," Melissa shared with E! News exclusively. "The biggest part is not just working out. It's eating well to also look good. That's mostly what I work in is aesthetics—building full, nice muscle takes a lot of nutrition.
According to Melissa, who has a website and YouTube channel for workouts and blogs, Kim typically breaks a sweat six days a week for 60 to 90 minutes depending on what muscle groups she's working on. And yes, Melissa is the first to describe the regimen as "intense." 
"We kind of hit each muscle group one time a week except for legs we do twice. So we'll do something like back and triceps, or chest and biceps and then we'll have a day dedicated to abs," the trainer explained. "It changes a little bit from time to time but the fundamental exercises, the things that you just need always just don't change like squats, dead lifts, bench press and shoulder presses."
As many people learn in their health and fitness journey, working out is only part of the equation. Diet is also a huge factor is feeling and seeing results.
For Kim, she is following "flexible dieting" also known as macros. It changes depending on what workouts the pair follows during their sessions.
"She has a specific amount of protein, carbs and fat that she has throughout the day. It's split out into about four meals—like three meals and a snack. I just want her to eat good, clean food," Melissa explained. "It's not being afraid of eating food because that's also one of the issues that a lot of people have."
Melissa added that she tries to focus less on what the scale says but more on how her clients including Kim feel.
"She feels stronger, she feels tighter. She's always points out these new muscles," she shared. "Those are the things I want her to focus on and I think that it's more now about how I look versus what the scale says. Who cares what the scale says. As long as I feel like I look good and I feel good. We don't even talk about weight really."
And for those who claim they can't start a health and fitness journey of their own because they are too busy or pre-occupied with kids and work, Melissa has some advice.
"I just think that a lot of women get caught up in their everyday lives and they worry a lot about other people and not themselves," she shared. "These fitness people are not any different than you. They didn't come out of their mama's vaginas with muscles. They got there somehow and you can do it too."