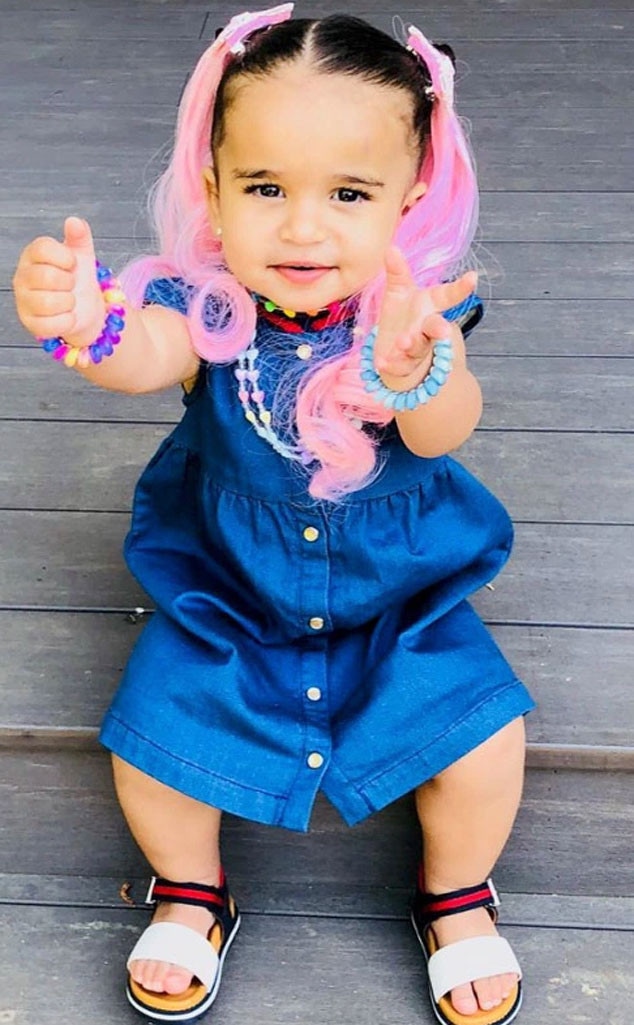 Instagram
Blac Chyna is facing backlash over a photo she posted of her and Rob Kardashian's daughter, Dream Kardashian.
On Wednesday, Chyna took to Instagram to share a picture of her 1-year-old girl with pink clip-in hair extensions. "My beautiful baby girl," she captioned the post.
Shortly after sharing the pic, many Instagram users began to criticize Chyna over Dream's extensions, asking Chyna she would do that to her child.
Even though some Instagram users came to Chyna's defense in the comments, it looks like she has decided to delete the photo because it can no longer be found on her account.
This Instagram controversy comes just weeks after Chyna was involved in a fight at Six Flags.
On Easter, Chyna was filmed getting involved in an altercation with an unidentified woman at Six Flags Magic Mountain in Valencia, Calif. She was at the amusement park with Dream and son King Cairo.
Videos of the fight show Chyna taking off her pink jacket and then attempting to use her children's hot pink toy car to swing it at someone. Chyna is shown being held back at different times by several people.
After the incident, Chyna took to Instagram Story to send a message to fans. "Being famous is hard enough dealing with scrutiny but when someone feels comfortable to come and touch your child it's a whole other story," she said. "I do not condone violence nor am I a violent person but shout out to all of the amazing mothers out there that will protect their children at all cost."
"Rob is furious with Chyna for putting Dream in danger," a source told E! News following the incident. "He plans to file papers to try and get more custody of Dream and to reduce Chyna's child support. He hopes the judge will see that he wants what's best for Dream and that he is putting her safety and best interest before anything else."
The insider continued, "Rob feels she needs to have a chaperone when Dream is in her custody to ensure that she is safe."
"Nobody is surprised to see what happened," another source told E! News about the Kardashian family's reaction to the fight. "They are just glad Dream was not in the stroller and was safe. It's concerning that Chyna behaves this way with Dream around, but this is typical Chyna behavior."
"It's a shame that she can lose control of herself and rage so easily," the insider continued. "The family hopes that she will be better for Dream and will learn from this."
What do you think about Dream's pink hair extensions? Sound off in the comments!