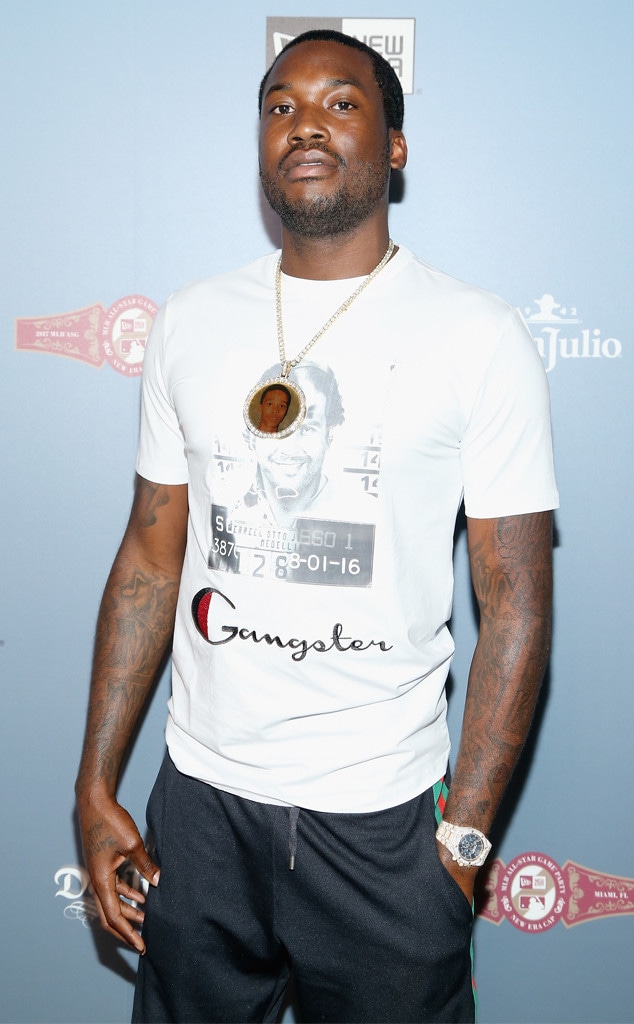 Bobby Metelus/Getty Images for New Era Cap
Meek Mill said he's "in a daze" after being freed from prison, in what marked his first interview since his incarceration. 
On Tuesday, the rapper was released from a Pennsylvania jail after serving almost five months for a probation violation after the state's supreme court granted him bail and his legal team's Post Conviction Relief Act request for freedom. His case made headlines as criminal justice reform supporters, including top celebs such as Jay Z, publicly condemned Meek's prison sentence as too harsh.
"I am still dazed, I'm in a daze, this is great, and unbelievable," Meek told Page Six on Tuesday evening. "I always had confidence it was going this way, but I didn't know when it would happen and I'd be free. It looked like it was going to take months more."
"I was in my cell and I was watching the news, and they said I'm free," he said. "I immediately said a quick prayer, and got ready to go."
A previous judge had sentenced him to two to four years in prison after ruling that he had for the fifth time violated probation given for a drug and weapons conviction in 2008, citing a failed drug test, failure to comply with a court order restricting his travel and two other unrelated arrests. The Pennsylvania Supreme Court stated in the ruling that there were "credibility issues with a police officer who was a 'critical witness' at Meek's 2008 convictions.
Meek will now either receive a new trial or prosecutors can also drop the their charges against him.
"In the meantime, I plan to work closely with my legal team to overturn this unwarranted conviction and look forward to reuniting with my family and resuming my music career," Meek tweeted after he was freed. 
After his release, Meek was Philadelphia 76ers co-owner Michael Rubin took him to the team's game against the Miami Heat. The 76ers won 104-91.
"@meekmill is FREE!!! Just left visiting Meek with @kevinhart4real and I'm on the way back to pick him up as we speak! #MeekisFree #GoSixers," Rubin shared with his followers before the game.
"We are on to see the Sixers game, and it's going to be a big night for Philly," Meek told Page Six. "The team is going to advance, and I came home."