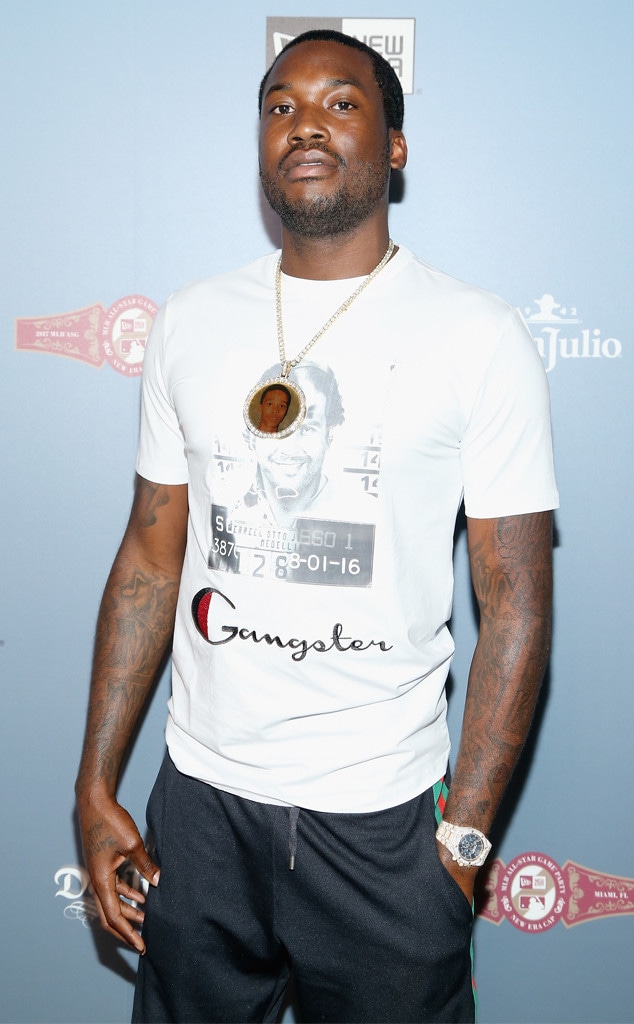 Bobby Metelus/Getty Images for New Era Cap
Meek Mill is a free man.
E! News can confirm the rapper has been granted bail after spending nearly five months in prison. On Tuesday evening, he was spotted boarding a helicopter and heading to a basketball game. 
"I'd like to thank God, my family, and all my public advocates for their love, support and encouragement during this difficult time. While the past five months have been a nightmare, the prayers, visits, calls, letters and rallies have helped me stay positive," Meek shared with his followers on Twitter. "To the Philly District Attorney's office, I'm grateful for your commitment to justice. I understand that many people of color across the country don't have that luxury and I plan to use my platform to shine a light on those issues."
He added, "In the meantime, I plan to work closely with my legal team to overturn this unwarranted conviction and look forward to reuniting with my family and resuming my music career."
Back in November 2017, a Philadelphia judge sentenced the artist to spend two to four years in state prison for violating probation he was put on following a drug and weapons conviction in 2008.
Since the ruling, fellow rapper Jay-Z has been an outspoken supporter for Meek and called the sentence "unjust and heavy handed."
"Today, Meek Mill, a son of Philadelphia, is a free man. He was incarcerated unjustly and caught in a probation trap for years by a broken system," he shared on Facebook Tuesday evening. "Now we can celebrate his release. We thank every individual that has supported and fought alongside Meek every step of the way."
"We are thrilled that the Pennsylvania Supreme Court has directed Judge Brinkley to immediately issue an order releasing Meek on bail.  As we have said all along, Meek was unjustly convicted and should not have spent a single day in jail.  We are also pleased that the Pennsylvania Supreme Court has noted that Judge Brinkley may opt to remove herself from presiding over any further proceedings in Meek's case in the interests of justice," Meek's attorneys shared in a separate statement after today's ruling. "Meek is excited to be reunited with his family, and we, along with Meek, intend to continue to shine the light on a justice system in need of reform to prevent any other citizen from being put through what Meek has endured." 
Soon after the release, Philadelphia 76ers co-owner Michael Rubin posted a picture on Instagram celebrating Meek's release from prison.
"@meekmill is FREE!!! Just left visiting Meek with @kevinhart4real and I'm on the way back to pick him up as we speak! #MeekisFree #GoSixers," he shared with his followers.
Kevin Hart added, "Meek Mill is Frrrrreeeeeeeee ....I just left from seeing him in jail with @michaelgrubin and we were just told that he is being released. Woooooooow......Stand Up Philadelphia!!!!!"