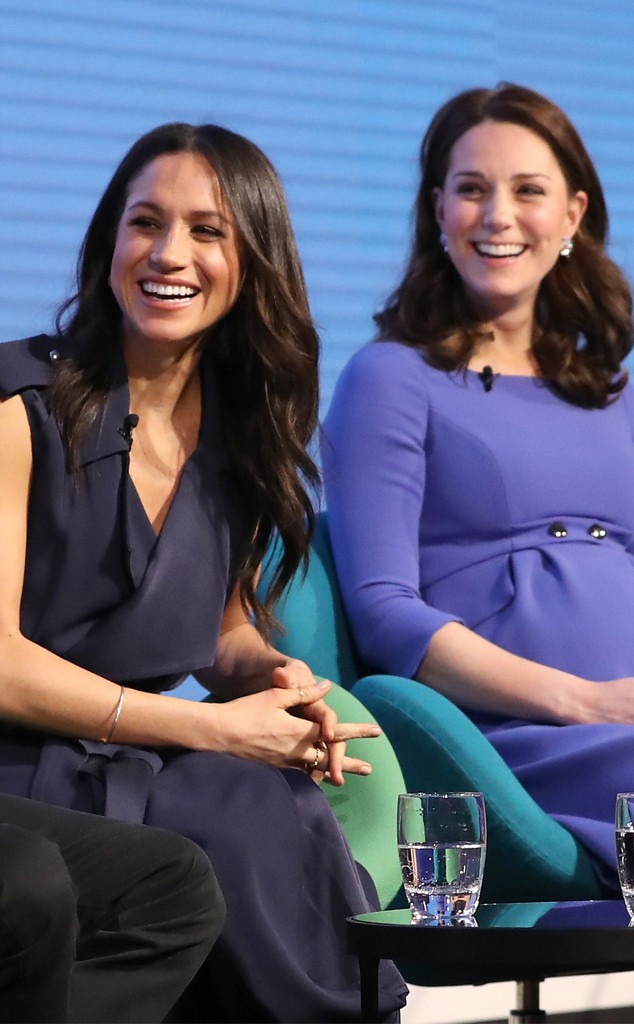 Chris Jackson - WPA Pool/Getty Images
These soon-to-be sisters-in-law have their own distinct styles. 
While Duchess of Cambridge Kate Middleton has reigned as a fashion icon all her own since wedding Prince William in 2011 and becoming a public figure, future family member Meghan Markle is paving her own distinct sartorial path within the monarchy. 
Though they'll soon be married to brothers and share in the royal way of life, when it comes to their fashion sense, the two women are very different. While the mother of two is known for her vibrant outerwear, standout fascinators and elegant array of dresses, the American star has introduced a relaxed aesthetic to the mix with her layered looks packed with simple polish. 
So, what would it be like if these women went shopping in each other's closet? You're about to find out. In honor of this experiment—and through the magic of Photoshop—we've swapped a few of their signature looks. Take a look at the results below:
Lindsay Scheinberg - E! Illustration
When it comes to bundling up in the brisk air, these ladies have proven just how fabulous outerwear can be. However, Middleton typically opts for something more colorful, while Markle tends to lean toward a more muted color palette and a wrap design. Time to switch!
Lindsay Scheinberg - E! Illustration
It seems unlikely these two will ever be twinning when it comes to daytime attire. Middleton loves a more traditional tailored suit jacket and skirt or vibrant sheath. Meanwhile, the future bride is keen on trousers and longer skirts and tops with a slight edge, like an off-the-shoulder neckline, for example. If she opts for a dress, it's something like the Altuzarra one above, with a less traditional silhouette and jacket adorning her shoulders. 1-2-3—swap!
Lindsay Scheinberg - E! Illustration
Even royals dress down on occasion. For athletic wear, Kate and Meghan know how to tackle comfort in their own way. Here's what it would look like if they switched it up. 
Lindsay Scheinberg - E! Illustration
When it comes to evening wear, there are so many possibilities depending on the event, the location and the weather. Middleton typically tackles the category in cocktail dresses in various bold hues and fabrics, like this red version above. While we haven't gotten to see many evening options for Markle since she started dating Prince Harry, she did put her own twist on the category when she opted for a streamlined Alexander McQueen black suit. Here's what it would look like if they walked a night in each other's stilettos. 
Lindsay Scheinberg - E! Illustration
In the world of royal black tie, the style is simply divine and both of these women are proof of that. Markle demonstrated the glamour of a floor-length gown in her official engagement portraits with Prince Harry when she posed in a ruffled design by Ralph & Russo. Meanwhile, Middleton has taken a more colorful approach to her array of gowns over the years, like this jade lace Jenny Packham number above. Here's what it would look like if the ensembles were reversed. 
Which swap was your favorite? Share with us in the comments below!