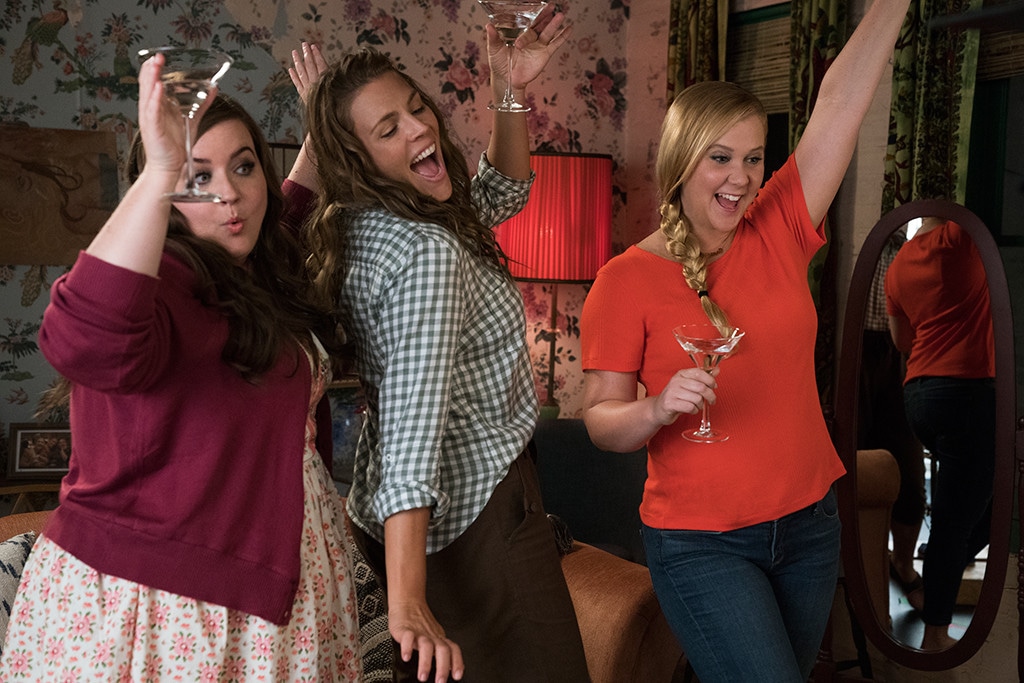 Mark Schafer/STX Financing, LLC
I Feel Pretty is about as confident as its leading lady, according to critics.
Written and directed by Abby Kohn and Marc Silverstein, the film—in theaters Friday—stars Amy Schumer as Renee Barrett, an insecure single woman in a dead-end job. She suddenly gains self-confidence after a freak accident leads her to believe she looks "like a supermodel."
"I hope this movie reaches everyone, but I personally made this for my 12-year-old self," Schumer said at the premiere, "and I hope you guys could heal your 12-year-old selves tonight."
Fans got their first look at I Feel Pretty in February, and it immediately caused a stir on social media. "When the trailer came out, I got really nice backlash where they said I wasn't 'disgusting enough' to play that role. And thank you!" Schumer joked on The Late Show With Stephen Colbert last week. "But it's not about an ugly monster—she just has low self-esteem."
The PG-13 comedy also stars Aidy Bryant, Naomi Campbell, Tom Hopper, Lauren Hutton, Adrian Martinez, Busy Philipps, Emily Ratajkowski, Rory Scovel, Michelle Williams and Sasheer Zamata. Oprah Winfrey, who is not affiliated with the film, endorses its message in an upcoming podcast. According to STX chairman Adam Fogelson, Winfrey said, "You know, you really walk out of that film and you feel what the definition of empowerment is, what the embodiment of empowerment is. You feel good about you, and you just can't do better than that as an artist. You walk out and you feel good about you and less judgmental about other people. And if you could do that in a film and make people laugh—come on, Amy Schumer!"
Here's what five film critics are saying about I Feel Pretty:
Mark Schafer/STX Financing, LLC
• Schumer is "often delightful," The Hollywood Reporter's Sheri Linden writes, and her "unfiltered persona makes her the perfect foil" for the "hyper-polished corporate types" she interacts with onscreen. A "gifted" Williams "proves unsurprisingly adept" at comedy, thanks to her "breathy-voiced and blank-faced" characterization of cosmetics company exec/socialite Avery LeClaire: "Like Tilda Swinton's magazine editor in Trainwreck, Williams is the movie's standout surprise." Although its "attempts at irreverence" are uneven, I Feel Pretty ends on a high note, when a deft Schumer "taps into something that can't be contained by the story's simplistic framework."
Mark Schafer/STX Financing, LLC
• "Not exactly the first movie that's ever dared to suggest that it's what's on the inside that counts, I Feel Pretty at least has the decency to be honest about how far that wisdom can take you," IndieWire's David Ehrlich writes. "The movie doesn't share the perspective that Renee is a hideous sea hag unworthy of human love, nor does it encourage us to see her that way." In fact, it hinges on the idea that she "feels awful, even if her insecurities are mostly self-inflicted." Williams gives an "all-time performance," subtly revealing Avery's self-doubt. "Every line slays." In spite of its faults, the movie "never slackens in its conviction that the world reflects how you feel about yourself, or in how empowering that can be if you come at it from the right angle."
Mark Schafer/STX Financing, LLC
• "Unfortunately for many American women—but conceivably good for the movie's box office chances—contemporary audiences have been so corrupted by heavily airbrushed magazine spreads, surgically enhanced supermodels, and unrealistically proportioned porn stars that they'll readily accept Schumer as a dowdy fixer-upper," Variety's Peter Debruge writes. A "well-meaning, female-targeted romantic comedy" that "aspires to make everyone feel beautiful," I Feel Pretty "makes it a point never to reveal how Renee perceives her rose-tinted reflection in the mirror." What sets I Feel Pretty apart from similar films, Debruge argues, is the "inspired premise that Renee's transformation takes place entirely in her head, while those around her are left befuddled by her sudden change of attitude—a concept that prompts the question of why our society encourages women to second-guess their self-image in the first place."
Mark Schafer/STX Financing, LLC
• "I Feel Pretty will almost certainly be dismissed by those who assume it embodies, rather than examines, a sexist, reductive worldview," The Los Angeles Times' Justin Chang writes. But it shouldn't be, as it's a "mildly raunchy yukfest by way of an aspirational fairy tale." Even in its weaker moments, it has undeniable integrity. "With a conviction that can seem by turns foolish and inspired, I Feel Pretty hurls itself into its initially strained, increasingly wacky premise," he writes. Praising Schumer's "sweet-and-salty verve," he adds, "It's a sweet, klutzy charmer, with moments of wit, insight and, yes, beauty, some of which it seems to stumble upon by accident."
Mark Schafer/STX Financing, LLC
• "I Feel Pretty avoids inviting rancor by offering equal-opportunity insecurity: Avery is an off-putting, awkward sort hampered by a Betty Boop voice, Ethan (Scovel) rocks an unassuming, non-macho personality, and even Renee's comely workout buddy Mallory (Ratajkowski) struggles with self-doubt," USA Today's Brian Truitt writes. After a somewhat "dour" introduction, the movie lightens up after Renee's Soul Cycle snafu. From them on, "There's a definite satisfaction watching supermodel types squirm when they can't derail Renee's cheery blind confidence, and her courtship with Ethan is a riot of mixed messages and bikini contests."
Are you planning to see I Feel Pretty? Sound off in the comments below!