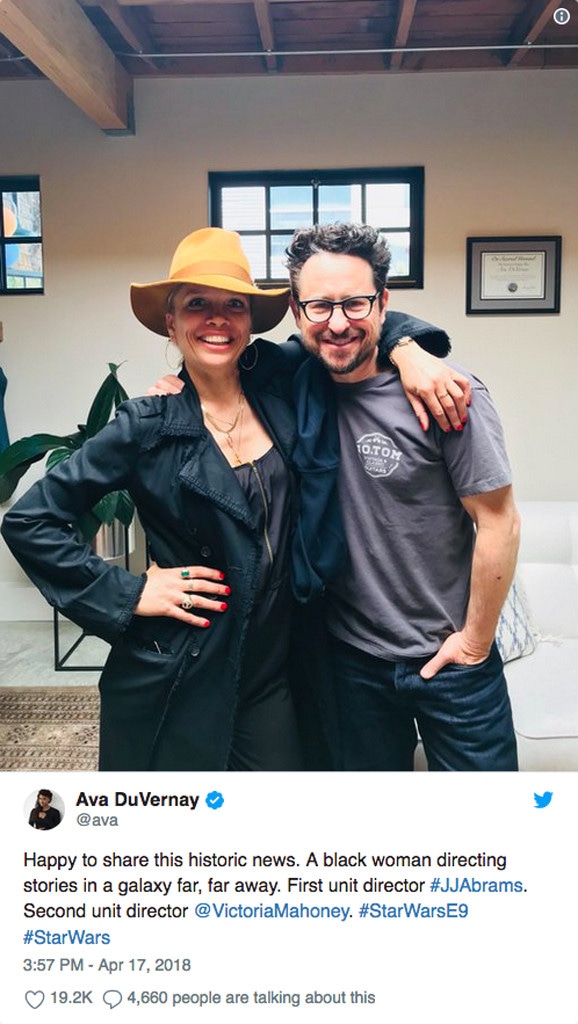 Twitter
History has been made in a galaxy far, far away.
The Star Wars universe has taken a major step towards diversification by hiring its first ever black female director. A Wrinkle in Time director, Ava DuVernay, announced on her Twitter account that the upcoming Episode IX film's director and executive producer, J.J. Abrams, hired Victoria Mahoney as his second unit director for the film. This would make Mahoney the first woman of color to serve as a director in any of the Star Wars films.
"Happy to share this historic news," DuVernay wrote on Twitter. "A black woman directing stories in a galaxy far, far away. First unit director #JJAbrams. Second unit director @VictoriaMahoney. #StarWarsE9 #StarWars."
Mahoney then retweeted it and thanked DuVernay for helping her land the role, while dedicating the gig to the outliers and dreamers.
"Catt's outta the bag. Thank you @ava for putting my name in the #StarWars #LucasFilm hat," she gushed over Twitter. "Thank you #JJAbrams for inviting me on your ferocious ride. *This one's for the outliers, dreaming big--in small corners of the Earth."
As second unit director, Mahoney will be in charge of supplementary footage that include establishing shots, filming stunts, inserts, and cutaways. The filmmaker has had most of her experience directing for television works, including episodes of Grey's Anatomy, Power, Gypsy, Seven Seconds, and DuVernay's Queen Sugar. She recently directed a pilot for CBS called Red Line which was produced by DuVernay and Greg Berlanti. 
Mahoney has made her mark in film, as well, writing, producing, and directing her debut feature Yelling to the Sky.
Star Wars Episode IX is set to release December 20, 2019.