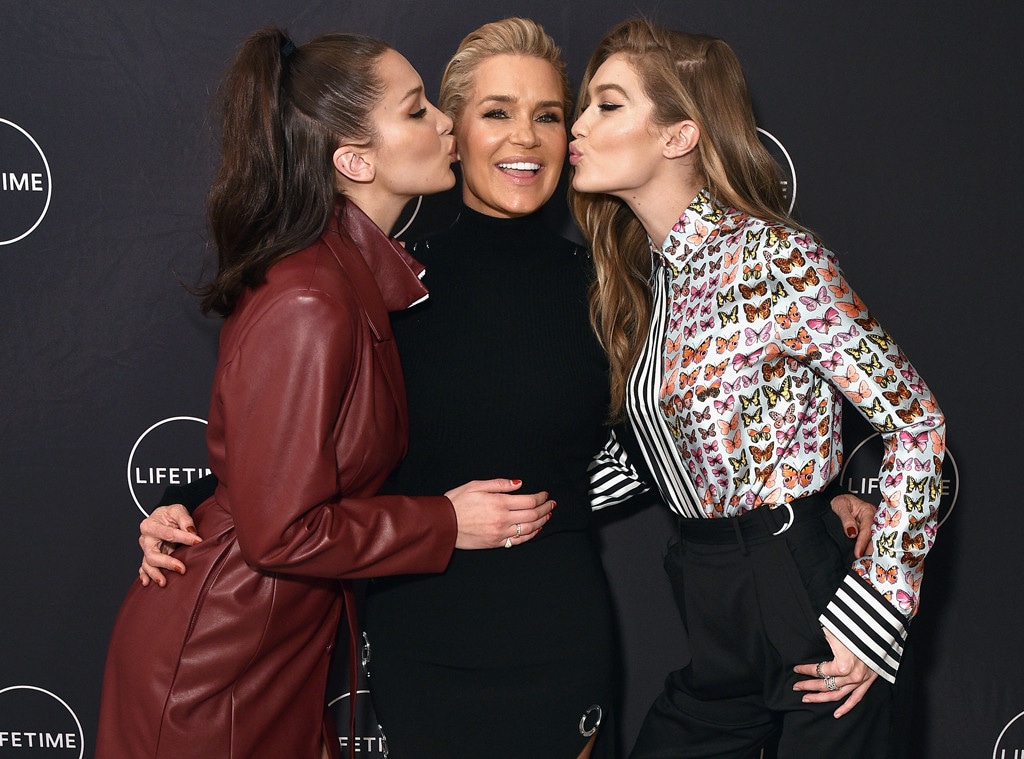 NEW YORK, NY - JANUARY 11: Yolanda Hadid (C) and her daughters Gigi Hadid and Bella Hadid celebrate her birthday and the premiere of her new Lifetime show, 'Making A Model With Yolanda Hadid,' with friends and family in New York on January 11, 2018 in New York City. (Photo by Bryan Bedder/Getty Images for Lifetime)
"It's not about competing with anybody—it's about becoming your personal best."
Yolanda Hadid knows a thing or two about how competitive and cutthroat the modeling industry can be. For 15 years, the former Real Housewives of Beverly Hills star posed for countless publications and walked runway after runway.
But eventually, Yolanda decided to focus on starting a family and raising strong, independent kids who would end up following in mom's footsteps.
"I've shot my children since they were born. I always dressed them up, shot them at the barn on the horses," she explained on Australia's Today Extra. "I was always very strict about the fact that I never wanted them to really work until they're 18 years old."
Yolanda added, "I really didn't want anybody judging them on the way that they looked."
Watch:
Yolanda Hadid Talks Receiving Mother of the Year Award
As Gigi Hadid turns 23 today, the eldest of Yolanda's three children has created a name for herself in the industry. Younger sister Bella Hadid has followed close behind with her own amount of covers and runway shows. And Anwar Hadid has explored the field by walking in Fashion Week shows.
The success can partly be credited to the advice and principles Yolanda taught her kids as they grew up in Santa Barbara, Calif.
"Respect is number one. When my girls started, I sat them down and I said, 'Listen, there are a million girls out there who are as beautiful as you and deserve success as much as you do. You have to be the hardest working girl and show people you care about everybody,'" Yolanda recalled to People. "It's a superficial business. At the end of the day, looks will come and go. And what makes me proud of my children, more so than even their success, is that they are polite and respectful."
Evan Agostini/Invision/AP
While Bella and Gigi may find themselves walking in the same runway show, Yolanda assures fans that there is no competition between the siblings.
And instead of being referred to as a "momager," the Believe Me author insists her daughters are "completely independent."
"There's just already enough space for everyone to shine. And in Gigi and Bella's case, they're so different, especially with their looks," Yolanda shared with W Magazine. "In the industry, if someone's looking for the all-American, blonde, blue eyes, they're not gonna book Bella and if they're looking for someone darker and exotic, they're not gonna book Gigi."
Kevin Mazur/Getty Images for V Magazine
Although Gigi and Bella may have given their mom a hard time about waiting until 18 to model, Yolanda claims her girls are more than grateful for the rule today.
"Now [Gigi] hugs me and says, 'Thank you for giving me those two extra years to grow up, be in my flip flops and play basketball,'" Yolanda recalled to People. "Modeling is a tough profession. It's not for the weak."
And for any parent out there who wants their child to succeed at any passion, Yolanda has some advice that can be beneficial.
"No two children are alike. We need to honor who they are authentically as a human being and I think that's when children really can flourish," Yolanda shared with E! News before being named Mother of the Year at The Daily Front Row's 2017 Fashion Los Angeles Awards. "I've never believed in putting them all in one box, that one education is right for all of them or one parenting style. They're all different."
She added, "I'm just honored to be a mom every day. I love being a mom. Every day I feel like it's a blessing."