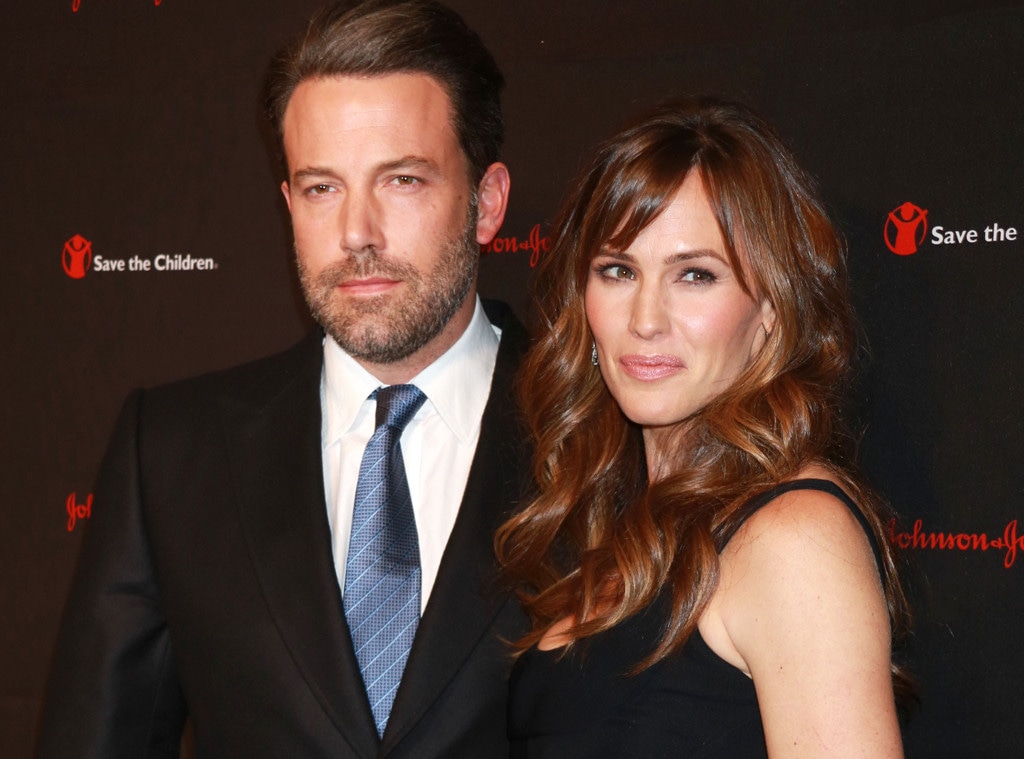 Erik Pendzich/REX Shutterstock
Michael Vartan doesn't do sequels. Asked by E!'s Daily Pop if he would ever dip a toe back into his pool of exes, The Arrangement star—who ended his yearlong romance with Jennifer Garner in 2004—replied, "I don't think so." After all, he opined, if the first go-round was unsuccessful, "There's a reason it didn't work."
Same could be said for Garner's other famous ex. Though she and former husband Ben Affleck—now separated for nearly three years—have always maintained their hangouts are simply for the sake of kids Violet, 12, Seraphina, 9, and Samuel, 6, and, by the way, he moved on quite publicly with Saturday Night Live producer Lindsay Shookus, the cordial former couple are the constant target of reconciliation rumors. A quick glance at recent headlines would leave the casual fan believing the two-time Oscar winner, 45, intends to ditch Shookus, 37, for a second chance with Garner, the 45-year-old Love, Simon actress has already agreed to take him back and now, as luck would have it, they're planning a second honeymoon in Turks and Caicos—the same spot they quietly eloped with just two witnesses in 2005.
But while fans may still be struggling to move on from the decade-long union, the duo themselves are faring far better at handling the unraveling of their marriage. "They are not getting back together at all," an insider insists to E! News. "They are both moving on, but will continue doing things together as a family."
From the moment they announced their separation in June 2015—using a carefully penned statement touting their "commitment to co-parenting our children,"—the twosome made it clear they intended to remain close. Literally. Though Affleck packed up his things to move out, he only got as far as the guesthouse on the grounds of their three-acre estate in L.A.'s Pacific Palisades neighborhood.
The couple also maintained the pact they'd had throughout their union: though they were both successful actors, only one of them would film at a time, leaving the other on parent duty. After returning from their Bahamas hideout (where they went to avoid headlines in the wake of the split), Garner decamped to a $2 million five-bedroom rental in Atlanta, where she was filming the 2016 drama Miracles From Heaven. Affleck followed, once again setting up shop in the guesthouse, so he could be on hand to treat Violet to a solo outing at the Atlanta Center for Civil and Human Rights or take her and her younger siblings to a showing of Inside Out.
Garner returned the favor the following spring, joining the actor in London where he was shooting Justice League. "I felt like, 'Well, the kids should have that experience," Garner told Today of the trip that saw them enjoy a Harry Potter studio tour at Warner Bros. Studios Leavesden and a jaunt to Paris. "He and I are great friends and we just all went en masse. The kids and I had an amazing time, and he worked hard and got to join us for some. I want them to see everything's OK."
The display may have worked a little too well. As the pair got together for Easter, Thanksgiving, Christmas, a Valentine's Day ski trip to Montana and even a kids-free outing to Santa Monica restaurant The Hungry Cat, fans began questioning if they were really just playing happy family.
Garner only fueled that fervor when she gushed about her estranged husband in a soul-bearing interview with Vanity Fair. While the West Virginia-raised star couldn't resist a few digs—remarking on his now-infamous back tattoo of a rising phoenix, she remarked, "You know what we would say in my hometown about that? 'Bless his heart'"—and acknowledged she was never blind to his faults ("Don't worry—my eyes were wide open during the marriage,"), she revealed she has no regrets. Even knowing how it would end, "I would go back and remake that decision," she told the mag. "I ran down the beach to him, and I would again. You can't have those three babies and so much of what we had. He's the love of my life. What am I going to do about that? He's the most brilliant person in any room, the most charismatic, the most generous."
Affleck, in turn, heaped on praise of her giving spirit. "Jen is a superhero mom," he told E! News. "She is an amazing mother, and I'm really lucky to have her as a partner to co-parent these kids with. We try our best, we put them first and that's what we do."
Becoming the shining example of what cordial co-parenting can look like took time. In part because, according to sources, there were some moments that the pair flirted with the idea of getting back together.
"There have been times when a reconciliation looked very likely," a source tells E! News of the duo, who endured a 10-month trial separation before announcing their split. "They love each other and that hasn't changed."
But eventually that deep-rooted affection led them to form a new type of partnership. Calling it "a slow transition that they've eased into as seamlessly as possible," an insider tells E! News that as parenting teammates, Affleck and Garner "make decisions together regarding their kids. Everything is very structured and organized and they're on the same page with their plans. They keep each other updated with everything that's going on."
And, when need be, serve as each other's champion. When Affleck revealed last March that he'd completed treatment for alcohol addiction, he cited Garner as one of his advocates: "I'm lucky to have the love of my family and friends, including my co-parent, Jen, who has supported me and cared for our kids as I've done the work I set out to do."
An insider says Garner will continue to have Affleck's back. "She wants to see him healthy and at his best," the source tells E! News. "She knows that's what's best for the kids and the family."
Perhaps that continued generosity made it harder for fans to grasp why she finally decided to file for divorce last April, after nearly two years in separation limbo. But a source, explaining, "It was time to move on," says that was always the intent. "Jen has been planning to file for a few months and Ben was on board with it," an insider told E! News at the time. "She gave him a chance to finish rehab and to be in a healthy place and then they decided together it was time to take this step. It was a coordinated effort and they are on the same page."
Just no longer on the same land. A few weeks after their filing, the duo made their divorce feel all that more real when moving vans were spotted outside the Cliff May-designed Pacific Palisades estate they still sorta, kinda shared. "He found a house close by," a source explained of the move at the time, adding that both he and Garner "are excited for the next step."
But their physical separation didn't last long. June saw the duo and their three kids vacationing on Baker's Bay—the same Bahamian island they fled to when they announced their split two years earlier. Still, the trip wasn't designed to stir up old emotions, an insider explained at the time, but rather to celebrate the end of another school year. Noting they stayed in the same "beautiful" beachfront home they've rented time and time again, the insider told E! News, "It's an annual tradition for them when the kids get out of school to come for a long vacation. It's very relaxing and they can feel like they're on island time with nowhere to go and nobody they need to see." And because it was a group getaway designed with other mom-and-dad pairs, "there was never any question that Ben would be there," says the insider. "All the dads went along and it would have been strange for the kids not to have their dad there."
And just in case that wasn't clear enough, the insider stressed what had been repeated some dozen times before: "They are not getting back together at all. They are both moving on."
Ron Asadorian/Splash News
Affleck's next move served to really drive that point home. In what should have been the death knell for fans still shipping the former pair, the actor stepped out with a new paramour just days after celebrating the Fourth of July with Garner and their offspring. SNL producer Shookus, a source told E! News, was an old friend the five-time host had long been close with, "but their romantic relationship is very new." And while another source insisted they were "taking things slow," a third insider said Affleck was all in: "He is happy to finally have the relationship out in the open and freely date Lindsay."
But even a physical sign of Affleck moving on from his marriage wasn't enough to silence tabloid reports. Magazines continue to declare that the Boston-bred actor would drop Shookus in a second if only his estranged wife would give him another chance. Just, you know, pay no mind to the recent Hawaiian getaway that saw the couple of nearly a year playfully kayaking in the surf, holding hands en route to breakfast and hanging out together on the set of Affleck's 2019 action-adventure flick Triple Frontier. (One source tells E! News she's helped him run lines between scenes and given him feedback on takes.)
While it may feel maddening, for her part, Garner gets the rampant speculation. Because, truthfully, she's been there and done that. "When Jen Aniston and Brad Pitt broke up," she admitted to Vanity Fair, "I was dying to see something that said they were getting back together."
Don't even get us started on that.