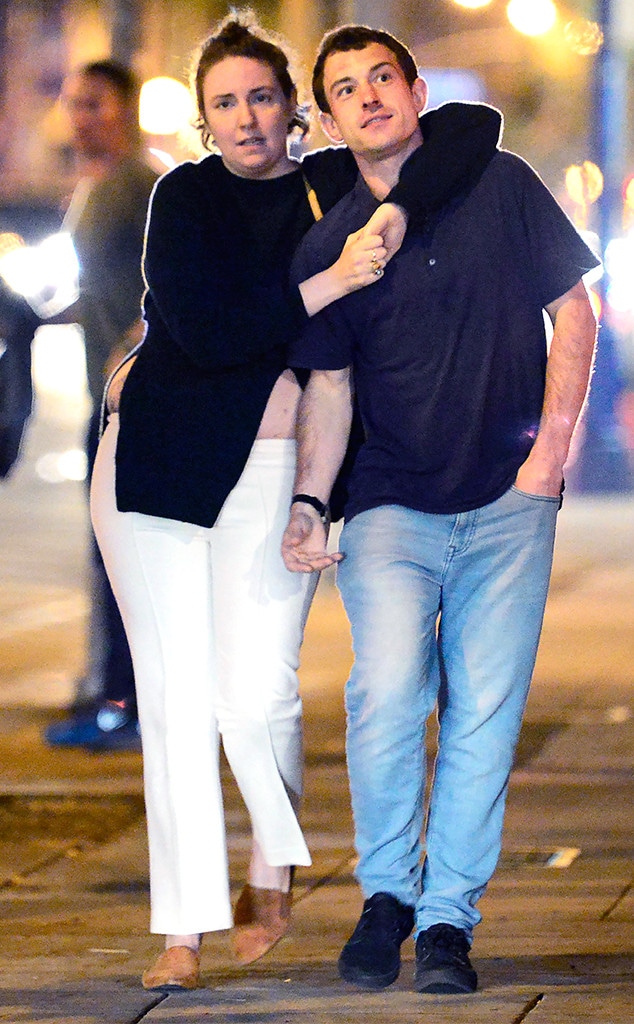 MEGA
Has Lena Dunham officially moved on from Jack Antonoff?
The Girls alum was spotted getting close with a mystery man in West Hollywood over the weekend. Photos show the 31-year-old Golden Globe winner with her arms wrapped around the man as they walk down the street after having dinner together. The duo was also spotted together in New York City earlier this year.
Dunham has been single since splitting with Bleachers frontman Antonoff three months ago. The duo, who first starting dating in 2012, called it quits in December after five years together.
"It was mutual," a source told us in January. "Jack and Lena were growing apart and it just made sense for them to end their relationship where it was."
The insider added, "They want the best for each other no matter what. They are both moving on."
A day after their breakup was announced in January, Dunham addressed the split on Instagram Live. After thanking everyone for their supportive messages, Dunham shared that she was wearing a ring that Antonoff had given her.
"I'm wearing this ring that Jack gave me and I'll always wear it, because love is a really cool, powerful, eternal thing and it doesn't have to be defined the way we in Western culture define it as beginnings and ends," she said.
"Things can be 'you're a drop of water and you re-enter the ocean,'" Dunham continued. "Anyway, I really love you all and I'm really thankful for the support, really thankful for the love."
After their split, Antonoff was linked to singer Lorde, who shut down dating rumors on social media in February.
"Guys, no!" Lorde replied after a fan asked about the romance rumors. "Jack and I are not dating...I love him. He's awesome, but we're not dating!"
Antonoff has also been linked to model Carlotta Kohl in recent months. Cameras spotted the pair having dinner in January and attending a New York Knicks basketball game earlier this month.