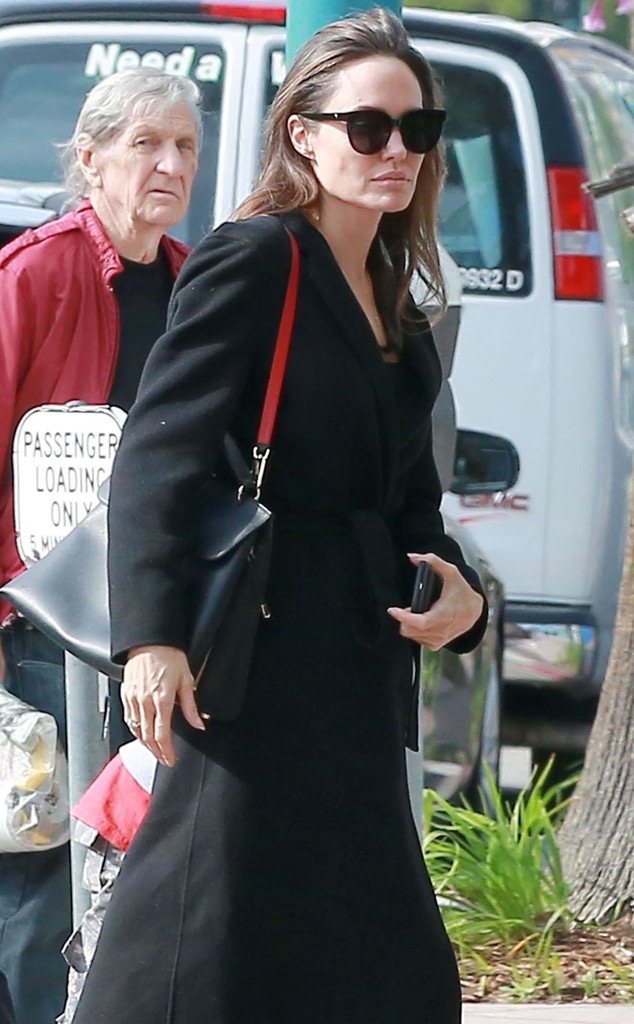 BACKGRID
Angelina Jolie and her kids enjoyed a family trip to the movies on Sunday and attended a screening of the new Tomb Raider.
The 42-year-old actress brought four of her kids to a North Hollywood movie theater in Los Angeles to see the reboot. Zahara, 13, Shiloh, 11, Knox and Vivienne, 9, all attended the film. Her sons Maddox, 16, and Pax, 14, were not spotted.
"Angelina and the kids arrived at the theater at 4 p.m. The movie was playing at 4:30pm," a source told E! News. "They parked in the front of the theater. There was a bodyguard already there waiting for their arrival. The kids went in first, so the bodyguard took the kids to the seat. Then Angelina got out of the car and walked with the driver. After the movie, they left through emergency exit door in the back."
Jolie wore a black blazer and black pants to the afternoon showing and accessorized her look with sunglasses. Another source told E! News the kids seemed "excited" to see the film.
"Viv was holding hands with Angelina and had a big smile on her face," the second insider said. "Shiloh and Zahara were giggling together and happy."
It looks like the kids liked the film, too.
"Everyone seemed happy and like they enjoyed the movie," the second insider added. "They were all talking and animated as they walked back to the car." 
Moviestore/REX/Shutterstock
While Alicia Vikander played the main character Lara Croft in the 2018 version of the action adventure, Jolie played the role in the 2001 film Lara Croft: Tomb Raider and in the 2003 film Lara Croft Tomb Raider: The Cradle of Life.
"She's independent, full of fire and with a strong sense of fun and adventure," Jolie told Reel in 2001 about her character, "and she's not afraid of anything."
This isn't the family's only recent public outing. In January, Jolie took all six of her children to the famous art museum, the Louvre, in Paris. 
That same month, she took Shiloh and Zahara to a Syrian refugee camp in Jordan.