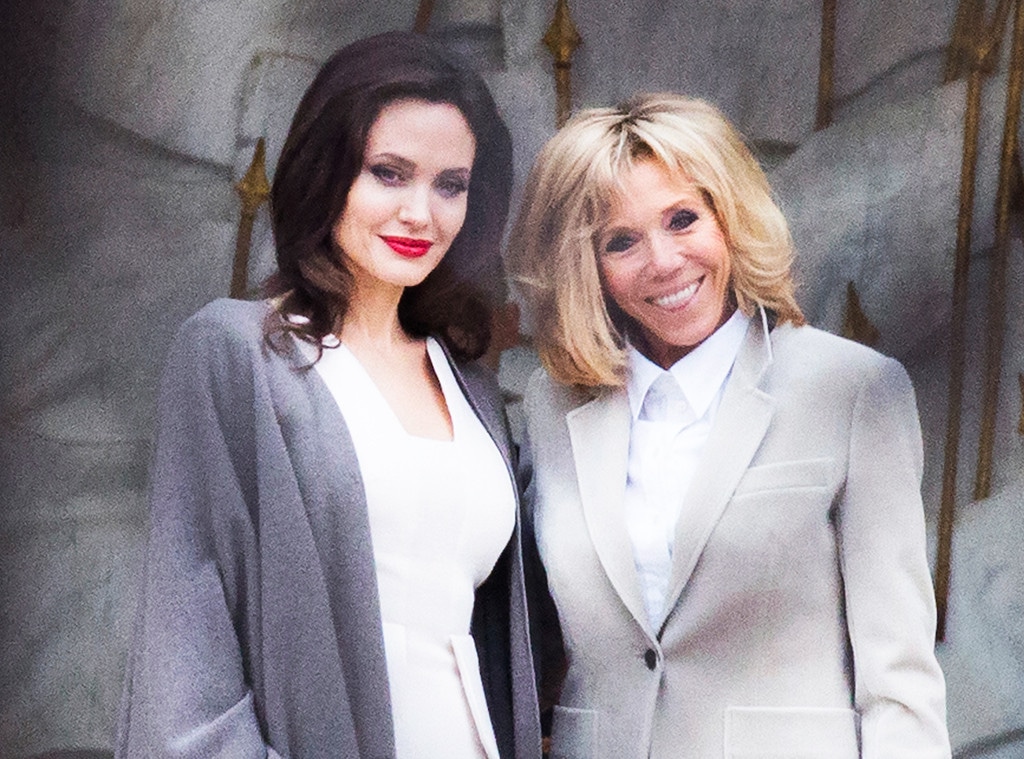 Sipa via AP Images
Angelina Jolie met France's First Lady Brigitte Macron on Monday. 
Macron greeted the Oscar-winning actress at the Elysee Palace in Paris. Both women dressed formally for the occasion. Jolie wore a white dress and gray shawl while Macron wore a white button-down shirt and a blazer. 
An eyewitness told E! News the women met to discuss Syrian refugees. Jolie travelled to the Za'taari refugee camp in Jordan with her daughters Shiloh, 11, and Zahara 13, earlier this week.
However, this wasn't the only matter of business Jolie had to attend to. She also stopped by the hotel Le Meurice for a photo shoot. Still, she managed to squeeze in a little family time in between appointments. On Tuesday, Jolie visited the famous art museum the Louvre with all six of her children, including Shiloh, Zahara, Maddox, 16, Pax, 14, and the twins Knox and Vivienne, 9.
"They had several escorts waiting for them and they were given a private tour of the museum," an eyewitness told E! News. "The children were very well behaved and stuck close together. The girls were holding Angelina's hands and [were] very affectionate with her. They all enjoyed walking around and being together. Their tour lasted about an hour and the kids all got along great, laughing and chatting. They didn't fight with one another and seem to all be best friends. They admired the pyramid in the courtyard on their way out before heading back to their hotel."
According to another source, Jolie flew all of the kids to Paris before embarking on her trip to Jordan with Shiloh and Zahara. The insider said the other four children stayed in Paris with their bodyguards and had a wonderful time taking in the city's sights, including the Tuileries Garden.
 "Maddox was a great big brother to Knox and Vivienne and was clowning around with them at the park and making them laugh," the insider told E! News. "He got on a teeter totter with them and helped spin them around a merry go round. Pax stuck to himself and listened to music, but Maddox got in with the younger kids and was having a blast making them laugh. They visited a carousel and got hot crepes for a snack."
After enjoying some time in the park, the children reportedly visited the Ponts de Arts Bridge, where they looked at the array of lovers locks and keys.
"They pointed out the interesting ones and seemed very interested in reading all of the names," the insider revealed.