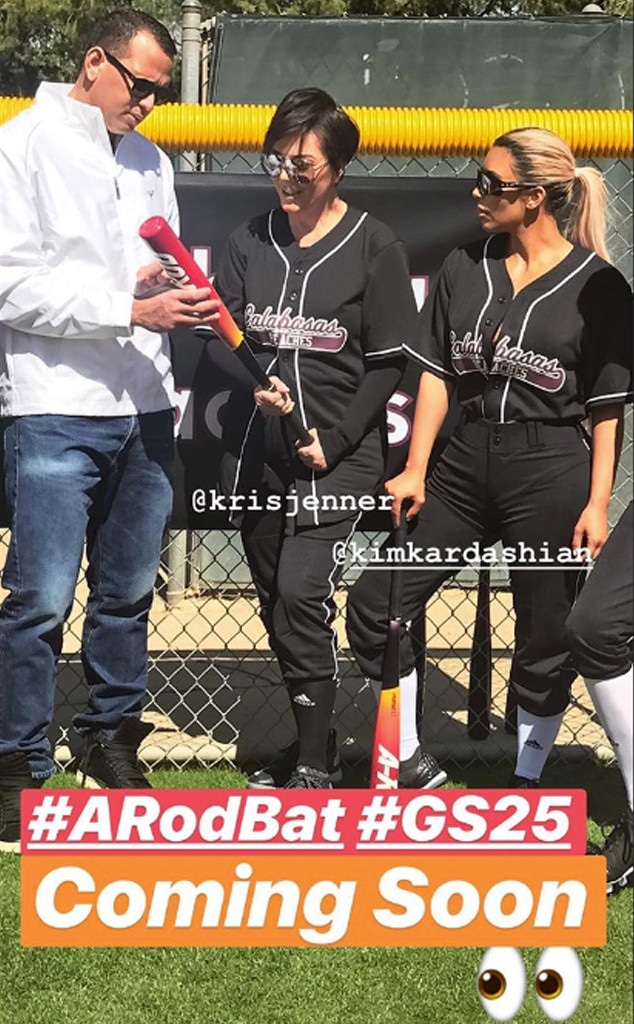 Alex Rodriguez/Instagram
Take the Kardashians out to the ball game! 
Former professional baseball player Alex Rodriguez took to social media on Thursday to document his afternoon coaching Kim Kardashian and other members of her famous family in a friendly sports matchup. 
Dubbed the "Calabasas Peaches," Kim, Khloe Kardashian and Kris Jenner suited up in black, white and purple uniforms for the big game. Of course, it's probably safe to assume KoKo cheered from the sidelines, as she's eight months pregnant with her first child. 
A-Rod shared multiple snapshots to Instagram Stories, one of which featured Jennifer Lopez's beau showing Kris how to hold a bat as Kim watched intently. 
Alex and Kris also posed on the field, captioning the moment, "These Calabasas Peaches can hit! #runforyourlife"
It's unclear who the Calabasas Peaches were playing against, but an announcer heard speaking as the team huddled indicated it was a charity event. "Out for blood and on a quest to reign supreme on this field and bring the prize money home for their charity," a voice rang out before trailing off. 
Just yesterday, the sisters, including Kendall Jenner, were photographed practicing on a baseball field. 
It appears as if cameras were rolling during the baseball game, so expect to see it all go down on an upcoming episode of Keeping Up With the Kardashians!