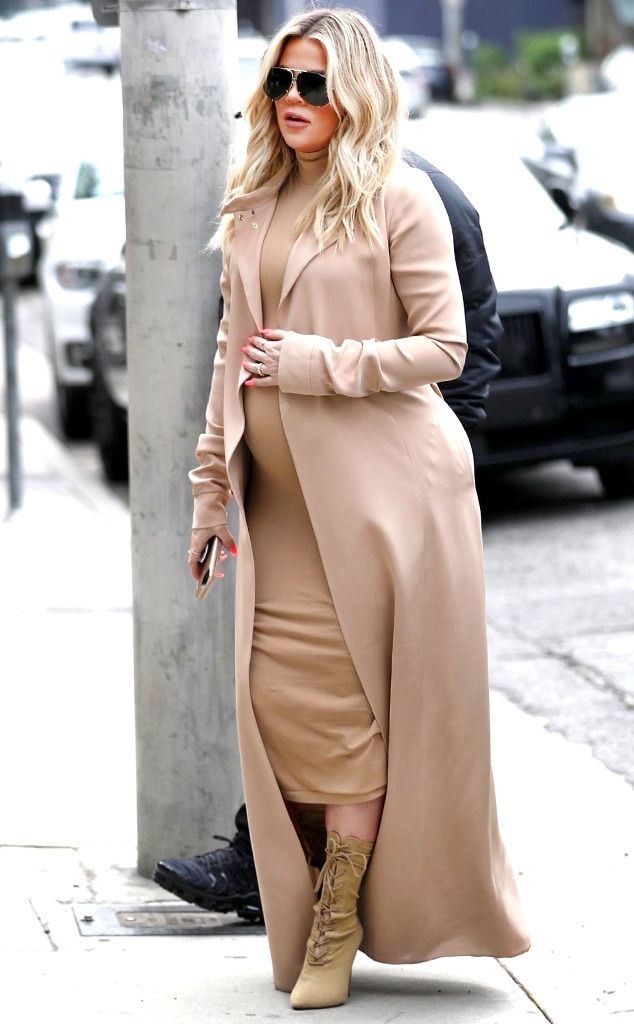 Elite Images/BACKGRID
Kris Jenner just dropped some serious cash on Khloe Kardashian's nursey.
The Keeping Up With the Kardashians stars were spotted out shopping for baby gear together in Beverly Hills, Calif. on Wednesday, March 7. Kris accompanied Khloe, who is eight months pregnant with a baby girl, to Petit Tresor and Couture Kids and picked up the tab for her daughter.
"They picked out nursery furniture and baby clothes while filming for the show," an eyewitness tells E! News. "Khloe was focused on neutral colors and a lot of pink items. She loved looking at all the clothes and soft stuffed animals. She was bending down and checking everything out, holding and feeling each item she looked at. She was very involved as was Kris."
The insider continues, "Kris was making suggestions on what Khloe should buy and Khloe agreed with a lot of what she said. Kris paid for everything and was happy to treat Khloe. They ordered furniture that will be delivered to Khloe's home and they left with several bags of baby blankets, toys and clothes."
The eyewitness adds that Khloe seemed "very happy" and "excited" about the purchases. "She was also very grateful to her mom and thanked her several times," the source shares.
Another insider tells us of the shopping trip, "Kris and Khloe were having a blast inside Petit Tresor together. They were both laughing and having fun picking out all of the different baby items. Kris knew exactly what Khloe needed and was helping make a lot of the decisions."
"Majority of the store is filled with girl items and most items are neutral or pink colored," the source shares. "There are not many boy options, so they had a lot to choose from for her little girl. They bought a hefty amount and had a lot delivered to a house in Calabasas. Khloe also registered several items on a registry and sent it out to her guests for her shower on Saturday. The registry is already almost completely sold out. It's been nuts."
According to TMZ, Kris spent "at least" $8,000 in Petit Tresor alone, paying $3,600 for three giant stuffed giraffes. The momager also reportedly spent $4,200 on a pink nursery glider chair with a matching ottoman.
It was just days ago that it was revealed Khloe and Tristan Thompson are having a baby girl. Khloe heard the news from her sister Kylie Jenner on Sunday's episode of Keeping Up With the Kardashians.
Over the weekend, Khloe also responded to a question on Twitter about the name of the couple's first child. When asked if their baby's name would start with a "K," Khloe replied, "I think a T but a K is an option as well. That's as far as I know."
What do you think Khloe and Tristan will name their baby girl? Sound off in the comments!