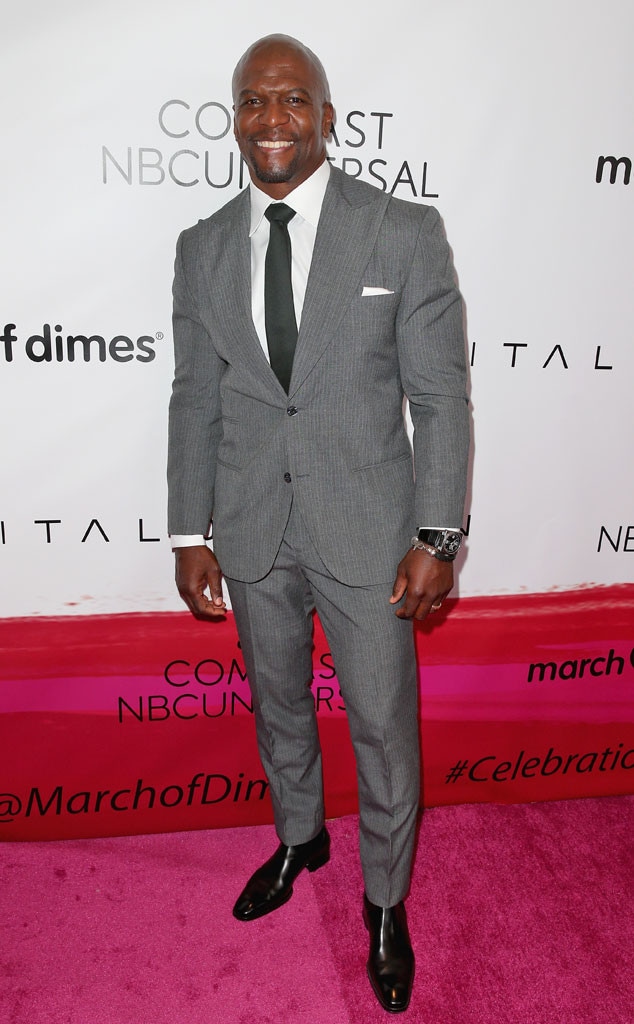 Joe Scarnici/Getty Images for March Of Dimes
Terry Crews' sexual assault case against WME agent Adam Venit has hit a roadblock.
E! News can confirm the Los Angeles City Attorney and Los Angeles County D.A. have both rejected the actor's criminal complaint.
According to court documents obtained by E! News, the D.A. argued that the alleged conduct did not rise to the level of a felony. "Given that the suspect did not make contact with the victim's skin when he grabbed the victim's genitals and there is no restraint involved, a felony filing is declined," the doc stated.
As for the city attorney, they had to reject the case due to statute of limitations. The incident occurred in February 2016 and the statute for a misdemeanor is one year.
Back in October 2017, Terry initially came forward with sexual assault allegations against an unnamed Hollywood executive. "This whole thing with Harvey Weinstein is giving me PTSD. Why? Because this kind of thing happened to ME," he explained in a series of tweets. "My wife n I were at a Hollywood function last year n a high level Hollywood executive came over 2 me and groped my privates."
Two months later and Terry would file a lawsuit against Adam claiming the agent sexually assaulted him at a February 2016 party. He would report an alleged sexual assault to police in November. 
While Adam was suspended from WME following an internal investigation into the matter, he returned to work after 30 days.
Through all the legal developments, Terry wanted to make his intentions clear when it came to his lawsuit that remains active.
"This is not about revenge, this is not about get back, but it's just the fact that...I'm sorry and an apology is when you step on somebody's toe by mistake," Terry shared with E! News at the GQ Men of the Year party. "But when you stab them, when you intentionally hurt them, when you run them over, apologies just don't do. 'I'm sorry, my bad' does not work...people need to be held accountable."
He continued, "And what's happened is people tend to hide behind the gigantic structures and powers that be and principalities and you're standing behind their leg and hoping they protect you from your evil deeds."
—Reporting by Taylor Bryant