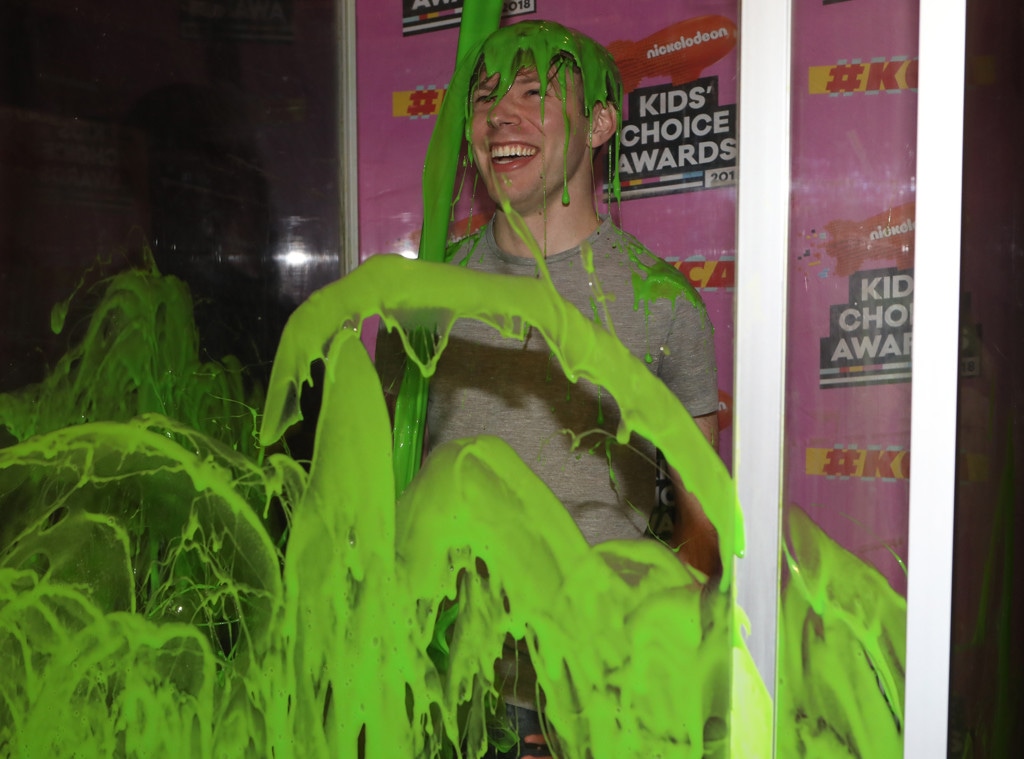 Nickelodeon
It's around 5 p.m. and the New York City subway is packed with commuters, yet they're paying no mind to the man with a slightly neon green tint to his skin. His hair, for the most part, is slicked back with what looks like an unnatural amount of gel, yet despite all of the goop, somehow there are still clumps of hair sticking out every which way. He's probably not the strangest subway sight for a typical New Yorker, but it's definitely the strangest I've ever looked on train.
I've been slimed. As in Nickelodeon slimed, the dream of many, from millennials to current tweens.
I can feel the remnants squish between my toes as I shift to make room for more passengers. How and why did this happen? When you get an email from Nickelodeon asking if you want to be slimed you say yes, of course. Any child who grew up with Double Dare, Figure It Out, You Can't Do That on Television and the Kids' Choice Awards knows that. So here I was on a Monday afternoon in a glass case in the Nickelodeon offices with cold, green slime pouring down on me. Executive producer Jay Schmalholz warned me it would be cold—it's for consistency purposes—and he wasn't lying.
After the slime poured down on me, the people present in the room asked how I felt. There is no way to describe it really. Was I in shock? Kind of. The slime felt like an organism sliding down my body, invading places with its cold touch. Would I do it again? Absolutely.
After more than a dozen towels later, I was on my way home, picking dried green goo from behind my ear. A shower remedied the rest of the cleanup, but how does this happen at the Kids' Choice Awards when celebrities are on stage and then sitting in the audience? Schmalholz is the master of all things slime and Kids' Choice Awards and had the answers.
"It happens a lot of different ways," Schmalholz said. "There are definitely celebrities who call and say they want to be slimed. There are creative ideas we're working on in the show where we ask celebrities, and then there's some that are just a full on surprise."
Ahead of time, Schmalholz and his crew have a pretty good idea who is game to get slimed on television. "You know, for the most part the celebrity community knows when they're coming to Nickelodeon, they're coming to play. And when you come to Kids' Choice, you know that slime can come from anywhere in the arena at any time," he said.
There are pep and prep talks ahead of time "It's one of my favorite parts of the job, actually, preparing them for what's to come. Because their inclination is going to be to hide or avoid or run just because it's cold, it comes fast, we sort of just tell people to sort of embrace the moment. Look up, smile, because you're going to love the photo and you're going to love to watch it in slow-mo. It really depends...There's really a science to it, right? To the quality of it, to how we actually distribute [the slime]. Sometimes it explodes from underneath, sometimes it comes from above, sometimes it comes from a hose," Schmalholz said.
The Kids' Choice Awards stage is designed with plumbing and cleanup in mind. "We really take a lot of precautions in the safety of it because it is super, super slippery," Schmalholz said. "We literally have slime masters, and there are slime masters that are responsible for the making of the slime, there are slime masters that are responsible for the distribution and the shooting of the slime, and then the cleanup crews…We have over 100 people who literally sweep in with towels and mops and all sorts of crazy devices—shoes that are built with towels—anything to get the slime up as fast as possible."
And there are people responsible for getting celebrities cleaned up too, but it's never to the camera-ready levels the stars had before the show.
Kevin Mazur/KCA2010/WireImage
"Once they're slimed they go through quite a process backstage to sort of…to move on. There is an entire crew that takes them from the stage, backstage, cleans them up. We have showers back there where they reset and yeah, everyone survives," Schmalholz said. "Everybody has fun."
While there haven't been any worst reactions or meltdowns that Schmalholz can recall, he does have a favorite celebrity sliming: Katy Perry in 2010.
"Everybody knows the Katy Perry sliming. It just got her in the exact right spot, her reaction was priceless, she was a really good sport, she embraced the moment and it really packed a punch. It was a good one," he said.
Slime has been part of the Kids' Choice Awards from the start, and its history with Nickelodeon extends far beyond the annual awards show.
"I think slime embodies what it means to be a kid," Schmalholz said. "It's messy, it's surprising, it's fun and that's sort of what our brand is. Nickelodeon is surprising, fun, it's messy, and I think what slime represents is really bringing out the kid in everyone. Whether you're 6 to 11 years old or you're an adult or you're a celebrity, it brings out the kid in everyone. It's amazing, really, it's on everyone's bucket list, it's a rite of passage…It really is amazing that all of these celebrities want to continue to do it and now celebrities have kids and want to do it with their kids. There really isn't a name we haven't slimed...I think for Nickelodeon, Nick really wants to make the world a more playful place. That's why I think slime sort of is the prefect iconic symbol of Nickelodeon and kids."
The Kids' Choice Awards air live at 8 p.m. on Saturday, March 24 on Nickeldeon with host John Cena.