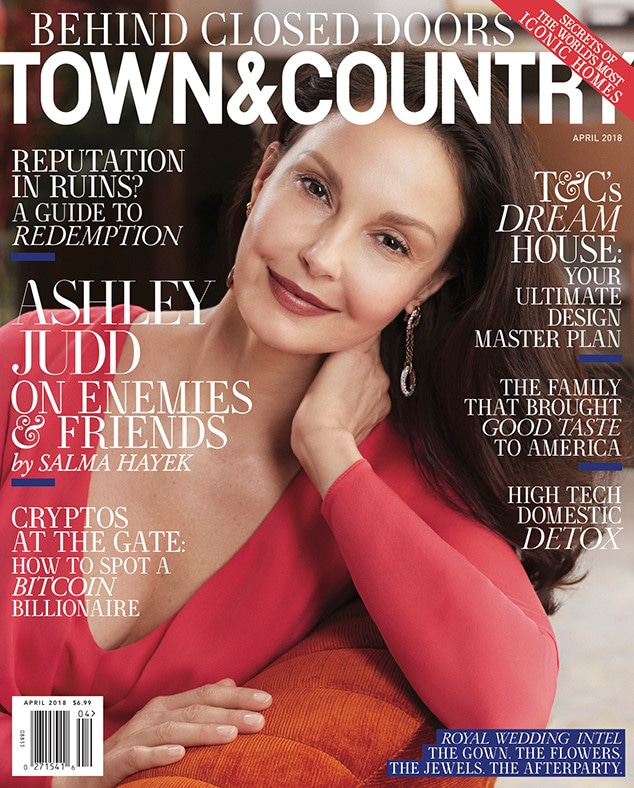 Victor Demarchelier / Town & Country
Salma Hayek says Frida co-star Ashley Judd inspired her to finally come forward with her own allegations against Harvey Weinstein.
Both actresses are among dozens of women who have publicly accused the producer of sexual misconduct in recent months. He has apologized for his past behavior with colleagues and has denied allegations of non-consensual sex. 
Hayek interviewed Judd for a Town & Country article, published on Thursday online and in the magazine's April 2018 issue, and the two discussed Weinstein. While Judd was among the first women to speak out about his alleged unwanted behavior towards him, last fall, it took Hayek a couple more months. She talks about her reluctance to speak out and also says Penélope Cruz, a longtime friend, was "really angry" at her for not telling her "what was going on while it was happening."
Frederick M. Brown/Getty Images
Victor Demarchelier / Town & Country
The first wave of public accusations made against Weinstein were published in a New York Times story in October. Judd was one of the accusers. She told the newspaper that about 20 years ago, Weinstein invited her to a hotel for what she expected to be a business meeting, but instead had her sent to his room, where he showed up in a bathrobe and asked if he could give her a massage and when she refused, he allegedly asked her if she would watch him shower. She again refused. She says she immediately told her dad and some colleagues.
"I never laid a glove on her," Weinstein told Page Six at the time about Judd.
Buena Vista Home Entertainment
In December, Hayek published a New York Times op-ed, in which she recalled working with Weinstein on Frida. She said she denied his alleged sexual advances—which she said included requests for oral sex, showers and massages—and that the producer threatened her life and her career. She said that for years, he was her "monster."
"All of the sexual allegations as portrayed by Salma are not accurate and others who witnessed the events have a different account of what transpired," a Weinstein spokesperson said in a statement to E! News at the time.
Earlier this month, Hayek told Oprah Winfrey during the Oprah's Super Soul Conversation Live Event that the New York Times had contacted her to be a part of the first article published in October. She said she "started crying when they asked and I ended up not doing it," adding, "Then I felt ashamed that I was a coward. I was supporting women for two decades but I couldn't do this...I thought of my daughter...I thought of the shame."
"You came to me about telling my Harvey story when the New York Times article was first being reported—and I chickened out," Hayek told Judd in their Town & Country interview. "It was a longer process for me because I had never dealt with it. It took me a couple of months in my head, because I had never told anyone. Just thinking about it weakened me emotionally. And if it affected me in such a way just to think about it, why would I say it out loud? The hard part was to tell my husband, because I had said, "Oh, Harvey was a bully," but I had never told him all of it."
"Penélope [Cruz] was really angry at me, because I didn't tell her what was going on while it was happening," Hayek added. "But, you know, I didn't realize Harvey was doing it to other people, too, so I thought, Why dump your stuff on someone and take away from their professional relationship with him? At that time Harvey was doing the best movies. You told me that I could tell my story to the Times without giving my name. But I was going back and forth in my mind, yes and no. I felt so many things."
Judd told Hayek, "I think that ultimately the timing of the article you wrote about your experience and the way you wrote it were perfect and poetic, the way it was meant to be. It reignited the [#MeToo] movement."
"The only reason I was able to finally do it was your loving hand," Hayek replied. "If it weren't for you, this story wouldn't have come out."
Hayek asked Judd if she thinks "such terrible behavior ever warrants forgiveness."
"Well, forgiveness is no favor," Judd said. "I do it for myself, and so I've already forgiven—it's the easier way to live. I have to forgive myself for being young and vulnerable, for being in the room."
"But forgiveness, first of all, implies that I've judged someone, and that's not a really healthy and appropriate place for me to be," she added. "I can certainly evaluate, but I guess the distinction I'm making is that condemnation is really not an energy that I want to keep inside of myself. Forgiveness just cuts those things—I can prosecute and forgive at the same time."
"This is our time to represent womanhood in a way it's never been represented before," Hayek later said. "So let's not use all of this as a tool for revenge, for hate, or for attention to ourselves."