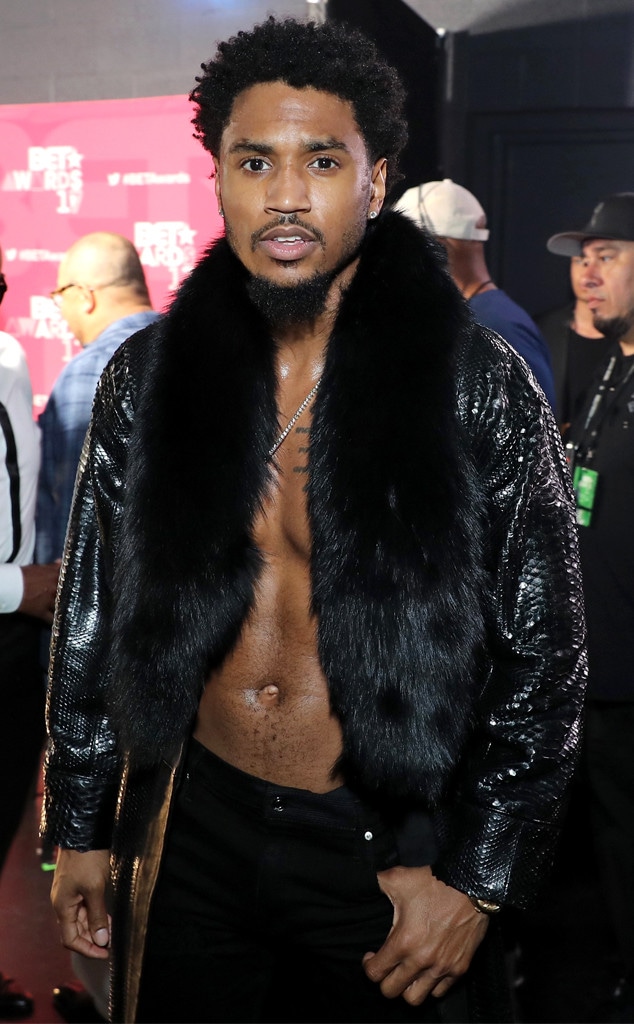 Neilson Barnard/Getty Images for BET
UPDATE: On Tuesday, a woman, who accused Trey Songz of hitting her in the face during the NBA All-Star weekend, was granted a temporary restraining order against the performer, E! News can confirm.
The accuser's lawyer, Lisa Bloom, told E! News in a statement, "This morning we were granted a temporary restraining order against singer Trey Songz on behalf of our client, a woman who alleges that he punched her in the face with a closed fist, choked her, knocked her to the ground and threw away both of her phones so that she could not call for help, on February 17, 2018 in Hollywood."
The lawyer continued, "Mr. Songz has a history of similar incidents alleged by other women. After the incident my client went to the hospital, where she was diagnosed with a concussion and multiple contusions, and filed a police report. She has a number of photos of bruises all over her body. We are actively cooperating with the authorities in Los Angeles as well as Detroit, where Mr. Songz reportedly is currently on probation for assaulting a police officer."
A hearing for a permanent restraining order has been set for March 27, 2018. Bloom says her client is ready to attend and testify.
The attorney adds, "We intend to fully cooperate with law enforcement and vigorously stand up for a woman's right to be free from physical violence."
Earlier in the day, Bloom tweeted a link to the PageSix story, "We obtained the restraining order against Trey Songz this morning. There's no excuse for violence against women. It must stop. It stops when when stand with victims [sic]."
E! News has reached out to Songz for comment.
________
R&B singer Trey Songz has been accused of hitting a woman in the face during NBA All-Star weekend.
According to TMZ, the 33-year-old star allegedly grew upset after an unidentified woman began talking to a male attendee at a party in the Hollywood Hills on Saturday night, prompting the alleged assault.
Sources told the outlet that following the argument, the woman then left the party to seek medical attention for minor injuries before filing a report with police. 
E! News can confirm that the Los Angeles Police Department has received a report naming Songz as a suspect. However, they could not confirm the details of the report.
Mike Kirschbaum/Tony Tran Photography
This is unfortunately not the first time that Songz has been in trouble with the law, as the "Bottoms Up" singer has found himself in hot water in recent years.
Last August, Songz plead guilty to two misdemeanors after destroying a stage during a concert in Detroit. He was sentenced to 18 months' probation, as well as ordered to complete anger management classes, submit to substance abuse screenings and pay restitution.
And back in December 2017, the star was sued for allegedly smacking a phone out of a female fan's hand inside a Philadelphia strip club.
E! News has reached out to Songz's rep for further comment.
This story was first published on Feb. 22, 2018 at 3:46 p.m.