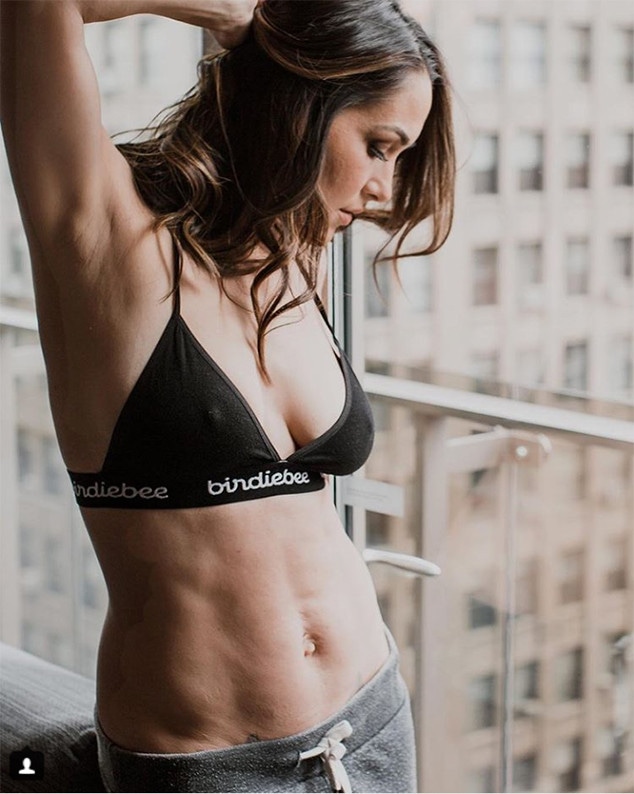 Instagram/Brie Bella
Brie Bella is embracing her post-baby body.
The Total Bellas star took in Instagram on Tuesday to share a raw and empowering snapshot of her changing body nearly one year after welcoming her and hubby Daniel Bryan's first child, baby daughter Birdie Joe Danielson.
"9 months postpartum," the WWE star wrote today along with the hashtags, "#BeeConfident," "#BeeYou" and "#LetsBeeBOLDtogether."
The accompanying photo shows Brie flaunting her toned stomach in just gray sweatpants and a black bra top by her and Nikki Bella's clothing line Birdie Bee. 
Fans instantly responded to the post with positive comments and thank yous.
"Beautiful picture!!" one user wrote while another shared, "Thank You for being real."
"Thanku for showing the struggle of real post baby body. We don't all snap back the day after delivery. U r looking fab!" a third fan commented.
"Isn't it amazing what the female body can do," someone added.
Brie welcomed baby Birdie by emergency C-section back in May 2017. On this past season of Total Divas, fans got to follow the new mommy as struggled to get back in shape for the WWE ring.
"I've literally had a baby two months ago and I feel like I haven't worked out for 20 years. I'm out of breath, out of shape and I'm just thinking to myself, 'Oh man, this sucks,'" Brie confessed.
Back in October 2017, Brie told E! News of her comeback, "Definitely 2018 for sure. Especially because I would like to have a second baby and I'm not going to start trying until after I make my comeback. So we let the boss know whenever he's ready for us."
"Granted I do have to do some training. I got into the ring and trained a couple times and I realized that my journey's a little longer than I expected," she added. "So I'm starting next week, I'm going to start working with a personal trainer and we're really gonna get me back in shape. Especially in ring shape, there's a difference. So once I feel like boom, I'm ready for that then we're going back together."