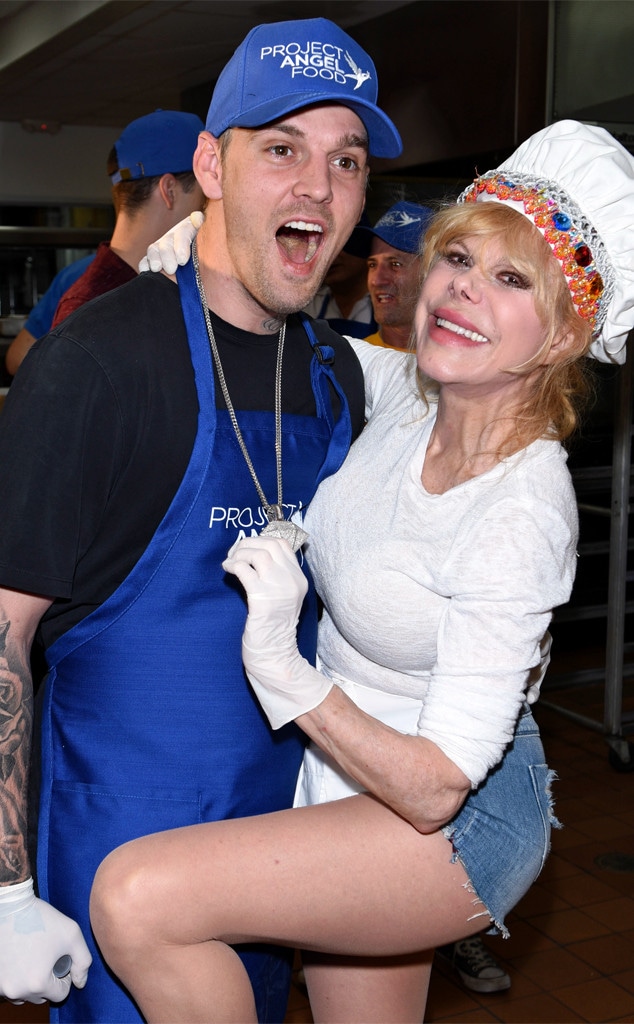 Michael Bezjian/Getty Images
Two months after checking into rehab, Aaron Carter is out and looking healthy as ever. 
The pop star spent Thanksgiving 2017 volunteering with Project Angel Food in Los Angeles, a non-profit organization that prepares and delivers meals to those battling critical illnesses. Carter, 29, was all smiles as he posed for photos with fellow do-gooder Charo and worked in the kitchen to assemble holiday dinners for the less fortunate. 
"Today, I'm thankful to be able to give back to @ProjectAngelFood. #MonthOfGiving #FoodIsLove #FoodIsMedicine," he wrote on Instagram.
It's unclear when the former child star departed his rehab facility, but just two weeks ago E! News learned Aaron was still receiving treatment and feeling "amazing."
A source shares with E! News, "Aaron came to the Angel Awards back in August and he reached back out to the charity saying he wanted to come back to help with Thanksgiving, so he was in the kitchen this year. He didn't deliver any food but he was chopping onions in the kitchen—he said he wanted to work! He was a good sport about it because the onions were making his eyes tear up, tears were literally flowing down his face!"
The source describes Carter as being "so kind" and "attentive" to fellow volunteers, adding, "He was very appreciative and in a great mood. He talked about how important it is to be around loved ones and that he is much happier and much healthier now."
We're also told Aaron even a sang for everyone in the kitchen! 
Watch:
Why Aaron Carter Chooses to Support Charities
Carter shared a before-and-after image of his 45-lb. weight gain on social media, captioning it, "I went from 115 to 160 pounds in two months. I feel amazing. 2018 I'm ready for you!!
At the time, a source shared that a "special" protein-heavy diet enabled Aaron to bulk up so quickly.  
He's since spent time in the City of Angels, and is even getting back to making music. "Back in the lab," Carter wrote alongside a snapshot of himself at work in the recording studio. 
Giving back has always been a priority in Carter's life, and in a recent interview with E! News, he touched on its importance through his years in the spotlight. 
"Ever since I was a little kid I've been a part of a lot of different charities and organizations, and I remember being 7-years-old and meeting another 7-year-old who had a terminal illness," Aaron shared. "His wish was to meet me and we were the same age. It just kind of struck me… I'll never forget it. I've always felt like, 'What can I do as an individual? Can music be a way to heal them?'"
"We all go through adversities in our life. It's just what decision we choose to make based upon that diversity," he added.
Carter initially entered rehab in September "to improve his health and work on his overall wellness," according to his rep. He later left the facility as "several legal and personal matters arose that required his immediate in person attention," only to return a week later.