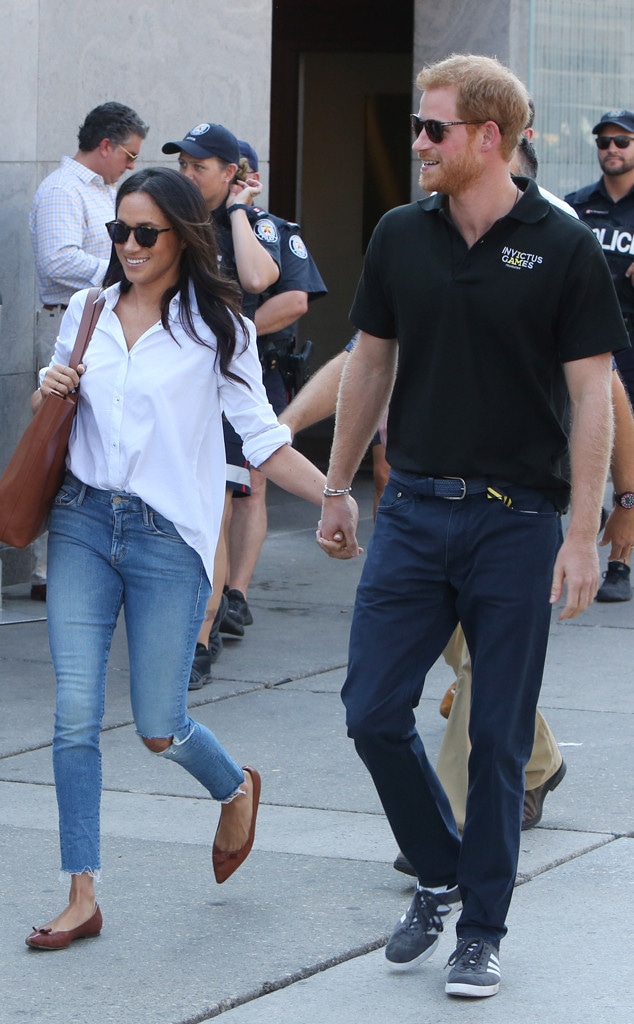 Splash News
Could an engagement announcement happen soon?
Social media is in overdrive, speculating that Prince Harry and Meghan Markle's engagement will happen in the very near future, some even guessing it could happen this weekend!
And while nothing has been confirmed there are many clues that hint a royal engagement announcement is on its way.
So in response to all the excitement, we're breaking down the seven clues we think are signs Prince Harry and Meghan's engagement announcement is imminent!
Let's take a look at the seven signs below!
1. They've already made their public debut. Harry and Meghan have already conquered a major step in a royal relationship, their first official joint appearance together. The couple held hands while making their debut at the 2017 Invictus Games in Toronto on Sept. 25.
2. Prince Harry is "very close" with Meghan's mom, Doria Radlan, and her closest friends. Harry spent time with Doria at the Invictus Games, but that wasn't the first time met. "This week wasn't the first time that Harry met Doria," a close source told E! News in October. "They actually met late last year so they're very close now. Doria sees Harry as one of the family and he sees her like family too. Harry is has become close with all of Meghan's closest friends - Markus [Anderson], the Mulroneys, these are people who have welcomed him with warm and open arms and he's really felt the love and protection."
3. They're "as good as engaged," according to a source. An insider told E! News last month, "While Meghan may not be wearing a ring or a formal engagement announced, it's fair to say they're as good as engaged now. They've spoken about their marriage plans openly with each other and friends and family around them are pretty much thinking about wedding attire already!"
4. Meghan has already reportedly met Queen Elizabeth II. In mid-October, Daily Mail reported that Harry had taken Meghan to Buckingham Palace to meet his grandmother and have tea together. Another major step in their relationship. 
5. Speculation has surfaced that Meghan might exit Suits before its eighth season. While nothing has been confirmed, reports surfaced in Mid-November that Meghan and her co-star Patrick J. Adams might be leaving the USA show after the seventh season wrapped. Meghan's body double posted what seemed to be a goodbye message to her on social media last week after filming on season seven ended. "It's been an absolute pleasure and honour being your 'STAND-IN' for the last 2 seasons @meghanmarkle," Nicky Bursic wrote alongside a photo with Markle. "Though I've been on @suits_usa for 6 years, the latter 2 has been my most memorable. Wishing you all the happiness in the world Bella."
6. Meghan is rumored to be moving to London with Harry. A source told E! News last week that after enjoying some time off for the Thanksgiving holiday "it'll then be time for Meghan to move to London and into Harry's place."
7. Meghan has moved out of her Toronto apartment. A source confirmed to E! News that on Tuesday movers were packing and removing all of Meghan's things out of her Annex apartment. The insider also shared that for now, many of Meghan's things will be going into storage, while others are being shipped to London.
But while there is so much speculation going on about the couple, nothing has been confirmed by the palace. So when will we know?
The engagement will only be confirmed when Kensington Palace makes the official statement. So we'll all be waiting to hear from the palace!
Do you think Prince Harry and Meghan will have an engagement announcement for all of us soon? Sound off in the comments!