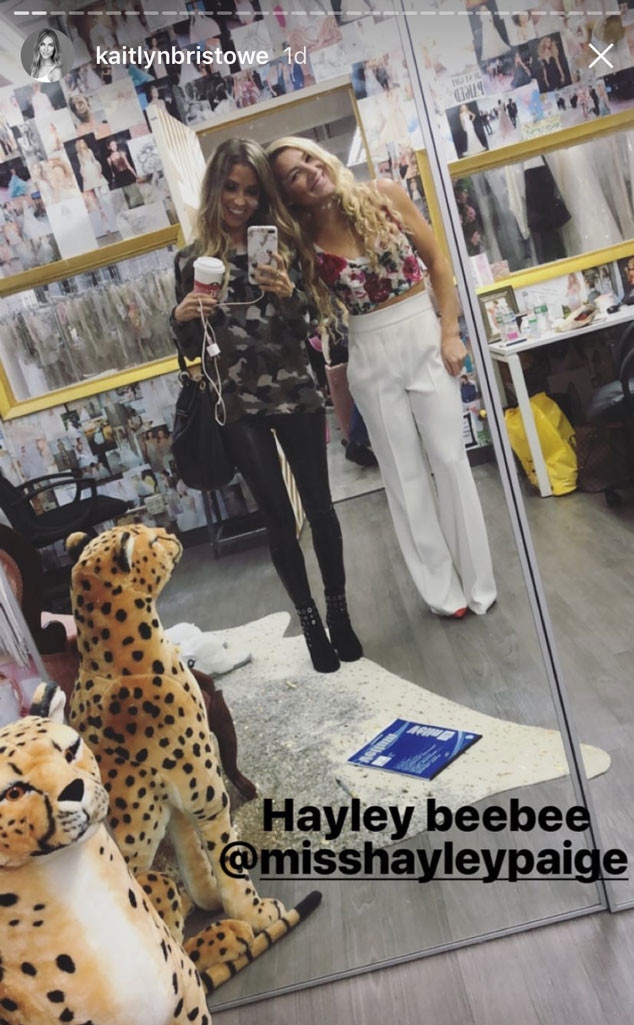 Instagram
Are Kaitlyn Bristowe and Shawn Booth getting married soon?
The Bachelorette couple has been engaged for two years, since Booth proposed on the season 11 finale in 2015. And on Monday, Bristowe spent "all day" trying on wedding dresses in New York City with designer Hayley Paige and documented it on her Instagram Story.
In the social media posts, the 32-year-old can be seen in what appears to be a showroom with wedding dresses and design sketches behind her.
"OK that is a wrap, I'm still in white," Bristowe said about her outfit after she was done trying on the dresses. 
When she finished up with the dresses, Bristowe then went to the 2017 Drama League Benefit Gala, which honored Steve Martin. Once Bristowe was back in her apartment, she talked about her day trying on dresses.
"I had a very long day today, but in the best way possible," she shared with her followers on Instagram Story. "I tried on wedding dresses all day, exciting stuff. Then I went to the night honoring Steve Martin, coolest thing ever! So much singing and dancing, met so many great people."
So does this mean Bristowe has found a dress and a wedding is in the near future? We'll have to wait and see!
Bristowe is currently in NYC preparing for her role in Broadway's Home for the Holidays, which will take place at the August Wilson Theatre from Nov. 17 to Dec. 30.