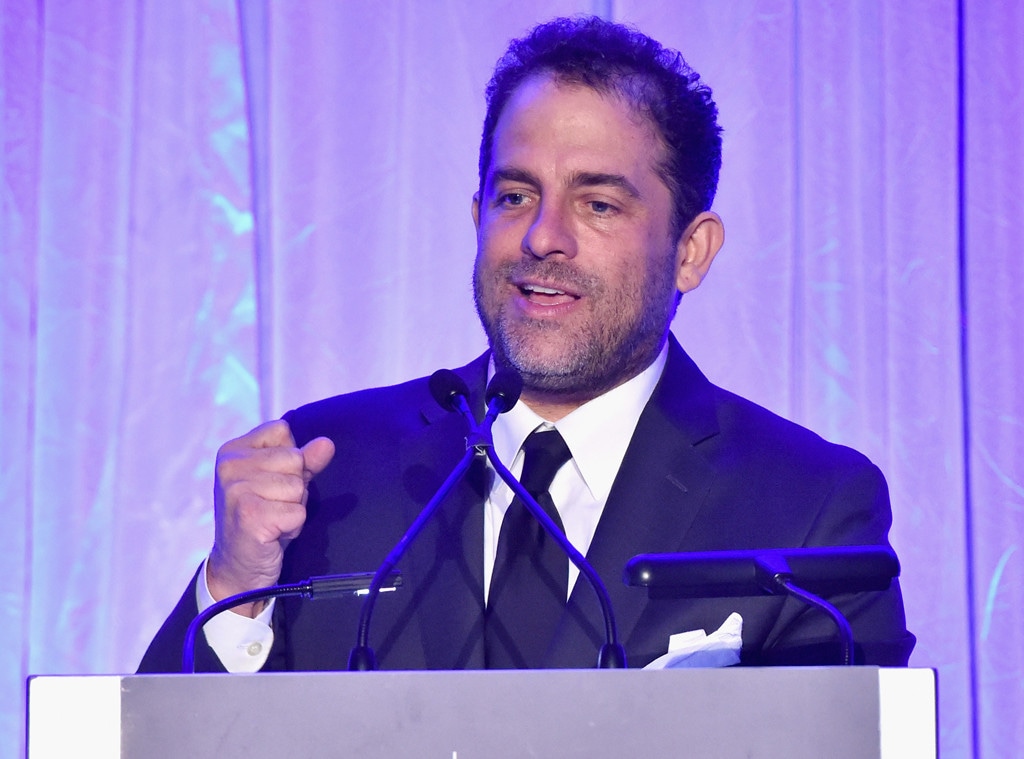 Lester Cohen/Getty Images for Jewish National Fund
Not long after the Harvey Weinstein and James Toback scandals, six women, including actress Olivia Munn, accused film producer and director Brett Ratner of sexual harassment or misconduct. The women opened up about their experiences with Ratner — who's produced hits like The Revenant and Prison Break — to the Los Angeles Times. 
Ratner's attorney Martin Singer denied each woman's claim on the producer's behalf.
In the article, Munn claimed Ratner behaved inappropriately towards her on more than one occasion. The Newsroom actress said he masturbated in front of her in his trailer in 2004. Early in her career, Munn had been visiting the set of After the Sun and had brought him a meal. 
"He walked out ... with his belly sticking out, no pants on, shrimp cocktail in one hand and he was furiously masturbating in the other," she told the Los Angeles Times. "And before I literally could even figure out where to escape or where to look, he ejaculated."
Munn said her sister Sara Potts urged her to speak to a lawyer about the incident; however, the attorney discouraged Munn from going up against a major director. 
"That did leave an impact on me," Munn told the Los Angeles Times. "How broken do women have to be before people listen?"
Munn wrote about the encounter in her 2010 tell-all: Suck It, Wonder Woman!: The Misadventures of a Hollywood Geek; however, she didn't name Ratner in the account. A year later, Ratner identified himself as the unnamed director during a television interview and claimed he "banged her a few times," which he later told Howard Stern wasn't true.
In addition, Munn told the Los Angeles Times she ran into Ratner at a Creative Artists Agency party in 2010, where he allegedly told her he ejaculated on magazine covers featuring her picture.
After hearing rumors the two were intimate, Munn decided to go public with her story. She also told the Los Angeles Times she made "specific, conscientious choices not to work with Brett Ratner." 
"It feels as if I keep going up against the same bully at school who just won't quit," the voiceover actress for The Lego Ninjago Movie said. "You just hope that enough people believe the truth and for enough time to pass so that you can't be connected to him anymore."
Ratner's attorney Singer said the producer and Munn did have an "intimate relationship;" however, Munn denied the statement, calling it a "complete lie." 
Ratner, through Singer, also said he "vehemently disputes" Munn's allegations.
However, Munn's allegations weren't the only ones documented by the Los Angeles Times. The newspaper also published claims by Natasha Henstridge. The Species actress said she visited Ratner's apartment with friends when she was 19 and fell asleep on his couch watching TV. When she woke up, she was alone with Ratner and he allegedly blocked the door to prevent her from leaving. She told the Los Angeles Times he then touched himself and forced her to perform oral sex.
"He strong-armed me in a real way. He physically forced himself on me," she told the newspaper. "At some point, I gave in and he did his thing."
Again, Ratner, through Singer, disputed her account. Singer accused Henstridge of being "upset after learning my client had a girlfriend who he would not leave [for her.]"
Henstridge told the Los Angeles Times she hadn't been interested in dating Ratner and had never been alone with him before the alleged incident.
In addition, the Los Angeles Times published an accusation by Jaime Ray Newman, who's appeared in Bates Motel and Netflix's new series The Punisher. In the article, Newman accused Ratner of detailing sexual acts he wanted to perform on her and sharing naked pictures of his then-girlfriend during an Air Canada flight. 
"He was graphically describing giving me oral sex and how he was addicted to it," she said.
Once again, Ratner denied the allegations through his attorney and described her claim as "ridiculous."
Actress Katharine Towne also accused Ratner of coming on to her at a party and even following her into a bathroom.
"I don't even know what you want with me. I'm kind of chubby right now," she said at the time, per the Los Angeles Times. She claimed Ratner then told her, "I like 'em chubby sometimes." 
After giving the producer her phone number to placate him, Towne allegedly received calls from his assistant over the next six months trying to schedule a dinner for her and the producer. 
Ratner, via Singer, denied the allegations and called them "absurd."
"Even if hypothetically this incident occurred exactly as claimed, how is flirting at a party, complimenting a woman on her appearance, and calling her to ask her for a date wrongful conduct?" Singer stated.
These weren't the only actresses to speak out. According to the Los Angeles Times, Eri Sasaki and Jorina King, both background actresses in Ratner's film Rush Hour 2, also accused him of inappropriate behavior.
Sasaki claimed she was asked to wear a costume that revealed her midriff on set and that Ratner ran a finger down her stomach and invited her to the bathroom. When she declined, he allegedly told her, "Don't you want to be famous?" She said Ratner invited her to the bathroom another time a day later, allegedly offering her a line of dialogue in the film to join him.
King also accused Ratner of inviting her to his trailer to discuss possibly giving her a speaking part. Once she arrived, he allegedly told her he needed to see her breasts. She said she declined and then hid in the bathroom.
Kent Richards, a production assistant for the film at the time, said Sasaki told him about the incident and that King had mentioned being uncomfortable on set, referencing Ratner. He also said two or three other background actresses alleged Ratner had asked them to show him their breasts or touch his penis.
Singer said Ratner had no recollection of Sasaki's alleged incident and called King's claims "absurd" and "nonsensical." 
He also called Richards' comments a "secondhand story about unnamed individuals."
"The movie was obviously already cast and shooting, so the notion that there would be a discussion of getting her a speaking role in the middle of a movie shoot is ridiculous," Singer said in regards to King's claims.
James M. Freitag, an assistant director for the film, also provided Singer with the following statement:
"Any complaints of any kind including sexual harassment would be immediately directed to my attention," Freitag said. "There were no complaints reported to me whatsoever."
In addition to denying  each claim individually, Singer issued the following statement to the Los Angeles Times on behalf of Ratner: 
"I have represented Mr. Ratner for two decades, and no woman has ever made a claim against him for sexual misconduct or sexual harassment," Singer said in a 10-page letter to the newspaper. "Furthermore, no woman has ever requested or received any financial settlement from my client."
E! News has reached out to Ratner's rep and attorney, as well as Munn's team.
After the article was published, Weinstein's former advisor Lisa Bloom, tweeted the following:
Ratner recently received the Tree of Life Award from the Jewish National Fund. Gal Gadot was scheduled to present him with the award, the Los Angeles Times wrote; however, her publicist announced she had a scheduling conflict and would not be attending amid the newspaper's reporting.
"In light of the allegations being made, I am choosing to personally step away from all Warner Bros.- related activities," Ratner also said in a statement to E! News. "I don't want to have any possible negative impact to the studio until these personal issues are resolved."