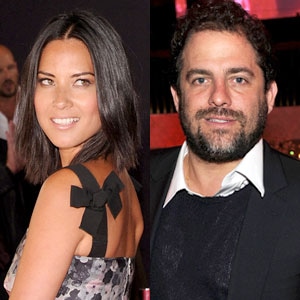 Jamie McCarthy/WireImage; Dimitrios Kambouris/WireImage
What do you get when you mix Olivia Munn, Brett Ratner and a shrimp cocktail?
One helluva sticky controversy, and if you haven't heard, the he-said, she-said battle between these two is in high gear. 
Let's quickly recap:
Munn implied in her 2010 tell-all, Suck It, Wonder Woman!: The Misadventures of a Hollywood Geek, that Mr. Ratner masturbated with a shrimp cocktail in front on her. Ratner essentially confirmed it was indeed he Munn was discussing and countered by saying he dated Munn ("banged her a few times") but that the other stories are false. Then, Ratner takes back his story, claiming to Howard Stern he never slept with Munn. 
Unrelated but far more disturbing, Ratner then uses the ultimate homophobic slur while discussing his rehearsal strategy for Tower Heist and loses his upcoming job producing the Oscars as a result, even though he later apologized for his anti-gay remarks.
So, since Ratner won't  shut the eff up, any chance the chick who pretty much started this tempest storm is going to comment?
Nope. Camp Munn told us "not right now," before adding, "but if she changes her mind we will be in contact."
It's safe to assume the Academy accepting Ratner's resignation pretty much killed off any salvo Munn might have been considering. Can't really top that one.
However, if your honor's at stake (which Olivia's admittedly is), maybe she should come out with something, after all?
We say she will. However covert it may be.
While Munn has yet speak on the issue, she has no qualms in taking the war to Twitter, retweeting a post from her sister:
@NotetoSelfExp: "PussInBoots takes #1 & TowerHeist underperforms... Any minute now, it's gonna try 2 get us to believe it banged Puss and forgot about it."
Now, Olivia, we know you love power, baby, so why not stay so tight-lipped?
As we asked your rep, just let the world know if you've ever heard him use anti-gay lingo in the past, just like he did at that ArcLight screening.
Just look at the expeditious results the Academy took when they heard about Ratner's reprehensible mouth.
Clearly, others in Hollywood are waiting to hear what else this man is capable of.