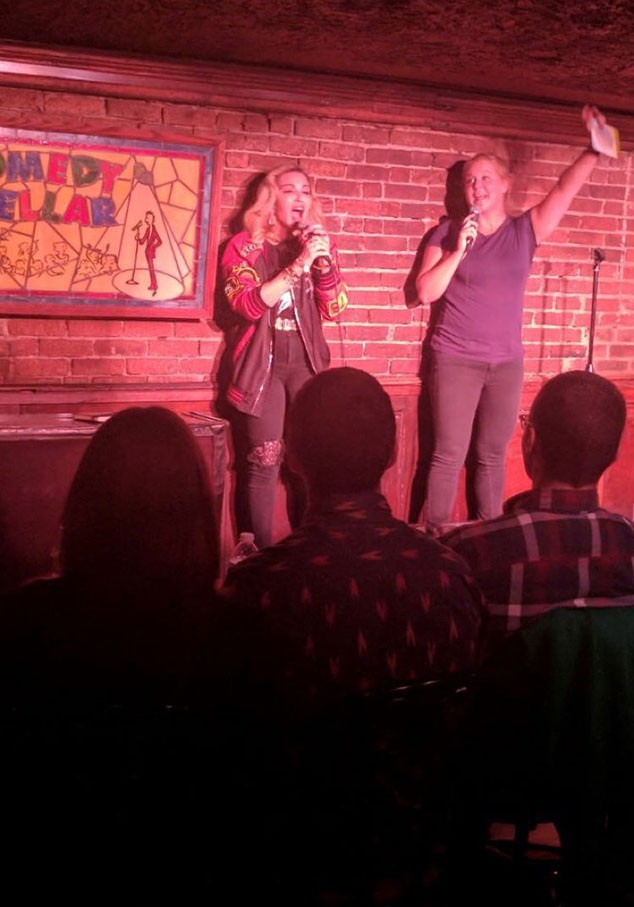 Snapchat
Pop icon, Golden Globe winner...comedian? Yes, we're talking about Madonna. 
The Material Girl took her jokes to New York City's famous Comedy Cellar stage Tuesday night, thanks in part to funny lady Amy Schumer. 
The comedian and triple threat surprised guests at the legendary Big Apple venue when they took the mic as a duo for Madonna's official stand-up debut. 
"And the next minute i was tagging along with @amyschumer at @nyccomedycellar," the songstress explained on social media. "Making my stand up debut! What a thrill. Finally busted my cherry thank you Amy!"
Schumer poked fun at their appearance, adding on social media, "We'd like to thank @nyccomedycellar for taking a chance on our new act."
The visit was fun for all, including the New York hot spot. "$12 cover. 2 item minimum. Tuesday," the Comedy Cellar quipped on its Instagram page. Lucky for unsuspecting guests, Madonna and Schumer were not the only famous faces to surprisingly grace the stage. According to showgoers, Aziz Ansari, Jon Stewart and Louis C.K. also performed during the set. 
While this may have been Madonna's official premiere as a stand-up comic, she got some practice two years ago on Jimmy Fallon's late-night stage. At the time, her passion for comedy was more of an unfulfilled secret. 
"I'm kind of a closet comedian," she told The Tonight Show host at the time. "My dream is one day—I always do extravaganzas. They cost a billion dollars to make. They get carted around in 9 planes. It drives my manager crazy. Nobody makes any money and sometimes I dream of simplicity."
Well, Madonna—your wish has finally been granted!