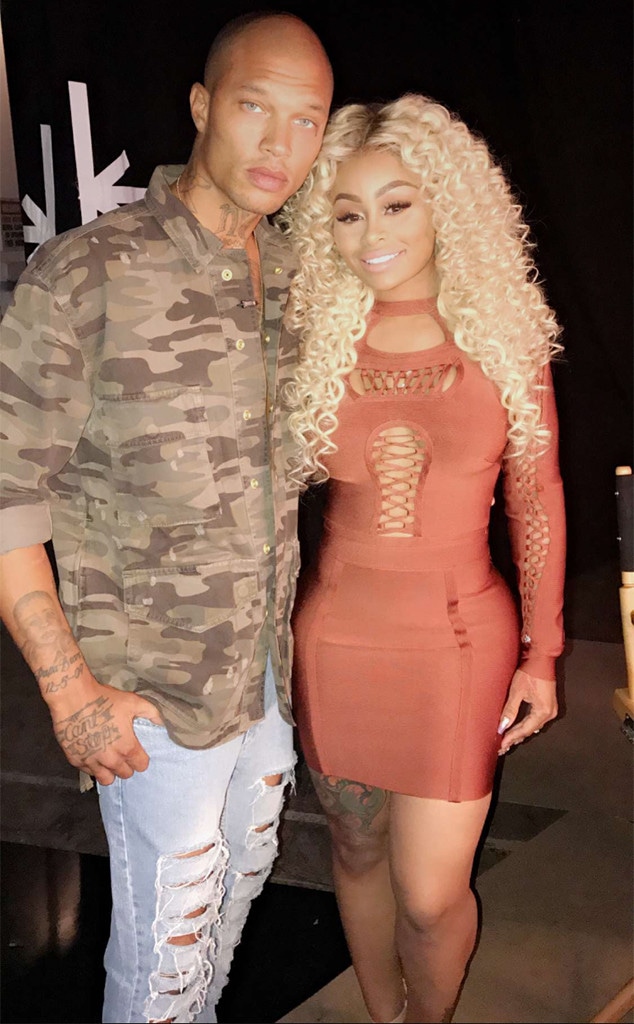 Snapchat / Blac Chyna
Blac Chyna's making some new friends these days.
The Lashed salon owner, glamour model and Rob Kardashian's ex posted on her Snapchat Thursday a photo of her standing and posing at what appears to be a fashion shoot with the "Hot Felon / Hot Convict / Hot Mug Shot Guy"-turned-model Jeremy Meeks.
Chyna, 29, wore a burnt orange cut-out bodycon mini dress and long, curly platinum blond hair. Jeremy, 33, sported a button-down camouflage shirt and ripped light blue jeans. Chyna shared a few photos from the shoot, which feature other models. She did not give any details about the project.
Chyna shared the photos a day after Jeremy and new girlfriend and Topshop heiress Chloe Green sparked engagement rumors after she was photographed wearing a sparkling ring while dining with him at a Malibu restaurant. Her rep denied Green is engaged.
Jeremy rose to fame in 2014 after his mug shot, taken after he was arrested for felony gun possession, went viral. He made headlines again in July when he was photographed kissing Green on a luxury yacht in Turkey, spurring questions about his marriage to wife Melissa Meeks, who thought the father of her children was overseas for a modeling job.
Jeremy later filed for legal separation.