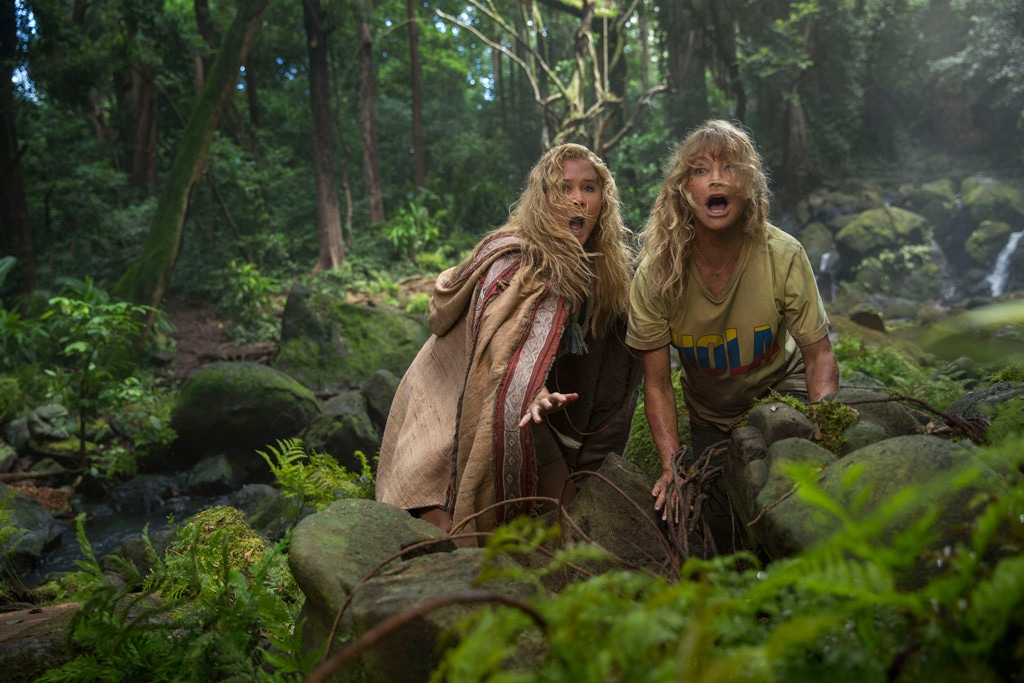 20th Century Fox
What does one wear when getting kidnapped and lost in the Amazon?
Snatched is out today, and we're really excited about it for multiple reasons—some obvious and some less obvious. The obvious? It stars Amy Schumer and Goldie Hawn, and the trailer was hilarious. The less obvious? The movie's costume designer and long-time stylist of Schumer, Leesa Evans, let us in on a couple behind-the-scenes secrets.
For those of you unfamiliar, the majority of the movie sets place in South America. Amy plays Emily Middleton, a woman who's dumped by her boyfriend on the eve of their vacation. She then persuades her mother (Goldie)—who's basically her polar opposite—to accompany her on the trip. One thing leads to another (no spoiler alerts, don't worry) and they find themselves kidnapped and lost in the middle of the jungle.
Now that you're all caught up, we ask you again: What does one wear when getting kidnapped and lost in the Amazon?
"When [Amy and I] started talking about her character," said Leesa. "I pitched her this idea: What would be the worst thing that you could ever wear to be kidnapped and lost in the jungle? And I'm like, a really cute and flimsy white ALC dress and a pair of flip-flops. That would be ridiculous." And it was.
So ridiculous in fact, it actually caused problems while filming the stunt sequences. "A lot of times you're on set and you don't realize you're going to have a giant problem 'til it's three seconds before you're going to shoot it," explained the pro. "You're doing a rehearsal and they're like, 'Wait a minute.' The flip-flop goes flying. If that's the case, Amy's not going to be able to have shoes on for the rest of the movie and that was just not going to work." So what's the solution? Enter the stuntman.
"I have to credit the stuntman for the logistics of actually wearing the flip-flops in the jungle—because it did get a little crazy. He actually came up with this incredible contraption," noted Leesa. "You know those nude-colored ankle braces? What we did was we had one of those ankle braces on then drew over it the remainder of the line of the flip-flop. Not only did it help the flip-flop stay on, but you couldn't see it at all during the taping. It's actually on during a lot of the stunt sequences. It was just such a practical solution as well as a creative solution to the problem." Movie magic, people!
When it came to designing for Goldie's character, Linda Middleton, her process was a little different. "I hadn't met Goldie before, and this was my first opportunity to meet her, but I did already have in mind an idea of what she'd be like. And she so pleasantly surprised me to even be better than what I imagined her to be," claimed the designer. "So in understanding her personality, it influenced and affected the character. It definitely took me down a tiny bit of a different path—just slightly. There were things Goldie brought to the table like, 'Well, as a mom, if I were cooking my kids dinner I'd have a dish towel or an apron on.' You know, things she does at home. And I thought those things were so charming, we implemented them and it actually brought a lot to the character."
"Seeing the comradery and chemistry between Amy and Goldie also helped me understand where are the similarities and differences between the mother and daughter in the script," Leesa added. "I think it's so perfectly shown in the movie, in that one of the very first scenes, when they first arrive at the resort, Amy's in that bikini and Goldie's covered up head-to-toe."
So who's excited to see it now? We'll be in the audience playing who can spot the ankle brace.