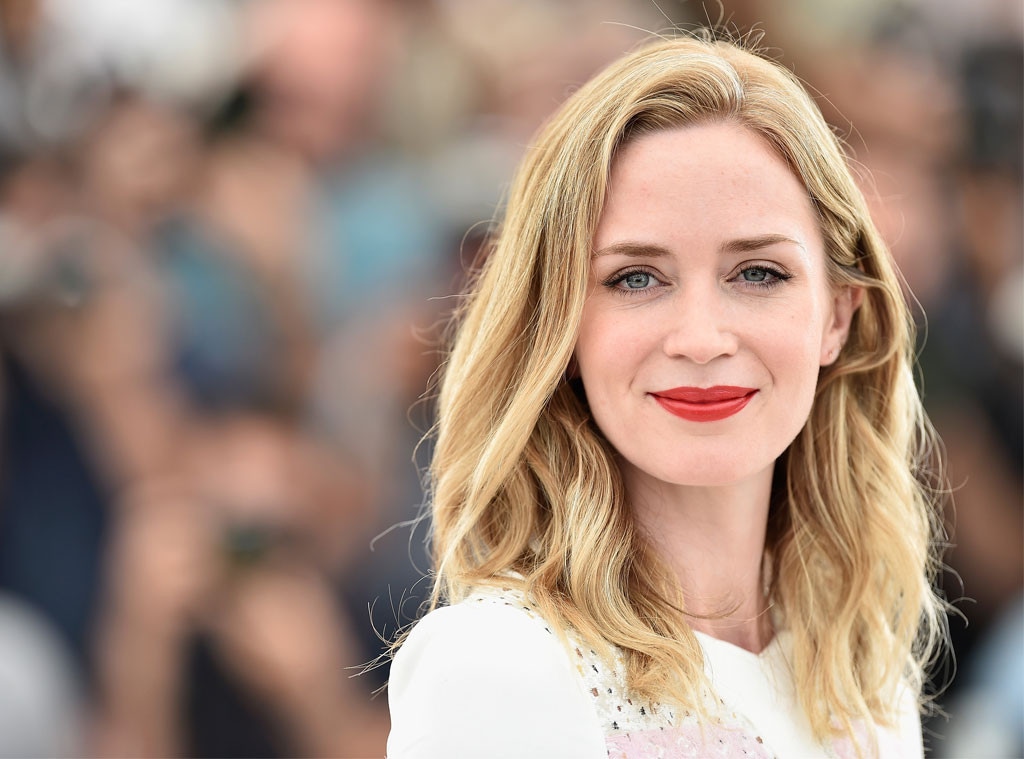 Pascal Le Segretain/Getty Images
Emily Blunt is a rarity in Hollywood.
Not because she's a foreigner conquering the U.S. box office—those are a dime a dozen these days—but because she has managed to become a full-fledged movie star without becoming a tabloid target in the process. Many critics agree Blunt gives a tour de force performance as Mary Poppins in Disney's Mary Poppins Returns, bravely taking on Julie Andrews' iconic role. And unlike the biggest stars of the '90s—people like Nicole Kidman, Julia Roberts, Meg Ryan—Blunt has managed to keep her private life private, giving her an edge over many of her peers.
Perhaps Kathie Lee Gifford said it best on NBC's Today in 2016: "Emily, we've said on the air, is the Meryl Streep of our generation." Blunt, who starred alongside Streep in three films (including Mary Poppins Returns), was flattered by the comparison—even if she felt unworthy. "I very much appreciate that," she said, admitting that all the praise made her "uncomfortable."
Expect to see a lot more of Blunt, as Mary Poppins Returns hits theaters Dec. 19. Just this morning, she received a Golden Globe nomination for Best Performance by an Actress in a Motion Picture — Musical or Comedy, where she will go up against The Favourite's Olivia Colman, Eighth Grade's Elsie Fisher, Tully's Charlize Theron and Crazy Rich Asians' Constance Wu. Winners will be announced live when the ceremony airs on NBC Jan. 6, 2018 at 8 p.m. ET.
(Blunt failed to secure a nomination for her supporting role in A Quiet Place, however.)
Critics have been praising Blunt's talents for years—and with good reason. The actress has held her own against the likes of Tom Cruise (Edge of Tomorrow) and Matt Damon (The Adjustment Bureau)—no easy feat. She's triumphed in comedies (The Five-Year Engagement), dramas (The Girl on the Train), and dramedies (Your Sister's Sister), not to mention action movies (Looper). Of course, like every actress with a lengthy résumé, she has also appeared in a box office bomb or two (The Wolfman). No matter—she remains one of the most sought after stars in showbiz. (There's a reason Blunt's name pops up whenever a new Marvel movie is announced, after all.)
But how did she reach this point in her career?
Part of Blunt's allure is that audiences don't know much about her. Sure, she will share funny stories about motherhood and her marriage to John Krasinski during talk show appearances and in magazine profiles, but she's not one to over-share. She'll help Jimmy Kimmel carry out a prank and joke about becoming a U.S. citizen with Ellen DeGeneres. She'll even discuss how she overcame her childhood stutter—but, like a true Brit, she won't disclose anything too personal.
Jay Maidment/Disney Enterprises, Inc.
And, unlike her husband, Blunt is not on social media. "To be honest, I'm crap at all of it. I can barely keep up with email and texts, let alone send out a public account of what I'm doing all day," she explained in InStyle's November 2016 issue. "The only people I follow—besides my friends—are Lena Dunham and Amy Schumer because they make me laugh." It's all part of Blunt's strategy. "You've got to draw the line somewhere. My job is to persuade people that I'm somebody else and allow them to go on that journey with me," she said. "If you share too much about yourself, people's interest becomes about you as opposed to the roles you have played."
In her own way, Blunt is trying to keep the charm of Old Hollywood alive. "There used to be such mystique to actors," she told InStyle. "You'd see them, and they were like rare birds."
For example, look at difference between Blunt and her The Girl on the Train character. "The way I live my life is just so dissimilar," she said. "I needed to understand what addiction does to you physically and mentally and how it affects your self-esteem. This woman I play onscreen is so damaged, so broken down, that people don't even want to breathe the same air as her."
The same can't be said for Blunt in real life. She and Krasinski have dozens of A-list pals, including Jennifer Aniston, Kristen Bell, Chelsea Clinton, George Clooney, Bradley Cooper and Anne Hathaway—to name just a few. And though some celebrities collect famous friends for publicity reasons, Blunt has never used anyone's star power to make hers shine brighter. Like Streep, she has never sought out fame. Rather, due to the nature of her job, fame found her.
Even now, Blunt isn't used to being recognized in public. "It went from people in the street saying, 'You look like the girl in The Devil Wears Prada,' to 'You look like Emily Blunt.' And now it's, 'You're Emily Blunt!'" she told The Telegraph. Marrying Krasinski, with whom she has two daughters, only brought on more attention. "In a way you do create a monster when you go out with someone well known," she said. "Still, I couldn't help who I fell in love with."
When she's not promoting a project, Blunt rarely sees her name in headlines. But when it's time to work, she turns to her trust red carpet glam squad: stylist Jessica Paster and beauty pros Jenn Streicher and Kristie Streicher. "I'm not so good with the sort of ethereal, girlie, whimsical things," the actress tells InStyle. "I tend to go for dresses that have bold cuts and strong colors."
She may be glamorous during press tours, but that's not Blunt's reality. Ideally, she'd rather be on set portraying real women. "With so many movies, women are held to what a man considers a feminine ideal. You have to be pretty. You have to be 'likable,' which is my least favorite bloody word in the industry," she told The Hollywood Reporter. "What does that mean? To be witty and pretty and hold it together and be there for the guy? And he can just be a total drip?"
Life can be messy, and Blunt isn't afraid to show it onscreen. "I've experienced those moments of feeling less than, where I was just trying to figure how to be a strong person and own who I want to be, but not for a while now, not since I met my husband. When I met John, everything changed for me, truly," she recalled. "And I really was emboldened to discover who I really am."
Unlike some stars, Blunt doesn't spend too much time thinking about her public image—and it's for that reason that she was able to better understand who she is and what she wants out of life. "On social media, everyone's curating their own happy lives, presenting their happiness for everyone else to look at," Paula Hawkins, author of The Girl on the Train, said. "On Facebook, everybody's always looking great, and their children are always smiling. It's so unreal. I can understand how it makes some people feel terribly lonely, insecure and sad about their lives."
Hawkins was talking about Blunt's character, Rachel, but the same is true for many people. In the book and film adaptation, Rachel deludes herself into thinking a couple she's never met leads a perfect life. And, at times, Blunt's life has looked perfect to others. It isn't. "It took three hours of hair and make-up to get me looking this real!" she joked during a British Vogue shoot. "Earlier I started to lactate on these designer clothes and I was like, 'I need to go and pump!'"
It's that kind of self-deprecating humor that helps Blunt keep her life and career in balance.
In the future, Blunt would like to collaborate with more likeminded women. While shooting 2016's Snow White and the Huntsman: Winter's War with Charlize Theron, she realized the energy felt different on set. "We were all talking one day, and Charlize was like, 'Do you know what's funny? I think sometimes, whether it's the media or just society, [people] like to paint the picture that women sort of bitch about each other, and women are competitive and jealous and vying and watchful of each other. And you know, the only issues I've ever had on set have been with a dude.' And I would agree. The only time I feel like I've rolled my eyes at somebody I've been working with, it's been a guy," she told Entertainment Weekly two years ago. "It's just been my experience that I've gotten along with every woman that I've worked with," she said. "I have not felt any preciousness or hierarchy or anything like that. I've just never had an issue!"
The Girl on the Train gave Blunt another opportunity to work with a largely female cast, which included Haley Bennett, Rebecca Ferguson, Allison Janney, Lisa Kudrow and Laura Prepon. "There's such a shortage [of roles] that when they do arise there's a bit of a feeding frenzy among my peers," she told British Vogue. "It's a very good thing that we keep talking about the issue. It's a conversation that needs to continue." But talk without action is meaningless, Blunt was quick to note. "I would prefer that we actually go in a direction of producing and creating more jobs for women in the film industry," the actress argued, "as opposed to talking about it."
That's putting it bluntly.
For now, Blunt is focused on promoting Mary Poppins Returns, which received four Golden Globe nominations in total. "It's a complete different re-imagining of the whole thing," she once told E! News of the long-awaited film sequel. "I'm scared and thrilled to be in it. And it's cool!"
(E!, NBC and Universal Pictures are all members of the NBCUniversal family.)
(Originally published on Wednesday, Oct. 5, 2016, at 5 p.m. PT.)
Be sure to watch E! News on Sunday, Jan. 6, for E!'s Live From the Red Carpet 2019 Golden Globes special, followed by the telecast on NBC at 8 p.m. And check out FandangoNOW to download or stream all of this year's nominated films and TV shows for half-off all weekend!