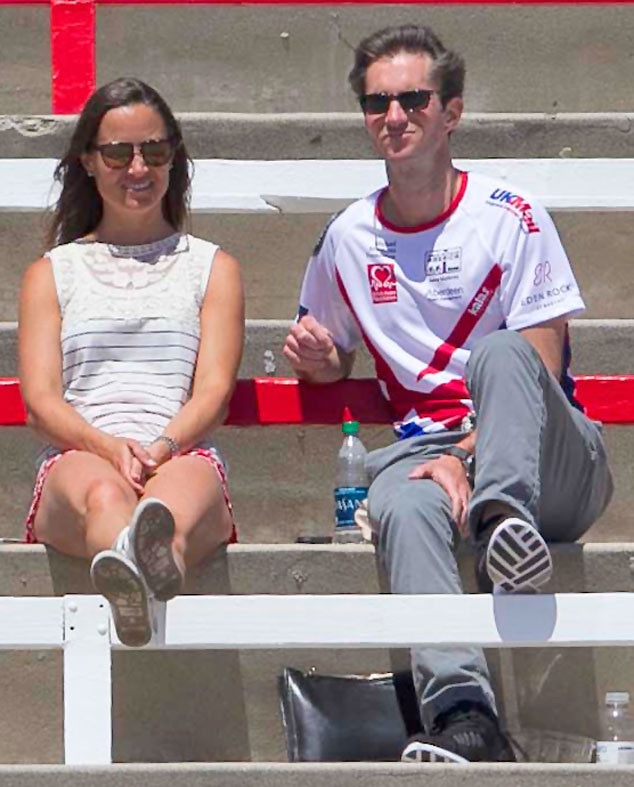 Thorpe / Splash News
With Pippa Middleton's big day just around the corner, there's no time like now to reflect on the road to the altar. 
Duchess of Cambridge Kate Middleton's older sister got engaged to her on-again boyfriend James Matthews after rekindling their romance last year, but many may not have even remembered that Pippa and her soon-to-be husband first linked up four years ago. Don't worry, that's what we're here for.
So, let's take a quick trip down memory lane, shall we?
Ray Tang/LNP/REX/Shutterstock
October 2012: Pippa was first spotted out and about with the London financier back in late 2014, when the pair went out on a dinner date at trendy Hakkasan restaurant. A purported eyewitness told the U.K.'s Sunday Mirror that Middleton and Matthews "were deep in conversation and only had eyes for each other," adding, "Pippa was all smiles and kept giggling. They stayed for nearly three hours and didn't seem to want the meal to end."
February 2013: Without going into specifics, Pippa's relationship with Matthews ended shortly after their rendezvous, and the brunette beauty began dating Nico Jackson around February of 2013. That relationship ended up lasting roughly three years.
October 2015: Pippa and Nico call it quits, and in the same month of her breakup, Middleton popped up at one very curious location—Matthews' house.  "She was then spotted leaving his Chelsea house in October carrying flowers, having stayed over at the time when she was said to be on the rocks with Nico," an insider revealed at the time.
E! News also learned that a month before Middleton called it quits with Jackson, she set eyes on Matthews once again.
"[Matthews], Pippa and younger brother James took part in the Otilllo race, in which the competitors swim and run between 26 islands in Sweden," the Duchess Diary shared with E! News at the time. "The group raised money for the Michael Matthews Foundation, set up in memory of James and Spencer's older brother who died in 1999 while descending the summit of Mt. Everest."
January 2016: Fast forward, and we learn that Pippa had decided it was worth seeing if there's still something there with Matthews following her Jackson split. "Pippa and her ex, Nico Jackson had been on the rocks for over a year, ever since he moved to Switzerland to work for a hedge fund," a source told E! News at the time. "Long-distance love wasn't working."
In fact, the pair reportedly spent the New Year together. The duo jetted to the Caribbean island of St Barts, where his parents own and manage the exclusive Eden Rock Hotel, but actually stayed in a villa in the hills, overlooking the capital Gustavia, with her younger brother James Middleton and his girlfriend Donna Air.
"James [Matthews] has always been on the scene," a source previously told E! News. "He is super charismatic and charming, good looking and always held a torch for Pippa. They have always had insane chemistry, but Pippa was always in a relationship."
March 2016: Pippa seemingly makes her relationship with James official when they made their public debut while hitting the slopes in Lillehammer, Norway, where she competed in the Birkebeiner Ski Race for charity.
July 2016: A source tells E! News that the 32-year-old is engaged to Matthews after a romantic proposal earlier in the summer.
According to the Daily Mail who first broke the news, the engagement occurred during a July weekend in the Lake District and Pippa was "completely and totally surprised." The publication also reports that James asked Pippa's father for permission before getting down on one knee.
"Mike and Carole Middleton are very happy," a friend of the couple revealed. "They like James and they are sure he will make Pippa very happy."
November 2016: Famous fashion designer Giles Deacon was spotted leaving the bride-to-be's home in London, leaving many to speculate whether or not she would ultimately be wearing one of his custom designs for her special day.
April 2017: Pippa's wedding date was revealed to the world as well as the fact that her niece and nephew were slated to have important roles in the ceremony. According to reports, Prince George will serve as a page boy while Princess Charlotte will be a bridesmaid.
May 2017: A glass palace (of sorts) was seen being erected on the grounds of Carole and Michael Middleton's 18-acre estate in anticipation for their daughter's wedding. All approximately 300 guests are expected to party the evening away in the ornate structure which is also said to feature lavish floral arrangements.
Sounds like Pippa and James' wedding is going to be a night to remember!