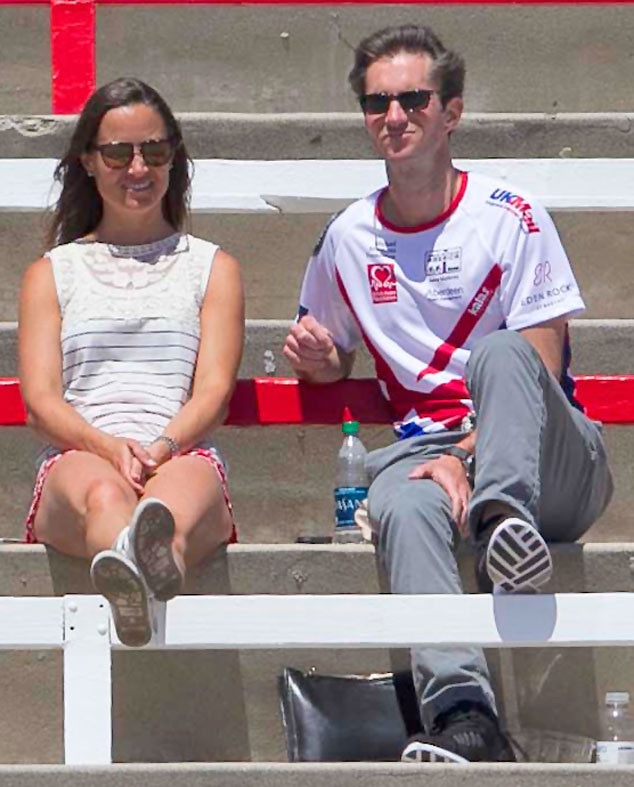 Thorpe / Splash News
Pippa Middleton is setting a match to a former flame.
The 32-year-old sister of Duchess Kate Middleton has a new man in her life—and he may look familiar.
Three months after her split from her boyfriend of three years, Nico Jackson, the brunette beauty is reviving the relationship she had with financier James Matthews. She dated the hunky entrepreneur in 2012. 
"Pippa and her ex, Nico Jackson had been on the rocks for over a year, ever since he moved to Switzerland to work for a hedge fund," a source told E! news. "Long-distance love wasn't working."
While her personal life may have been shaken by Jackson's move, Middleton's previous beau was out of sight, but not out of mind. 
"James has always been on the scene," the source added. "He is super charismatic and charming, good looking and always held a torch for Pippa. They have always had insane chemistry, but Pippa was always in a relationship."
A month before Middleton called it quits with Jackson, she set eyes on Matthews once again.
"[Matthews], Pippa and younger brother James took part in the Otilllo race, in which the competitors swim and run between 26 islands in Sweden," the Duchess Diary shared with E! News. "The group raised money for the Michael Matthews Foundation, set up in memory of James and Spencer's older brother who died in 1999 while descending the summit of Mt. Everest."
 Then, in the same month of her breakup, Middleton popped up at one very curious location—Matthews' house. 
"She was then spotted leaving his Chelsea house in October carrying flowers, having stayed over at the time when she was said to be on the rocks with Nico," the first sourced revealed. 
According to the insider, Matthews is a far better fit for the social butterfly. 
"[He's] more social and outgoing than Nico, loves society events and celebrity events. Nico never really enjoyed the spotlight. James revels in it," the initial source shared. "Pippa loves socializing and, with James on her arm, there will be plenty more of it."
Concerned about public speculation of cheating, Middleton is careful to take her budding romance into the spotlight. 
"It is expected that if all goes well, their first public outing will be on February 11th when she hosts a ball at the Savoy in London for the British Heart Foundation."
However, it's not all rainbows in romantic paradise for these former lovers. 
"There is some snobbery in the royal circles that the Duchess of Cambridge's sister is dating the brother of a reality TV star," the first source revealed. "Spencer Matthews has a terrible reputation in the UK as a philandering womanizer and is horribly unpopular at home.For Pippa to be actually dating the brother of the lead character has raised many eyebrows, another reason why she is going to be careful about how the relationship pans out."
Meanwhile, Middleton can't afford any dramatic distractions. According to the source, "she is focusing on training to be a nutritionist this year, something she is studying very hard for and taking very seriously."
Don't fret! There is a silver lining for this tricky twosome. 
"He is terribly charming, smart and also filthy rich with an exclusive hotel in St.Barts," the first source confirmed.
We certainly don't blame her—we'd fall head over heels, too. 
—Reporting by Melanie Bromley
Watch:
Kim K. Reacts to Pippa Middleton's Booty Comments