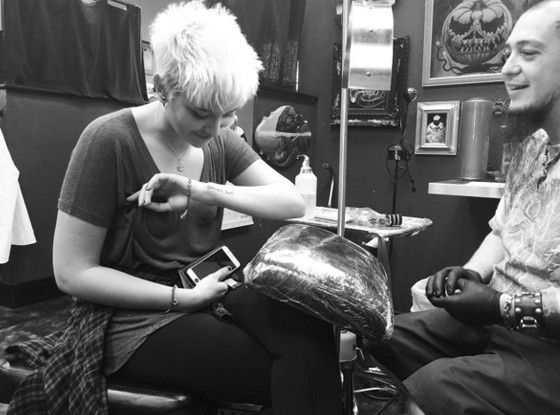 Instagram
Paris Jackson will forever be daddy's little girl.
Michael Jackson's daughter debuted a new tattoo on Instagram Tuesday that is meant to honor her late father. "'Queen of My Heart' in his handwriting. To everyone else he was the King of Pop. To me, well, he was the king of my heart," she captioned the black-and-white photo. "Thank you @dermagraphink, you're a legend."
The photo shows Paris sitting in the tattoo parlor's chair after the work was all done. She smiles as she looks at her new arm ink. Paris has opened up about her father in the past, describing him as the person she looked up to the most. In February the "Thriller" crooner's daughter took to Instagram again to call out those who were criticizing her for the way she was living her life, using her father as an example of someone who faced harsh critics regularly.
"It's so selfish that I am literally attacked on every f--king thing I post just because people that I DON'T EVEN KNOW aren't getting what they want...I appreciate the love and support, but the expectations are f--king ridiculous," she responded to a critic on the picture-sharing platform. "The expectations for my DAD were f--king ridiculous. He didn't owe you anything, yet he was ripped to shreds DAILY. I will not let that happen to me."
After the King of Pop died in 2009, Paris and her siblings, Blanket and Michael, lived with various family members but spent most of their time with grandmother Katherine Jackson. Paris also went to a boarding school in Utah, where she reportedly suffered from depression and attempted suicide. A year later, however, the 18-year-old was said to be "doing a lot better." Permanently residing in Los Angeles now, Paris has been spotted on dates and living the happy life.