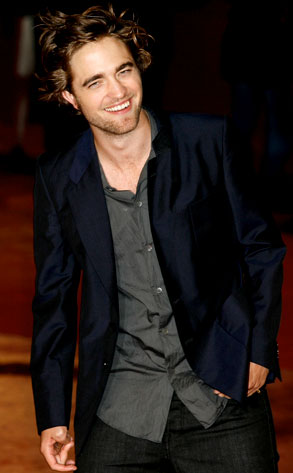 Elisabetta A. Villa/Getty Images
As we all made so clear yesterday, sexy bloodsucker Rob Pattinson stole the show at the Twilight premiere. So now that he's clearly taking over Beckham's accented throne (trust us on this one), we had to ask the Brit boy a few heartthrob pointers. Like the following:
Awful Truth: How do you possibly handle the fame and all of these screaming girls?
Robert Pattinson I don't really, I'm just here. I don't know if I'm accepting it or not, really. It's completely ridiculous; I mean last year no one cared at all.
A.T.: Hey, you care for anyone like Edward does for Bella?
R.P.: Not as deeply.
A.T.: OK, then, got it, you're free and easy. Well, free. What do you look for in a girl?
R.P.: A little bit of madness.
Sure sounds like a dude who belts 'em back before he goes on auditions, now doesn't it?