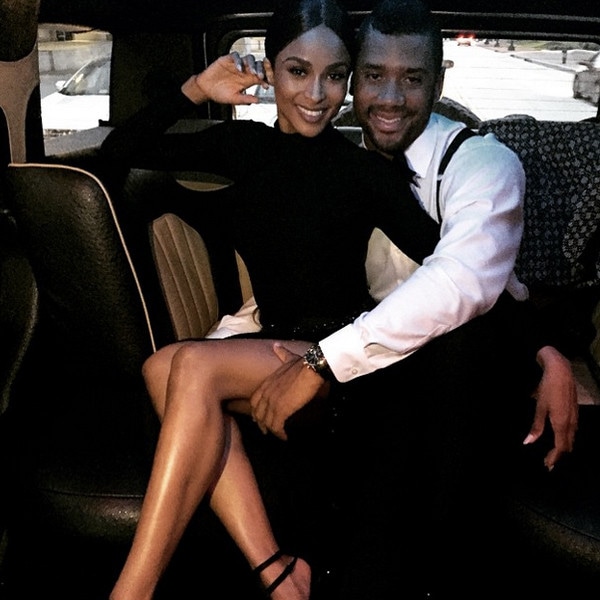 Instagram
Dedicated football fans swear their team's quarterback's celebrity WAGs can be either a good thing or a downright curse for their season—or, as Gawker coined it, "the curse of the babe." 
For all the Tom Bradys and Gisele Bündchens, Aaron Rodgers and Olivia Munns, there were the early days of Tony Romo. During his relationship with Jessica Simpson, Cowboy fans seemed to make the singer the scapegoat for Romo's poor performance. (And there were a lot of bad plays...Will they ever forget that botched snap?)
So, given that Russell Wilson and Ciara are football's new It couple, should Seahawks fans be worried their franchise quaterback's new girlfriend might affect whether the team makes it to a third straight Super Bowl? We asked some of NFL Network's top analysts to weigh in.
"You are not going to distract Russell Wilson. No way at all," LaVar Arrington told E! News at NFL Network's NFL Media event to kickoff the 2015 season. 
"I think they are a cute couple; they look really great together," Dallas Cowboys Hall of Fame wide receiver Michael Irvin said. "Russell is a great dude. I love Russell. Seattle is a bit different than Dallas. Tony's girl (Jessica) would show up at the game and if she showed up and they didn't win the game [fans] would blame her, the poor girl. She didn't catch one ball or throw one pass. But that's what they did. Seattle, maybe they don't see it that way, and Russell doesn't do a whole lot of losing. It's great for him."
Jason Merritt/Getty Images
"No, no, because I think he is already high profile," Denver Broncos Hall of Fame running back Terrell Davis said. "If you are a high-profile dating a high-profile, that just works. I think he will be just fine. I could be wrong, but I think he will be just fine." 
Besides being high-profile, former San Francisco 49ers coach Steve Mariucci believes Wilson's character is the reason why his love life won't be a distraction. 
"I believe Russell Wilson is an excellent role model for our millennials and every other generation too. The guy is the real deal," Mariucci said. "He is classy, he is a solid human being, and I'm glad he has a following because he is a great guy to follow. I don't know how much it matters who he is dating. Tom Brady seems to handle it just fine. Aaron Rodgers is with Olivia Munn."
As always, Mariucci wasn't afraid to say what was on his mind. 
"I'm just saying this, and I say it with a little tongue and cheek, but the quarterbacks seem to get the hot ones. It's how it is in high school, college and in the pros," he said jokingly. "So in your next life come back as a quarterback." 
Wilson, who maintains his abstinence with Ciara, recently gushed about the singer in the latest issue of Rolling Stone, saying it was all part of God's plan for them to be together. 
"I knew God had brought me into her life to bless her and for her to bless me and to bless so many people with the impact that she has and I have," Wilson explained in the article. "He has anointed both of us—he's calling for us to do something miraculous and special."
Wilson then quoted the book of Romans: "For to be carnally minded is death; but to be spiritually minded is life and peace."
Ciara also said in the interview that she and Russell "share similar views on pretty much everything. It's just super organic."
So, breathe a sigh of relief Seahawks fans. 
The NFL season kicks off on NBC tonight as Brady and the New England Patriots play the Pittsburgh Steelers. 
(E! and NBC Sports are part of the NBCUniversal family)
Tune in for new episodes of WAGS Tuesdays at 10 p.m., only on E