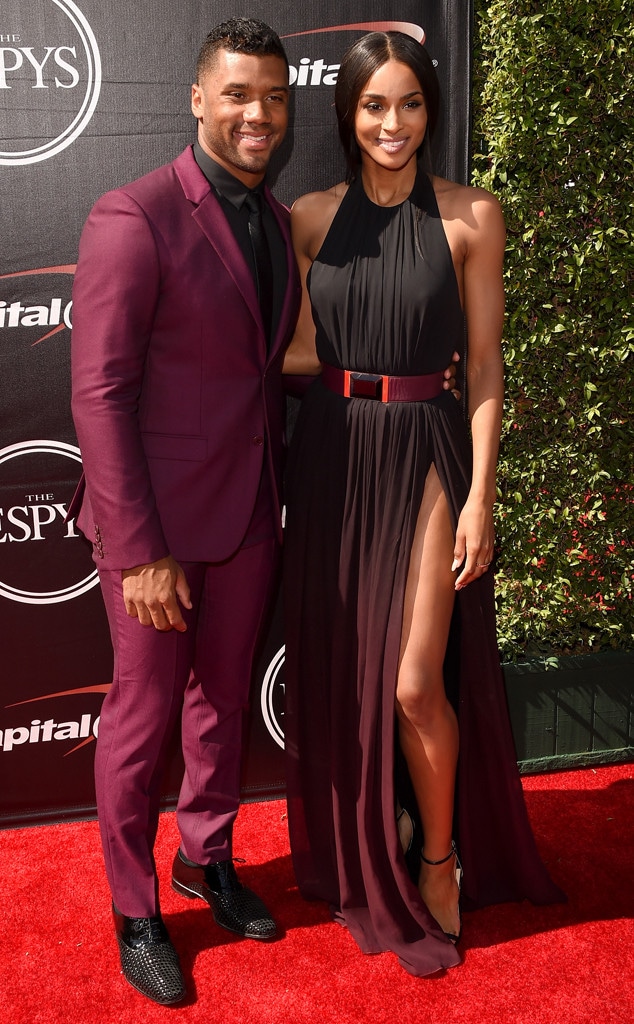 Jason Merritt/Getty Images
OK, Russell Wilson and Ciara, we get it…you're perfect for each other!
In a new article with Rolling Stone, the Seahawks quarterback can't help but gush about his girlfriend (and can you really blame him?), but he thinks it's more than just attraction or even fate that brought them together.
Much like his Super Bowl interception against the Patriots earlier this year that lead to the Seahawks losing the title (something he still sees as a test from God), Wilson believes his relationship with Ciara is all part of his Creator's plan. In fact, the mega-athlete told his friends he was going to end up with the singer even before they ever met.
"I knew God had brought me into her life to bless her and for her to bless me and to bless so many people with the impact that she has and I have," Wilson explains in the article. "He has anointed both of us—he's calling for us to do something miraculous and special."
Wilson then quotes the book of Romans: "For to be carnally minded is death; but to be spiritually minded is life and peace."
Of course, this goes hand-in-hand with the NFL player's decision to maintain abstinence with Ciara, a moment of clarity that came to him right before she was about to head onstage for a show.
"She was on tour," Wilson said, "and I was looking at her in the mirror 15 minutes before she went onstage. God said, 'I need you to lead her.' I was like, 'Really? Right now?'"  And at that moment he asked if she would be OK with taking "that extra stuff off the table." 
This was just the first agreement between the couple of many to come. Even when Wilson went public about their abstience without first running it by Ciara (she was in London and had to piece the story together via Twitter), the singer says she totally accepted his decision because that was just him being, well, him.
"The thing about Russell is he's real," Ciara explains to Rolling Stone about that incident. "And that was a moment that got real real."
She adds, "We share similar views on pretty much everything. It's just super organic."
But how does Wilson's religious outlook mesh with her career choices (you know, like dancing around in a see-through top in her video for "Dance Like We're Making Love")?
"We connect so well, and we have the same vision," he echoes Ciara's words when asked about becoming a part of the hip-hop world. "It's a perfect fit, you know? Is it weird? No. It feels right."
Watch:
Ciara Gushes Over Motherhood and Russell Wilson!