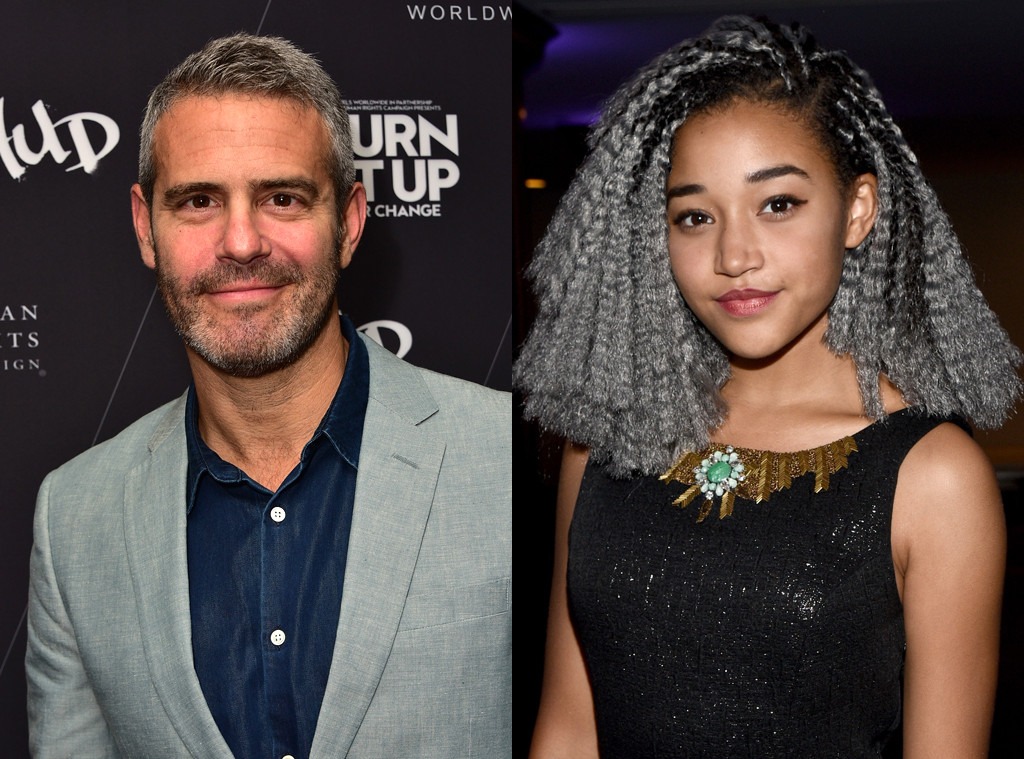 Getty Images
Andy Cohen definitely knows by now that it's easy for people to stick their foots in their mouths when they're live.
And sometimes it's the Watch What Happens Live! host himself who snacks on his own foot.
Last night, Cohen had some rough words for Hunger Games actress Amandla Stenberg, who, as captured in an Instagram screengrab, appeared to be accusing Kylie Jenner of cultural appropriation for sporting cornrows.
Cohen labeled Stenberg "jackhole" of the day for what he assumed was an attempt to needlessly start a feud with Kylie or otherwise share the spotlight.
"Today's Jackhole goes to the Instagram feud between Kylie Jenner and Hunger Games star/Jaden Smith's prom date Amandla Stenberg, who criticized Kylie for her cornrows, calling it cultural appropriation. White girls in cornrows ... is it OK or nay, Laverne and Andre?" he said, then asked guests Lavernen Cox and Vogue fixture André Leon Talley to weigh in.
"To me it's fine," Talley approved. "Bo Derek in 10," added Cox, citing the beach babe of 1979.
But Cohen's blithe synopsis of what happened prompted #boycottBravo to start trending on Twitter and, well, no one wants that, so he apologized today.
"I want to apologize to Amandla," he tweeted today. "I didn't understand the larger context of this cultural discussion and TRULY meant no disrespect to her or anyone else."
Cohen then retweeted a post from Cox detailing her take on the situation post-WWHL as well.
"When in answer to Andy Cohen's question on 'Watch What Happens Live' on July 12, 'White girls and cornrows, yay or nay?' I said what I said in an attempt to not get involved in what I understood at the time to be an Instagram feud between someone with whom I was not familiar and Kylie Jenner on the topic of cultural appropriation," Cox wrote today. "I have never been interested in getting involved in any celebrity feuds"
The Orange Is the New Black star continued, "In that moment, I also felt that the topic of cultural appropriation needs way more than the 10 seconds or less I had to respond at the end of the show to fully unpack. I said as much to Andre Leon Tally after the cameras stopped rolling."
Charles Sykes/Bravo/NBCU Photo Bank via Getty Images
"Many are taking me to task for not defending Amandla Stenberg who I now know is a 16 year old black actress known for her work in the Hunger Games who has spoken out quite eloquently on the topic of cultural appropriation," Cox also wrote. "In researching Amandla's work and words, I was very impressed with a video I saw from her on cultural appropriation where she chronicled a recent history of cultural appropriation and black hair specifically...Far too often culture is appropriated without an understanding of the history and hardships from which that culture emerges. How do we lovingly make people aware of that history and the potential affects of cultural appropriation that further marginalize and stigmatize those already the most adversely affected by systems that disadvantage certain experiences, bodies and identities over others? These are points Amandla makes beautifully in her video."
As for what started the Kylie-Amandla debate, Stenberg wrote on Kylie's cornrows pic in response to another commenter: "when you appropriate black features and culture but fail to use ur position of power to help black Americans by directing attention towards ur wigs instead of police brutality or racism #whitegirlsdoitbetter."
The next commenter was Kylie, who wrote, "@amandlastenberg Mad if I don't, Mad if I do.... Go hang w Jaden or something." (Kylie's close pal Jaden Smith took Amandla to prom this past spring.)
(E! Online and Bravo are both members of the NBCUniversal family.)