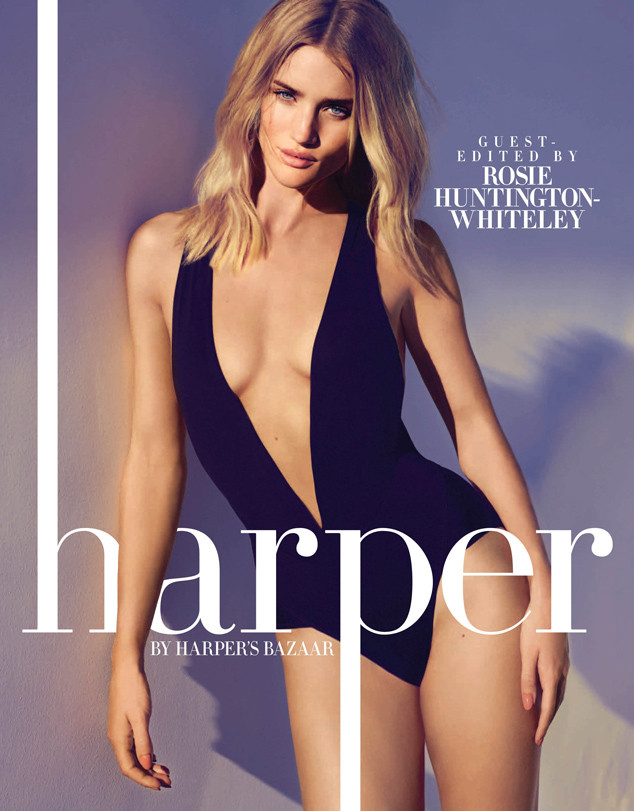 Miguel Reveriego for Harper's BAZAAR
Rosie Huntington-Whiteley loves to eat junk food!
The British bombshell guest-edited Harper by Harper's Bazaar and gave readers a little insight into what her daily life is like. Titled "24 Hours With Rosie Huntington-Whiteley," the model-turned-actress goes through her day hour by hour, giving intimate details about her life in Los Angeles and her routines. Among the fun facts included is her apparent passion for unhealthy foods.
"I love going to restaurants for dinner and out for drinks afterward. I love savory food—cheese, bread, pasta, French fries, bacon, pigs in a blanket! (I could just eat a plate of pigs in a blanket, and I'd be happy.)," she writes in the mag.
But Jason Statham's longtime love isn't noshing on those delicious eats all the time. When it comes time to buckle down and get to work, she eats a healthy breakfast of scrambled eggs or some yogurt with paleo granola. She also loves to have a "giant" green juice on hand at all times.