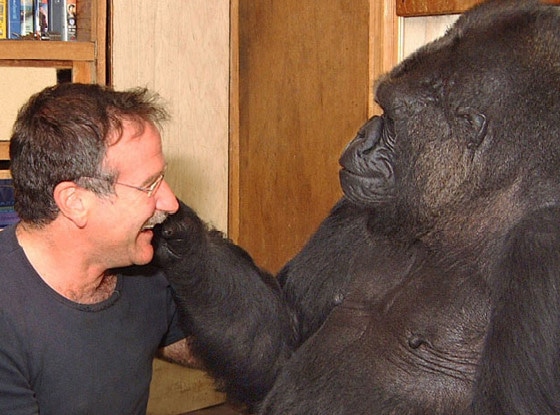 koko.org
The loss of Robin Williams is so profound, that the devastation reaches beyond the human race and is now affecting the world of the animals the actor fought to protect.
In 2001, Williams met Koko the gorilla for the first time. Koko, who lives at The Gorilla Foundation in Woodside, Calif., can communicate in sign language and understands spoken English. Dr. Penny Patterson said that Koko "instantly connected" with him, and that she was "quickly drawn to Robin's warm heart."
Williams found the experience so profound and unforgettable that he filmed a PSA to raise awareness for the species and accepted an honorary co-chair position for the foundation's Maui Ape Preserve campaign. 
But this week, Dr. Patterson had to break the news to Koko that Williams had passed away. After hearing the news, Koko signed the words for "woman" and "crying," and as shown in the photos, became "very somber" and sat with "her head bowed and her lip quivering."
"Koko and Robin's encounter is a supreme example of how humans and gorillas can overcome interspecies boundaries and express the highest form of empathy—embracing differences," the foundation said in a statement. "Robin's ability to just 'hang out' with Koko, a gorilla, and in minutes become one of her closest friends, was extraordinary and unforgettable for Koko. We hope that it now becomes unforgettable for you, too. And when you remember Robin Williams, remember that he is not only one of the world's most beloved entertainers, he is also one of the world's most powerful ambassadors for great ape conservation."
You can watch Robin's PSA, which has amazing footage of his visit with Koko in 2001, in the touching video tribute below:
To learn more about how you can help The Gorilla Foundation, visit their website to find out how to donate, volunteer and more.
If you or someone you know needs help, please call the National Suicide Prevention Lifeline at 1-800-273-TALK (8255).