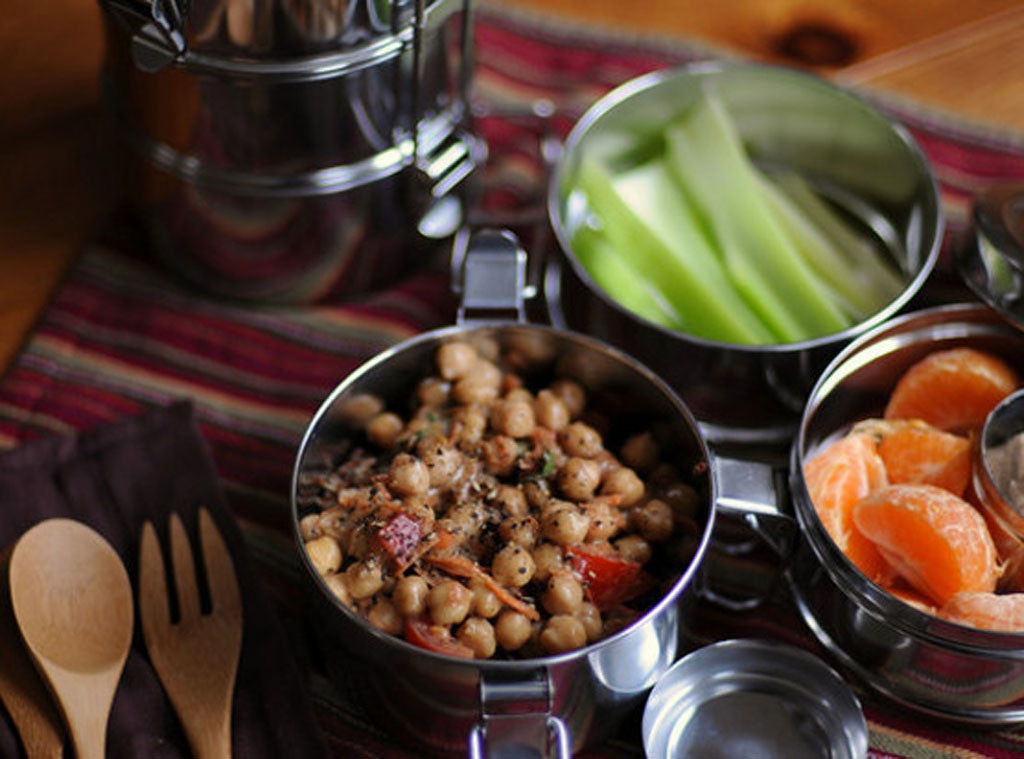 foodrenegade.com
Ah, fall.
As kids and teens head back to school, you, too, are likely gearing up for a riveting new season in the workforce and balancing even more roles than before.
And whether you clock in hours in the classroom or lead business meetings in the conference room, chances are lunch time is a necessary means to a productive day.
Craving some exciting and healthy new options that are simple to whip up and tote well with you?
We've consulted a number of celebrity chefs, nutritionists and trainers for smart meal suggestions you'll love!
A word of advice? Plan ahead!
"Always prepare in advance. It's not dorky, it's smart! Lay everything out the night before and pick natural organic items to fuel your body," celebrity fitness trainer Lacey Stone advises. "Apples are the best fruit. Drink water, and only water and make sure you're eating protein. Sandwiches aren't the devil if you choose wisely!"
For a fun twist to a traditional turkey sandwich, check out this quick and easy recipe from chef Carrie Conway for Philadelphia cream cheese that packs plenty of flavor and nutrients without excess calories:
Veggie-Packed Pita Pocket
2 carrots, shredded
2 tbsp. sliced black olives
2 tbsp. Kraft Tuscan House Italian dressing
2 whole wheat pita breads, cut in half
2 tbsp. Philadelphia Neufchatel cheese, softened
1 red pepper, cut into eight rings
Instructions: Combine carrots, olives and dressing. Spread pita with Neufchatel and fill with lettuce, peppers and carrot mixture.
If you're short on time, celebrity dietician and healthy living expert Keri Glassman recommends packing simple snacks like almonds, black olives, dried seaweed, apple slices with peanut butter, FIT popcorn and dried fruit with you to stash at your desk. Another smart choice: Health Warrior Chia Bars, which are small but mighty protein-rich snacks that fuel the mind and body.
Glassman also recommends these easy lunch ideas:
Roll-ups: Turkey or ham and reduced fat cheese rolled up in a whole wheat tortilla and sliced into one-inch pieces
Mini Bagel: Choose a whole wheat and high-fiber (3 grams or more) mini bagel or bagel thin. Top with cream cheese or hummus and load up with tomato or cucumber slices.
Pasta Perfection: Cold pasta salad made with whole wheat pasta (lightly dressed in olive oil), diced red and yellow peppers, edamame and corn.
Or, try her delicious recipe for Black Eyed Pea Salad with Pesto:
¾ cup canned black-eyed peas
¼ cup coarsely chopped jarred marinated artichoke hearts in oil
½ cup grape tomatoes, halved
2 tbsps. sliced black olives
1 tablespoon prepared pesto
1 teaspoon pine nuts
Instructions: Toss black eyed peas, artichoke hearts, tomatoes and olives with pesto in bowl. Garnish with pine nuts.
Paolo Mascitti, celebrity trainer and founder of meal delivery system Cibo Verde, has a savory lunch idea that's quick and healthy for kids and parents alike.
Gluten-Free Meat and Veggie Pizza
Gluten-free tortilla
1 oz. cooked steak
1 oz. yellow onions 
2 oz. red and green peppers
2 oz. pizza sauce 
3 oz. fresh mozzarella cheese
Instructions: Place the gluten-free tortilla on a baking sheet and add marinara sauce making sure to spread evenly on crust. Followed with cheese, onions, peppers and steak. Place in oven for five minutes, allowing cheese to melt. 
And finally, we offer these smart time-saving suggestions:
Mason Jar Salads: Seal your homemade salads in handy jars that keep your veggies crisp all week long! Pour dressing in first as the bottom layer and add in the veggies one row at a time, from firmest to most fragile. You'll be amazed at the freshness! Best of all, you can pack multiple mason jars at a time and have meals ready for the whole week. 
Freshology: It doesn't get easier than a meal delivery service, and this one tops our list thanks to its inventive recipes and ultra-healthy ingredients. Our favorite lunchtime meal of the bunch? The turkey burger on an oat bun topped with blue cheese, granny smith apples and pickled onions. Best of all, each day's delivery includes a gourmet dessert, too.
LYFE Kitchen: For an incredibly affordable option, head to the freezer section of your grocery story and look for LYFE meals that heat up in minutes and offer plenty of healthy options like chicken chile verde, corn chowder and farmer's market frittatas. Jennifer Garner and Peter Facinelli are both fans of the line.
And finally, don't deprive your sweet tooth if you have a craving! Alter Eco offers mini dark chocolate bars that are 100% fair trade and organic and the perfect size for a little treat that won't derail your diet.
Delish!
What is your favorite lunch to bring to work? Tell us in the comments below.