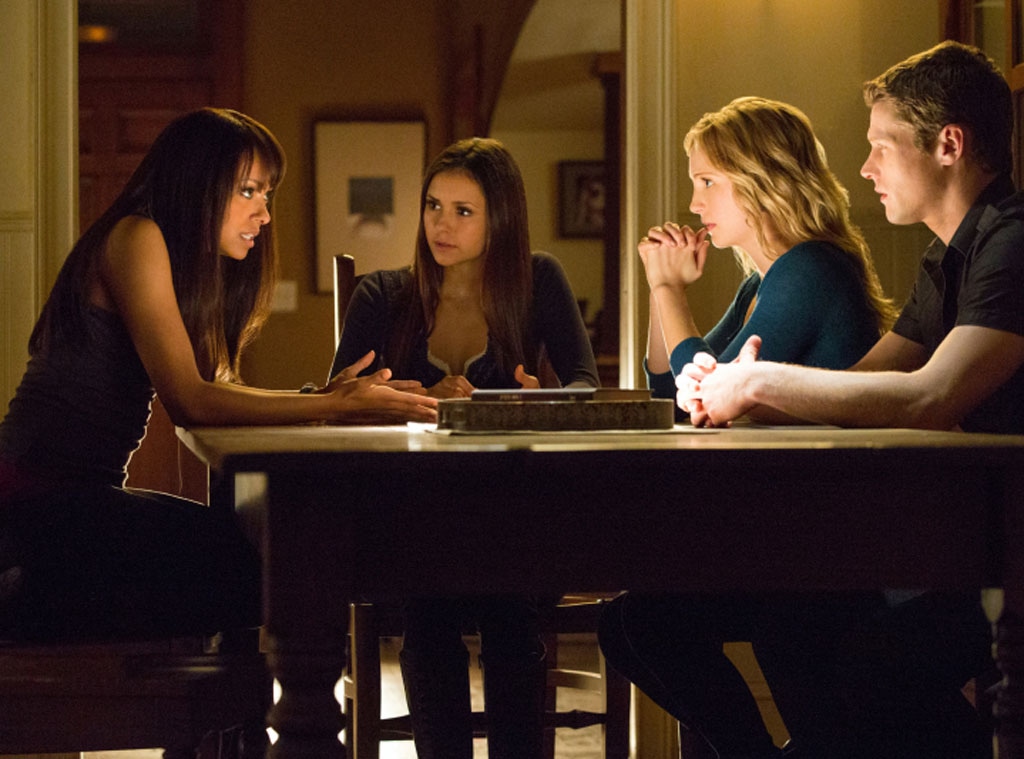 Bob Mahoney/The CW
Spoiler alert! Our TV Watercooler catches you up on the biggest and best happenings from tonight's shows—some of which you might not yet have seen. So look away if you don't want to know. And get ready to hiccup cry with us!
The Vampire Diaries: For those who thought last week that maybe, possibly, there was some kind of supernatural twist that caused Jeremy (Steven R. McQueen) to not die…um, sorry. No loophole on this one. However, Elena (Nina Dobrev) was in deep, deep denial and refused to believe her brother was truly dead, even when his body started to decompose. And smell.
It's a phone call from April (Grace Phipps) for Jeremy that finally allows Elena to hit the acceptance stage: "Jeremy can't come to the phone right now. I'm sorry. He's dead." Ouch. That was like a kick to our emotional crotch. So Elena decides to burn down her house down as a cover story for his death, and because, as she puts it, "There's nothing here for me anymore." Seriously, who hasn't died in that house? Elena pretty much loses it at that moment, so Damon (Ian Somerhalder), watching helplessly and unable to console her, tells Elena to turn off her humanity so the pain would stop, which she does. You can tell, because the light pretty much went out from behind her eyes, and thus completed one of Nina Dobrev's best performances to date on TVD.
Parks and Recreation: "I love you and I like you." And with those words, we cried so many happy shipper tears for Ben (Adam Scott) and Leslie (Amy Poehler) as they got married right there in City Hall, where they first met. Parks and Rec's wedding episode was the perfect combination of tear-inducing scenes and laugh-out-loud moments. For example, we got a real celebration of Ron (Nick Offerman) and Leslie's friendship, like Ron telling Leslie she looked beautiful and Leslie refusing to get married until Ron got out of jail for punching out councilman Jamm (Jon Glaser). And don't even get us started on how we felt during the Ben-Leslie flashbacks while they said their vows. Our hearts threw up glitter-covered puppies, it was so adorable. Was there ever anything more perfect than tonight's wedding episode? Discuss in the comments, but you're probably wrong. Seriously, no words could describe how wonderful it was, so just go watch it.
Scandal: On Scandal, we learned why Scott Foley's character Jake is spying on Olivia (Kerry Washington): Because Fitz (Tony Goldwyn) asked him to! Why? According to Fitz, Olivia Pope is "not what she seems" and "is not a good person." Harsh words, Mr. President. But as expected, Jake's snooping results in the dude getting bit by the smitten bug, and manages to get a second date with Olivia. Fitz notices that Olivia is awfully happy at a gala, but when he asks Jake if she's seeing anyone, Jake lies and says no. Yes, this situation will work out well for everyone. Not.
Beauty and the Beast: The good news? Beauty and the Beast's Catherine (Kristin Kreuk) and Vincent (Jay Ryan) finally kissed and said the L word to each other! The bad news? In the name of saving Catherine's sister, Darius dies by the hands of Vincent, earning him his first innocent kill and his first Catherine kiss all in one episode.
Two and a Half Men: On Two and a Half Men, Walden (Ashton Kutcher) watches an old video he made when he was still at MIT, outlining all the goals he wants to accomplish at 35. Just so you have a complete mental picture, it's worth noting that flashback Ashton has zits, braces and glasses. Present-day Walden realizes he is missing having a wife and kids, so when he runs into his ex-wife Bridget (guest star Judy Greer) at a singler's mixer, he decides to give their relationship another shot. By the end of the episode, Bridget's controlling ways have led to Walden kicking Alan (Jon Cryer) out of the house! Except the whole episode was all in Walden's head and he's really still at the single's mixer, deciding not to talk to Bridget since he knows how it will change his life. Nice trick, 2.5 Men! You can't break up Alan and Walden!
Suits: In tonight's season finale, Mike (Patrick J. Adams) revealed to Rachel (Meghan Markle) that he never went to Harvard. She took the news well: she slapped him in the face and then they had sex in the file room. If that's not a healthy relationship, we don't know what is.
Line of the Night: "In my time working for the State Government, my job sent me to 46 cities in 11 years. I lived in villages with eight people, farming communities, college towns…I was sent to every corner of Indiana. And then I came here and I realized that this whole time I was just wandering around everywhere just looking for you."—Ben's speech to Leslie
Gif of the Night: Ben and Leslie's first kiss as man and wife, AKA the only .gif you will ever need for the rest of time.