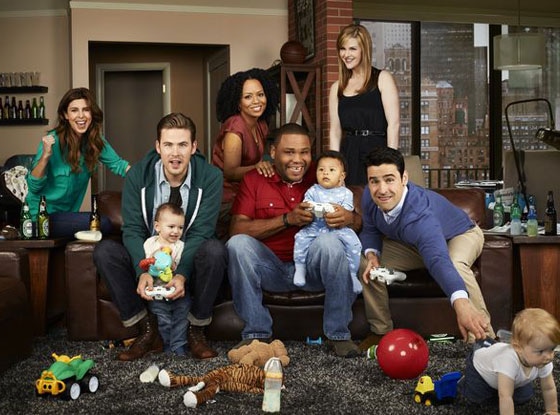 Robert Trachtenberg/NBC
Some say the sitcom is as good as dead, especially since nowadays it's all about cutting-edge drams and fantasy series. But sometimes a network will roll out a sitcom that makes you laugh and connect with the characters onscreen in a heartwarming way.
Guys With Kids is not one of those sitcoms. Although there are a few things we liked about the pilot, we didn't find enough reasons to keep checking in with this group of men trying to navigate fatherhood.
Guys With Kids, (NBC)
Premieres: Wednesday, Sept. 26 at 8:30 p.m.
Time-Slot Competition: The Neighbors (ABC), Survivor (CBS), Arrow (CW), The X Factor (Fox)
Cast: Anthony Anderson, Zach Cregger, Jesse Bradford, Jamie-Lynn Sigler, Tempestt Bledsoe
Status: We've seen the pilot episode.
Let's start with the good stuff. Anthony Anderson is amusing (as per usual), Jesse Bradford is charming and Zach Cregger is downright funny. Oh, and the babies are adorable. And that, unfortunately, is where the good stuff ends.
It's a predictable comedy, and while we're sure there will be people with and without kids who'll connect and enjoy this show, we grew tired of the "We're guys with kids!" jokes halfway through the pilot.
Gary (Anderson) is the guy with four kids who is very tired. Nick (Cregger) is the guy with two kids who is sick of staying at home. And Chris (Bradford) is the divorced dad trying to get back in the dating scene while dealing with a crazy ex-wife. Over the course of the pilot, we learn that they bicker with their wives, their children are driving them crazy and that when in doubt, look to the kids to make the comedy. The storylines in the episode are as old as the sitcom itself: pissing off a wife and then making it up to her, and crashing and burning on a date, but now...it's with kids!
We actually enjoyed the show most when it was just the guys interacting each other, and we can definitely see how viewers would find the baby stuff relatable and endearing. But we think Guys With Kids would benefit from focusing more on developing the funny friendship between the parents and less on making cracks about how silly it is that guys are taking care of kids.
Our Review in GIF Form:
Verdict: Pass. Britney Spears on The X Factor and the CW's Arrow have more to offer in this time period.
2012 Fall TV Preview: Guys With Kids